There's no doubt about it, I'm a big fan of WordPress. I would recruit everyone to join me at the dark side if I could 😀
The fun part about self-hosted WordPress is that there are multitudes of plugins out there, so it's quite a headache of the ones you should have, and the ones you don't really need (like the "Hello Dolly" plugin. I've never really understood the point). Plus you also have to be aware of certain plugins that can bog your website down.
Here are my top ten plugins (in no particular order) which I would recommend to beauty bloggers. Actually, it's not just for beauty bloggers, heck, I'd recommend it to all bloggers.
1. RSS Footer


What it is for: It's a snippet you can include at the bottom of your RSS feeds. Your subscribers via email or RSS reader will be able to see it. It will not show in your actual blog.
Why you should get it:
 If you're worried that spambots or unscrupulous nutjobs are stealing your content, you can tell your readers that your content's the real deal by mentioning it in your RSS footer.
It's a good way to add notifications, secret messages, etc for your readers. E.g I have a gentle reminder on my RSS footer about the Jurlique giveaway.
2. Editorial Calendar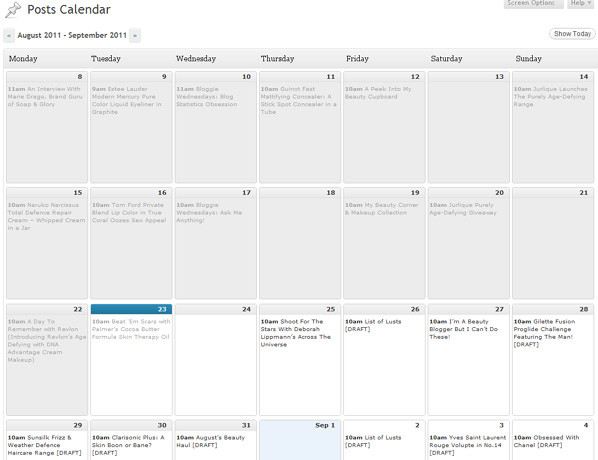 What it is for: It allows you to see your posts in a month's view. You can drag and drop your scheduled posts to other days easily.
Why you should get it:
I've spoken of this before, but it bears mentioning again. This is such a gem, every blogger should get it. Makes planning of posts up to months ahead so frickin' easy.
I like creating draft titles for posts on the calendar. It allows me to visualise the posts I have planned ahead.
3. Google Analytics for WordPress
What it is for: Adds your Google Analytics code into your blog for you.
Why you should get it:
Gone are the days when you have to manually insert the Google Analytics code into your HTML/PHP files.
All you have to do is authenticate your analytics profile with Google, check the UA code (the code that identifies the website you want to track), and you're done.
4. ReplyMe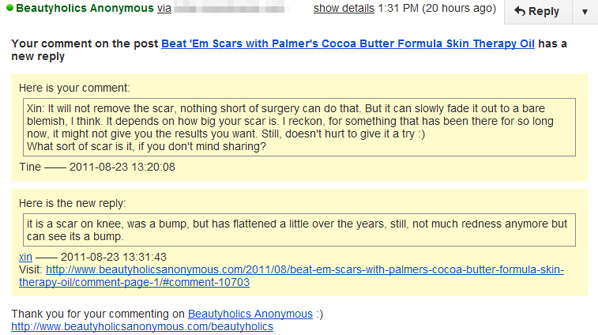 What it is for: When you reply a reader's comment (via threaded/nested comments. This can easily be switched on in your Settings -> Discussion), this sends an email to the reader with your reply.
Why you should get it:
I only had this for three weeks, and I kicked myself for not knowing about this sooner.
Many a time, I've commented on other blogs, and I don't know if my comment had a reply or not because I've forgotten which blog I've commented on.
I find that with the plugin, when readers receive an email with my reply, they tend to come back and add to the comments. It's not a matter of increasing your comment count, but to cultivate a sense of community with your readers.
I've not had any problems or complaints about email spam with this plugin so far.
What it is for: It crawls your entire blog checking for broken links.
Why you should get it:
This is particularly useful for those who have migrated from one blog platform to another (e.g. Blogger to WordPress).
Even though the permalinks for each post are automatically amended to the one used on WordPress, there will be instances when you linked a particular topic to an older blog post. WordPress does not change these links.
There are also times when a particular website which you have linked to has ceased to exist. This plugin will ask you if you want to unlink it, or leave it as it is.
It's a plugin worth getting. It lessens the chances of hitting the Error 404 pages ("page not found").
What it is for: It stores a backup of your blog database either onto your server or your computer. You can also schedule backups.
Why you should get it:
Needless to say, this is one of the most important plugins I recommend bloggers to get.
It backs up all of your blog posts and comments (not the images or design files though). If anything goes wrong, at least you know your blog is safe.
I've written an extensive post on backing up your blog, if you would like to check it out 🙂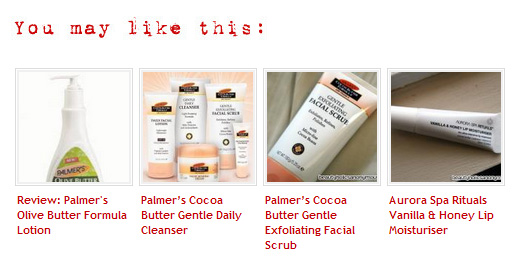 What it is for: Displays related posts to the current post.
Why you should get it:
It's very similar to the LinkWithin plugin or widget that you see on many blogs, but a lot prettier and more customisable 😛
You get more accurate related posts. I find that LinkWithin often just pulls any old post that isn't really related to the current content.
Keep your readers engaged on your blog!
8. Akismet


What it is for: It's a powerful spam filter.
Why you should get it:
Akismet is one of the plugins that come automatically installed with WordPress.
It's a good thing too, because if you don't have it, or any form of spam filter, you could get up to 300 spam comments a day. Those spambots are sneaky lil' buggers, they are.
What it is for: Selects a random prize winner for your giveaway(s).
Why you should get it:
If you run giveaways on your blog, this is the plugin for you to choose your winners.
You don't have to run Random.org, put in the numbers, generate the winning number and then find the winner corresponding to that number.
When you're writing your post, there will be an option on the right sidebar on whether this is a giveaway or not. If it is, then when it's time to select the winner, with just one click, it randomly chooses a winner with the email address and comment displayed. Easy peasy.
I normally deactivate the plugin after the giveaway winner is selected and announced. Since I do not run giveaways daily. there's no point switching it on all the time.
10. CommentLuv


What it is for: If opted, it will show your commenter's (provided he/she added a blog link) latest blog post below their comment.
Why you should get it:
Show your readers some love by displaying their latest posts. Other readers who see it may be inclined to click on it, and whaddyaknow, you've spread the love!
Do you have any favourite WordPress plugins? If you do, please share it with us. Particularly with me, because I'm always game to check out new plugins. Just have to keep my fingers crossed it doesn't crash the blog 😛