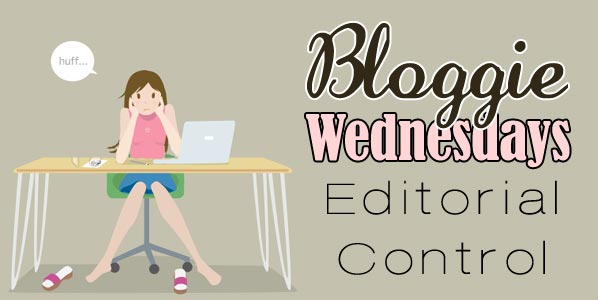 You know I like to start my Bloggie Wednesdays by giving you a scenario to think about 🙂
Let's say that you've been sent a beauty product by a PR to review on your blog. This isn't unsolicited product, by the way, it was something you requested. You tried it out for a month; unfortunately, it didn't work for you. So you write, publish the review on the blog, and send the link of the review to the PR.
The PR did not like that the review was a negative one. Perhaps he/she did not like the way certain phrases were worded. He/she gets back to you, and requests that you change what you wrote.
Another similar scenario would be that just before you publish the post, the PR requests that you send them your review to check first.
Hmm… so what do you do? Would you email them what you wrote to review first before you publish it? Would you change what you've written and published because they don't like what you've written?
The question is: who has editorial control over your blog?
I'm glad that I have yet to experience this from any PR, but I have heard negative feedback from several beauty bloggers who have had less than savoury experiences with PRs demanding editorial control of their blog posts prior to publishing. Some were polite about it, some weren't. Either way, the objective was still the same: they wanted to check your review first before publishing.
I had the pleasure of speaking to Eleanor Pendleton (beauty editor for InStyle Australia) and Michelle Blancato (Online Manager for Beauty Directory) after the Beauty Directory seminar at the ABBW. This was a question I posed to them, as I wondered what their thoughts were regarding this issue. Should bloggers hand over editorial control over the reviews of the products they were sent to the PRs who sent them? Are they obligated to?
Both had a very simple and adamant answer. NO.
Eleanor said that over at InStyle, unless the brand paid for advertorials, then whatever they write stays with them. They would never hand over their work to the brands to check first before print.
Michelle said that this applies to bloggers as well. Just because we are kindly sent products to review, we are never to hand over editorial control of the reviews to the PRs/brands to check first before publishing without any form of monetary compensation.
I couldn't agree with them more. If you feel that you would like to have them check your review first (although you really shouldn't), then by all means go ahead. But do not be pressured or obligated to do so.
At the end of the day, it's your blog. It's your website. You're the editor, the blogger, the self-publisher of your own work. The only time brands should be allowed to check your work first prior to publishing is if they have sponsored that post. Even so, when I used to do sponsored posts back in the day, I never had to submit my work for approval first prior to publishing.
What about you? Have you faced this issue before? Has someone asked to read your review first before publishing? What was your response?
Bloggie Wednesdays
is a series of articles just on blogging. They contain tips, how-tos, discussions about anything and everything you need to know about blogging and how we can be better bloggers. If you have any suggestions, tips and tricks about blogging you would like to share with us, or if you have any questions you would like me to address, please let us know in the comments.