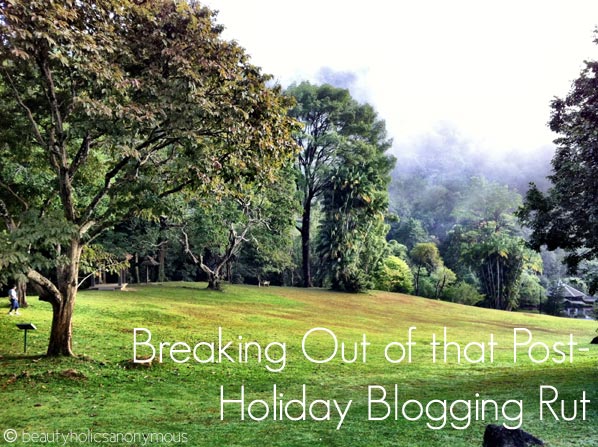 As you can tell, with my month-long break in Malaysia, I barely blogged at all in December. That was quite a hiatus I took from the blog, and I've missed blogging dearly.
Unfortunately, missing blogging, and actually starting blogging again after such a long time away from the blog, isn't easy. In fact, I even had trouble coming up with this post. How to get the words flowing after haven't written anything in so long? Even my fingers are rusty. I haven't even updated my personal blog in over a year, so that one's even worse.
There are a few ways to do it, at least, for me and the beauty blog, that is. If I'm going to break out of this post-holiday blogging blues, I
Read other beauty blogs for inspiration.
Do not force myself to come up with something, just for the sake of filling the day with random, unsubstantial posts.
Go through my holiday shopping haul. I like this one because they give me ideas on what to write in future. Plus it's fun to play with makeup I can't get here 😛
Surround myself (if not in person, then at least on social media) with other beauty bloggers.
Bite the bullet and write this post 😛
What about you? If you haven't blogged in a while, or just got back from a long vacation, how do you get back on the blogwagon?
Image: The Botanical Gardens, Penang
Bloggie Wednesdays
is a series of articles just on blogging. They contain tips, how-tos, discussions about anything and everything you need to know about blogging and how we can be better bloggers. If you have any suggestions, tips and tricks about blogging you would like to share with us, or if you have any questions you would like me to address, please let us know in the comments.