It's not a surprise that I'm quite a fan of Naruko products. I find most of their products very suitable for my combination skin, and they're affordable. So when I was in Malaysia at the end of 2011, I stocked up on more Naruko items. One of the items I purchased was from the Raw Job's Tears range, which I've not encountered, and that was the Supercritical C02 Whitening Night Gelly.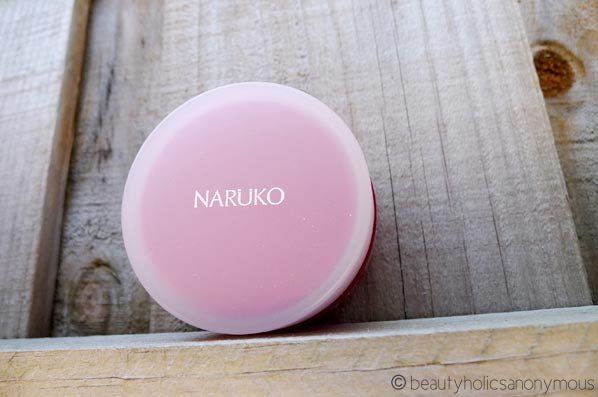 I had to do a background check on Job's Tears as I had no clue what it was. I found out that Job's Tears were coix seeds, which looked like barley (although not the same genus). According to Naruko, Raw Job's Tears is equivalent to the combination of fine Job's Tears and Job's Tears wheat bran. Raw Job's Tears in the Naruko range are extracted from Nantou, Taiwan, and are apparently effective whitening ingredients that help clear melanin and dark spots on the skin. A more elaborate description of what Naruko's Raw Job's Tears does can be found on the Naruko Malaysia website (I did not link the Taiwanese website as I can't read Chinese :P).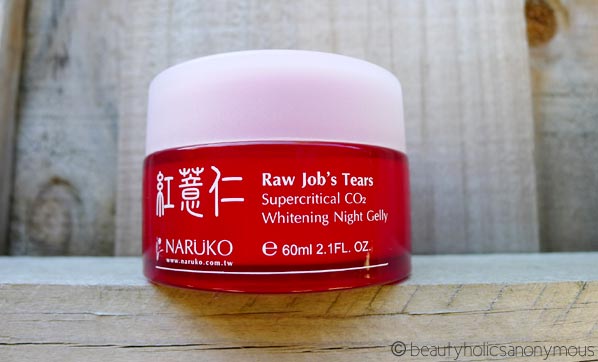 For such a fancy name to the product, let's take a look at what it did for me, shall we?
Firstly, let's talk about the packaging. It's typical Naruko packaging; it comes in a heavy glass jar, and a plastic lid. Jars are not my favourite form of packaging as it's prone to germs everytime you open and close the lid. Having said that, a few of my really good skincare products come in jars, so I suppose it's a matter of choosing your battles :). It also comes with a small spatula so that you don't have to use your fingers to dip into the gelly.
Secondly, the texture is a thick translucent gel, which sort of reminds me of thickened egg white. It goes on the skin really smoothly, and somehow feels a tad silicone-y. I'm afraid I chucked the box before photographing the ingredients (bad beauty blogger!), so I cannot say for sure if there are silicones in the moisturiser, because by feel alone, it does remind me of Olay's serums. It feels slightly thicker than Clinique's Moisture Surge.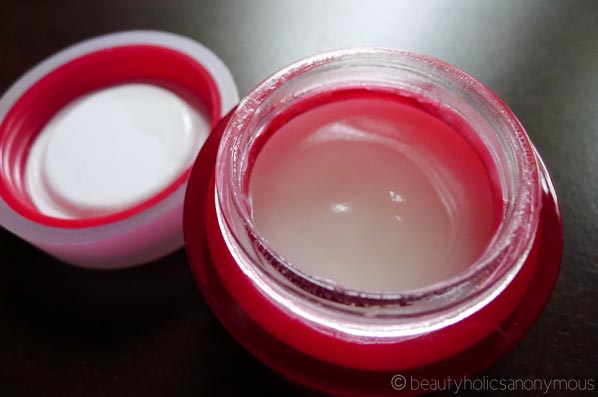 Next, there's the scent. This is what made me suspect that raw Job's tears might be barley (or something close to barley), because it does smell like barley! It reminds me of the iced barley drinks I highly enjoyed in Malaysia.
So, did the night gelly work for me? I've been using this for close to 3 months now, and to be honest, I did not notice any whitening of the skin. My skin did not look any lighter than it did before nor reduce the appearance of the freckles on my cheeks. So for whitening purposes, this does not check the description boxes.
However, as a moisturiser, it does a decent job in keeping my skin hydrated throughout the night. As this is called a "night gelly", I assumed this to be a night cream. For oily/combination skin, this will be sufficient in summer, when the days are warm as this is pretty light on the skin. Try keeping this in the fridge, because it feels fantastic on the skin when it's stinking hot outside :P.
As I haven't used this in winter, I cannot vouch for its efficacy then. I would not recommend this for those with dry skin because I don't think it will be moisturising enough.
Will I repurchase this? Hmmm … at the point, I don't think so. I still have quite a lot of the moisturiser to complete, and when the season turns and it gets dry and chilly at night, I would prefer something a little richer, even for my combination skin.
Naruko Raw Job's Tears Supercritical CO2 Whitening Night Gelly retails at RM45 (approximately AU$14) for 60ml and is available at Watsons (Malaysia). It's also available on Sasa.com for US$13.
What I like about it: Affordable moisturiser, lightweight and oil-free for combination skin
What I do not like about it: Not hydrating enough for other skin types, the sweet barley scent may not suit everyone's tastes.
You can read more about Job's tears here.