When I did the Battle of the Zit Busters and compared Mario Badescu's Drying Lotion and The Jojoba Company's Spot on Pimple Treatment, I was pretty satisfied with both products in terms of efficacy. They zapped my zits quickly within the next couple of days, which was good. Unfortunately, no matter how well the products worked, I just couldn't go past the stinky-poo scent that those two zit-busters produced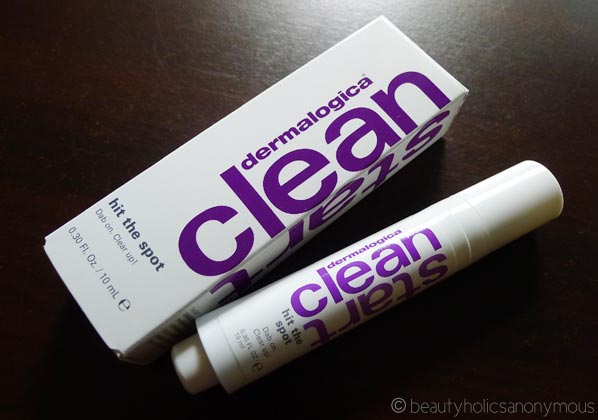 It was time to find something new. Something that will do the same job without having to hold my breath and count to ten while I quickly slap this on a pimple. I stumbled upon Dermalogica's Clean Start range when trawling Strawberrynet one bored evening, and my eyes fell on their Hit the Spot zit treatment gel. Added that to my shopping cart, paid and less than a week later, it arrived.
I've been using this for 6 weeks now, and my skin couldn't be happier.
Description:
Breakouts have finally met their match! This concentrated spot treatment absorbs without a trace, minimising breakouts while controlling future breakout activity.

Ingredients:
Water (Aqua), Butylene Glycol, Niacinamide, PEG-8, Leuconostoc/Radish Root Ferment Filtrate, Sulfur, Bakuchiol, Camellia Sinensis Leaf Extract, Porphyra Umbilicalis Extract, Glycyrrhiza Glabra Root Extract, Hydrolyzed Algin, Zinc Sulfate, Melaleuca Alternifolia (Tea Tree) Leaf Oil, Cyclodextrin, Enantia Chlorantha Bark Extract, Oleanolic Acid, Spiraea Ulmaria Extract, Xanthan Gum, Acrylates/C10-30 Alkyl Acrylate Crosspolymer, Aminomethyl Propanol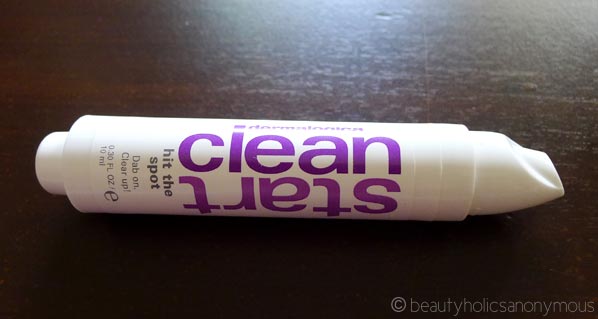 It's a rather large tube for 10ml of product, and quite an innovative one too. To dispense the gel, all you have to do is turn the knob at the bottom of the tube, and press. Each squirt dispenses just the right amount of gel to treat 1-2 pimples at a time. I don't rub the tip of the tube on the zit, because it's not hygienic. What I do is to simply dispense the gel on a clean fingertip, and then apply it on the skin. Easy peasy.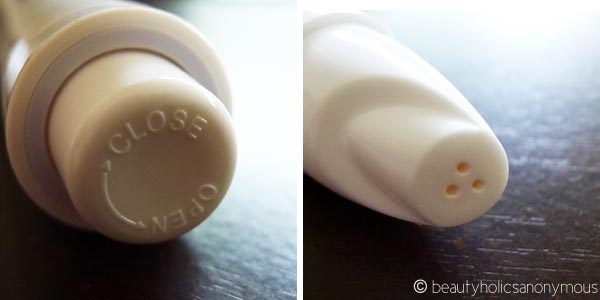 What I really like about the Hit The Spot is that it doesn't stink. In fact, it smells rather soothing, like peppermint, and it barely stings when it touches the skin. It contains sulfur to help stop breakout-causing bacteria, clearing oil and congestion quickly, tea tree oil to help reduce redness and calm inflammation and zinc sulfate to help purify the skin.
Pimple-busting time is about 2 days before the zit clears up. I use this every time my skin starts to break out. You know the red, sore bumps on the skin just before it becomes a full-blown pimple? Massage a bit of this on the affected area helps with the soreness and begins the drying out process before it becomes an actual pimple with pus and all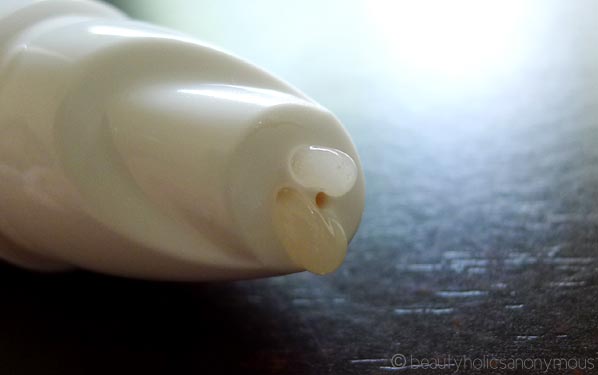 I use this on Tim every time he gets breakouts (poor guy gets them often from exercising and excessive sweating on the forehead), and he loves it. He couldn't stand the smell of the previous spot treatment products, but he's all for the Hit The Spot. Me too!
Dermalogica Clean Start Hit The Spot retails at AU$40 for 10ml and is available at Dermalogica counters at Endota Spa salons and selected beauty salons nationwide.
What I like about it: Cute packaging, soothing pepperminty fragrance from the tea tree oil, zaps breakouts even before they begin, pimples take 1-2 days to clear
What I do not like about it: Lots of plastic packaging for only 10ml of product.