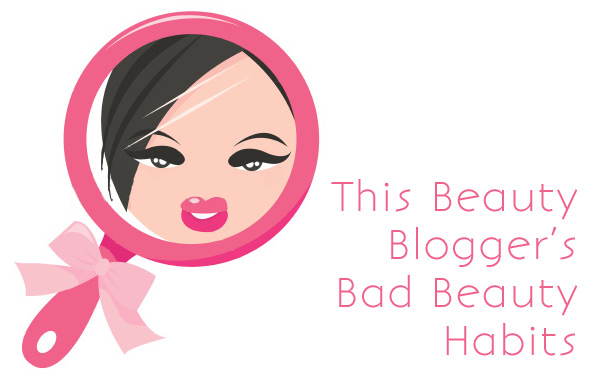 If I had a dollar each time I succumbed to a bad beauty habit of mine, well, I'd be a millionaire by now. All the things you read in glossies, in beauty blogs, advice from experts, etc, all the "do not do this" and "do not do that", chances are I've done them all and still am doing. I may have also advised you the same, and yet I do them too. Tsk tsk. Yes, I still call myself a beauty blogger.
Oh yes, I have some bad beauty habits. Most were developed from young, which made them very difficult to shake off. So, in the interest of full disclosure because that's the type of blogger I am (ahem!), here they are. Be warned, some are quite disgusting

Popping blackheads in front of the mirror. I can't think of a more satisfied feeling than seeing a big piece of hard yellow substance popping out of the blackheads. It's even better if it splats on the mirror. Result!
Splitting split ends further. Oooh this is a bad one. I have dry and coarse hair, and heaps of split ends. Sometimes when I'm anxious about something, like meeting a deadline, I check my hair for split ends. Sometimes I snip the ends off. Most of the time, I hold one side of the split end, pull and split the hair further. It's terrible, but damn, it's satisfying.
Rubbing my eyes. This is my worst one. I know I shouldn't do it. I'm very careful when it comes to removing eye makeup, taking extra care not to tug at the delicate skin. However, when I'm angry or upset at something, I tend to rub my eyes.  Hard. Hence the terribly unsightly fine lines under the eyes. It's a constant battle I'm up against, and I'm very ashamed of it.
Instead of snipping hangnail off my nails with a pair of cuticle scissors, I bite it off. It spreads and bleeds and hurts like a son of a biscuit.
Picking at my spots, especially when they begin to scab. Bugger those itchy hands.
I'm sure there are plenty more, but these are the ones I could think of at the moment. They are bad enough as it is, and I bet you are horrified at how someone who blogs about beauty, bangs on about how we shouldn't pick at our spots and rub our eyes could do exactly the same.
Gah, I'm so ashamed. If only those bad habits don't give me tremendous satisfaction; I'd be more than happy to get rid of them. Hmm do you reckon a session or two of hypotherapy would help?
What about you? Do you have any dark, secret beauty habit, something you shouldn't do but can't help doing because they feel just so incredibly good? Make me feel a little better about mine and spill the beans!