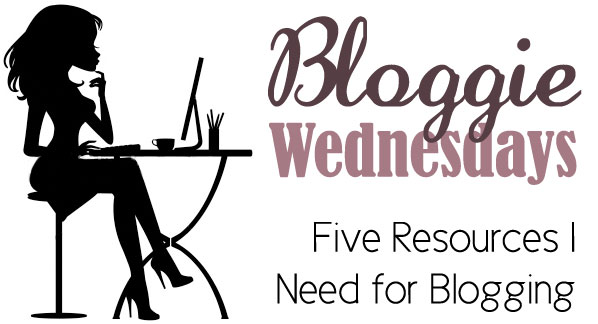 Happy hump day, folks. It's been a dreary start to the week in the Melbourne, what with the rain and chill settling down in Melbourne. Looks like winter came early for us. Time to take that coat out of storage! 🙂
*brrr*
For today's Bloggie Wednesdays, I thought I'd share with you some of the resources I use for blogging.
We have our own blogging platforms which we blog on. I believe many of us do not just work 100% on those platforms when it comes to blogging. We utilise different resources to come up with what is seen on our blogs. Maybe you use Paint.net or Photoshop for your images. Perhaps you use Dropbox to store your blog's backup files.
As for me, I use those applications too. Photoshop? Yes. Dropbox? Of course. But there are many more that I use alongside WordPress and these applications, and I thought I'd share them with you. Perhaps you might find them useful too.

Notepad++
I do all of my blog drafts on Notepad++. It's like Notepad on your PC, but better. It takes up little resources, and allows me to do any form of web coding easily as you can customise the file and look according to what file extension you want the file to be (HTML, CSS, PHP, C/C++, and many more). This is highly useful when you're working on codes and need to see functions, classes, curly brackets, etc in their proper groups and colours. If I've lost you there, suffice to say, it's Notepad-but-better 😛
FastStone Photo Resizer
I've had this program in my computers for about 10 years now, I think, ever since I've gotten my first digital camera. It makes batch resizing of images so much quicker. Whenever I need to upload any photographs to the blog's Facebook page, I use FastStone to do a batch-resize in just 2 clicks. This way, I don't have to resize them one by one. For images that do not require any other form of editing, I resize them to specific dimensions before uploading them on the blog.
Pinterest
Okay, this is more of a blogging distraction than resource, because I can stay on this website alone for hours on end just looking at beautiful pictures. It's like a personalised magazine, you pin the items you like, and then go back and see them all in one page. A lot of these images have given me good blogging ideas too. I see what most people are interested in, and write down blogging ideas that arrive from those images.
Springpad
Some people prefer Evernote, I prefer Springpad. It's an on-the-cloud application that you can use to save whatever you fancy into different 'notebooks' – links, recipes, products, notes, etc. What I really like about Springpad is that I write on the go, and it will be synced to the server. I can retrieve them whenever I like on their website, iPhone or iPad application (I have the app in both devices).
Dictionary.com/Thesaurus.com
I use these two websites extensively for blogging. It's not just enough to double-check spelling and grammar, but you have to know what the words mean before writing them. Sometimes I have a word in my mind which I could use. I've heard it somewhere before and sounds right in the sentence. But after double-checking the meaning on Dictionary.com, it's only when I realised that I've gotten the meaning wrong! It happens. Thesaurus.com is absolutely vital for when I can't think of another word for, say, "beautiful". There's only so many times I can use the same adjective in a blog post, don't you think? 😉
What are some of the resources that you use for blogging? Do share with us in the comments. I'm always on the lookout for more 🙂
Bloggie Wednesdays
is a series of articles just on blogging. They contain tips, how-tos, discussions about anything and everything you need to know about blogging and how we can be better bloggers. If you have any suggestions, tips and tricks about blogging you would like to share with us, or if you have any questions you would like me to address, please let us know in the comments.