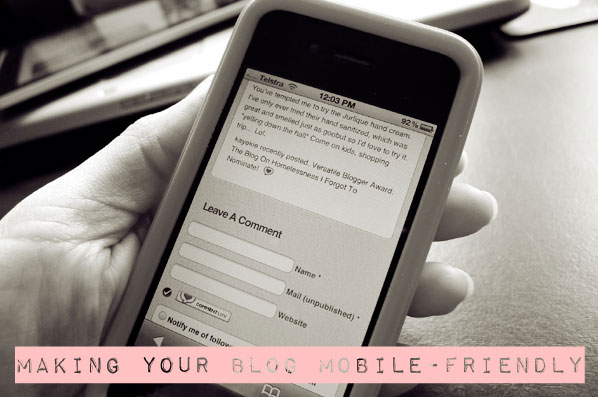 Hands up if you do a lot of blog reading on your phone. *wave mine frantically*
I do mine on the bus and train. It makes traveling with screaming children and stinky blokes after a game or a long day at work, a lot easier. I'm sure some of you do that too.
With many people using smart phones to surf the Internet these days, it's essential that websites have mobile-viewing capabilities. Mobile sites pretty much dial down the bells and whistles of the website, removes all Flash (yes, the bane of all iOS mobile devices), ads, etc to enable quick and easy browsing. It also reduces the amount of bandwidth consumed, especially if you are on a tight data allowance with your mobile phone network.
Websites without mobile-viewing capabilities frustrate me. Many a time, I find it difficult to even complete loading the page. When I want to leave a comment on an article, the page goes nuts and I end up with typos and published unfinished comments. For blogs that I know do not enable mobile-viewing, I leave them for later until I'm on my laptop once more.
There are a few ways to setup mobile-viewing for your blog. You can set it up using plugins, or create an actual mobile website with something like "m.mybeautyblogrox.com". I don't know as to how you would go about with the latter, but when I do, I'll keep you updated. I'm not sure if creating a separate mobile website with the "m" as a subdomain to the your blog will have any additional load to the website's database though. If you do have a separate mobile website along with the original one, please do let us know in the comments.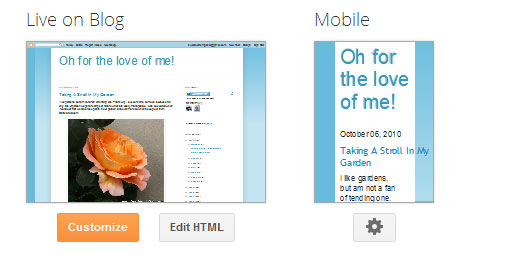 If you are on Blogger, then your blog will automatically be switched to its mobile version when you view it on your phone. To be honest, I'm not really keen on Blogger's mobile version. Images aren't always resized to fit on screen; if you use a touchscreen phone and try to move the page to view the entire image, you will most likely end up moving to the next or previous blog post. The only way you can view the image properly is to rotate the phone to landscape mode. It's quite annoying, really.
If you are on the free WordPress.com platform, the blog will also automatically switch to its mobile site when it detects a mobile browser. However, if you are on self-hosted WordPress, you will have to manually set it up to enable mobile viewing. You can do this with plugins.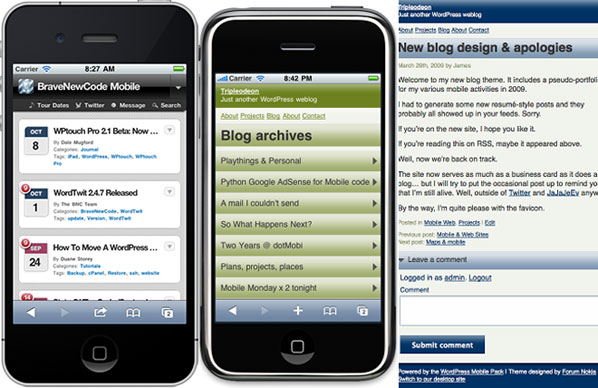 The plugin that I use for my blog is WP-Touch. The mobile version is easy on the eyes, quick to load, and easy to set up. A few months after I switched to WordPress, I installed WP-Touch on the blog. I had no problems with it; that is, I thought I didn't, until I realised later on that it mucked up my blog-caching plugin. I had to uninstall WP-Touch for quite some time. After my server and caching issues were resolved, I reinstalled WP-Touch, and have not had any problems with it since.
Here are more WordPress plugins for mobile-viewing. Please note that I have not tested these individually and cannot vouch for them.
As always, before you make any changes to your blog, it is very important that you do a backup first. Some plugins do not work well with each other, and depending on the ones you have, you can make or break your blog by adding the mobile plugin. Unfortunately, Paris B had a lot of issues with a particular mobile plugin once, and it very nearly destroyed her blog. Please do a full backup first before you attempt installation of any plugins.
Having said that, if your blog does not yet have mobile-viewing capabilities, then I highly suggest you jump on board. At least, give it a go. If it does not work for your blog, uninstall it and revert to your backup. If it works, huzzah! It makes viewing for your readers a lot easier, and they'll thank you for saving them on mobile bandwidth.
I know I will 🙂
Interesting link: 17 Great WordPress Mobile Themes
Bloggie Wednesdays
is a series of articles just on blogging. They contain tips, how-tos, discussions about anything and everything you need to know about blogging and how we can be better bloggers. If you have any suggestions, tips and tricks about blogging you would like to share with us, or if you have any questions you would like me to address, please let us know in the comments.