I used to be quite terrible with handcreams. LeGeeque can attest to that. Goodness knows she has reprimanded me enough times to "for goodness' sake, use a handcream!". A woman's age may not show on her face, but it certainly does on her hands.
I'm very picky when it comes to hand creams. The problem with me is that I can't work with greasy hands. It's disgusting when using the keyboard (keyboard will be oily and slippery), and dangerous when using my jewellery-making tools.
A lot of handcreams these days address that greasy texture, which is a great thing for me. It means that 1) the handcreams will be able to be absorbed very quickly and 2) I don't have to wait long before I can start working with my hands again.
There are a few particular handcream which I'm loving lately. These are the ones which I have in the living room, the study and on my bedside table. They're actually used too, and not just part of the furniture, as Tim always says about my mountain of beauty products 😛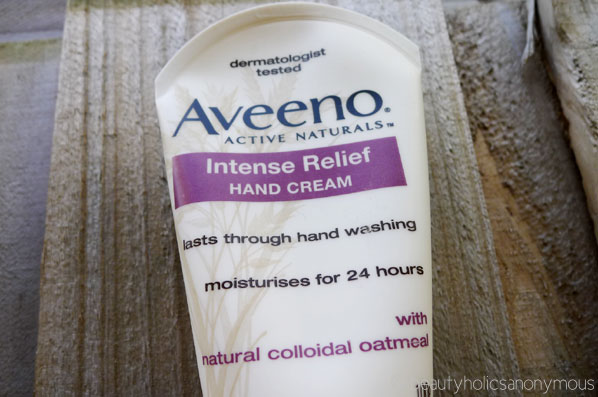 Aveeno Intense Relief Hand Cream
I've reviewed this ages ago, and till this day, I still find it the best hand cream I've ever used. It's what I call my "day hand cream". It's the only one I've tried out of many that lasts through hand washing. It's not necessary to reapply after a hand wash; it's that good. It absorbs the quickest out of all the hand creams I've used, and leaves no greasy touches. There's no fragrance to this; just the odd scent of oats. It's by far the only handcream I've actually repurchased, and will be buying yet another because it's finishing soon. That says a lot about the product from someone who hardly uses them 😛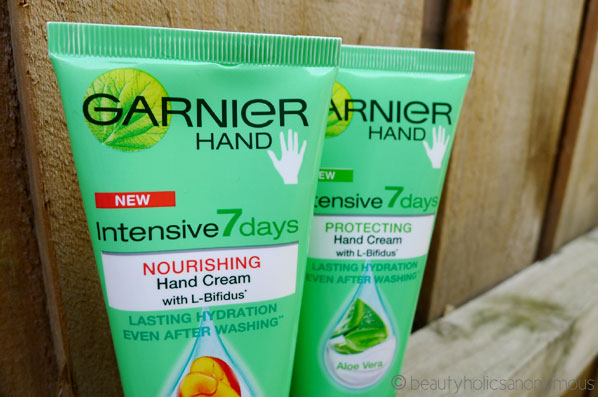 Garnier Intensive 7 Days Hand Cream*
This is a new bodycare product from Garnier. If you enjoy their big green bottles of Intensive 7 Days body lotions, you will like the hand creams too. They are similar in texture; almost like the body lotion, but in smaller tubes. Love the scent, and they are non-greasy too. I have the Nourishing on in the living room, and the Protecting one in the study. I use a dollop of this after washing my hands in the kitchen.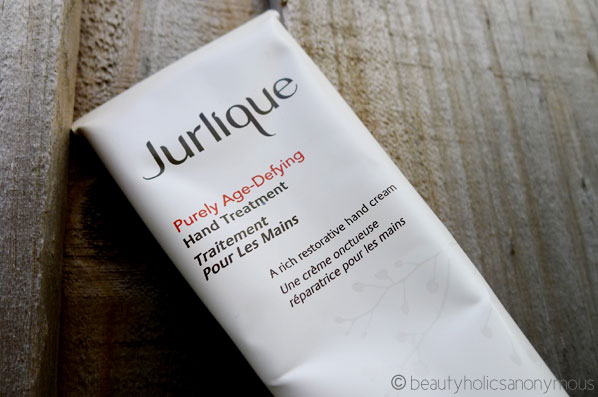 Jurlique Purely Age-Defying Hand Treatment*
This is the richest handcream of the three, and it's only used just before I go to bed. I have this on my bedside table just so I do not forget. It has a lovely, soothing scent which is great for sleep. What I do is, when the lights are off, I squeeze a small amount of this onto my palm (yep, I do it in the dark. Mad skills :P), and massage it to the fleshy bit of my palm below my thumbs. It's the part that is often massaged when you go for a manicure. I find it highly relaxing, and I'll have soft, smooth hands in the morning. Win!
There you go. I'm actually using handcreams properly now. I think LeGeeque will be proud. My hands certainly are, and I can almost hear them sighing with relief.
Are you picky with handcreams too? Which one changed your mind?
*These products were provided for consideration. Would have purchased them in a heartbeat even if they weren't.