Sally Hansen came up with the first nail stickers I knew. I remembered when I first saw them many months ago, I couldn't get over how cute they were. So I bought a couple of boxes to try. Later on, I was kindly given a few more boxes to try. This was months ago. Up till last week, I haven't even opened any of them! What's that now? Bad beauty blogger? Yes yes I know 😉
Oops typo in the image
Last Wednesday, I decided to finally try them out, to see what the fuss was all about. Mad For Plaid is a part of the limited edition collection for Easter.
As I haven't tried nail stickers before, I found them slightly fiddly, thus taking me longer than the usual 5 minutes most beauty bloggers took with these (mine took about 30 minutes). When all sticker access are finally filed off, I was impressed.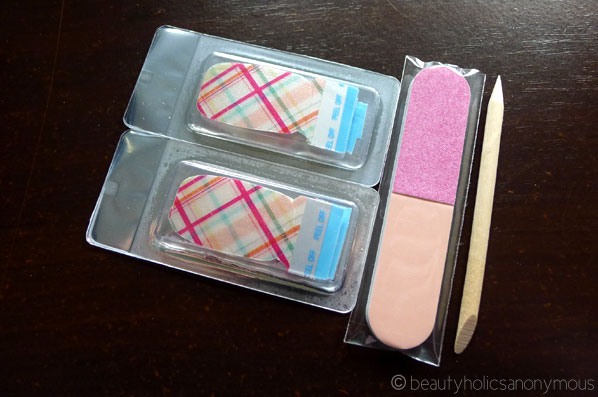 After I got the hang of sticking them on the first few fingernails, I could see how easy it actually was. They are such pretty lil' things too. I really like how it felt as though I had no nail polish on.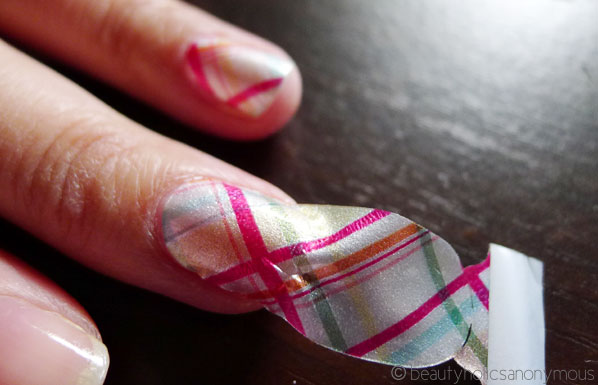 As I also applied a layer of top coat on the nails, there were no peeling and chipping. A top coat really helps to seal the stickers, which prevents peeling. I made the mistake of filing the excess off a bit too vigorously, hence it looks as though I had some tip wear. The ones that I did a proper job with showed no tip wear at all.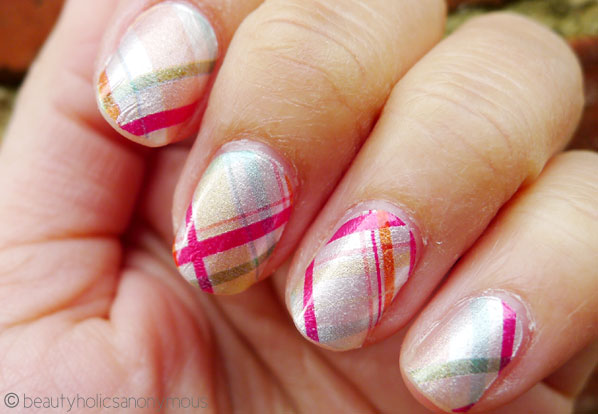 As always, excuse the gnarly cuticles. I haven't been good with my cuticle treatments lately 🙁
I'm not a fan of having the same shade of nail polish on for long, so after 5 days, I got bored and took them off. This is the part which I'm not too happy with. These nail stickers are a pain in the bum to remove. Even after pressing each nail with a polish remover-soaked pad for 5 minutes, I still had a lot of silver residue left on the nail. It took some elbow grease to really remove every bit of polish and sticker on the nails.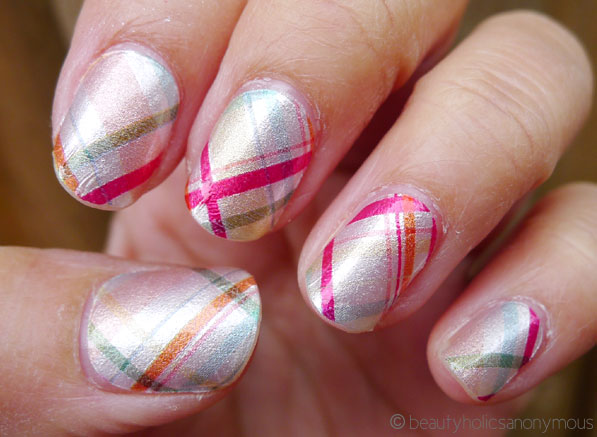 Pain-in-the-bottom sticker removal aside, I like them. I really do. At AU$14.95 per box, I probably will not be using this on a regular basis, but on special occasions or a holiday, most definitely. I still have my Halloween 2011 Salon Effects stickers, so watch out, I might be sporting some ghouls and ghosts on my fingers when you see me 😉
Have you tried any of Sally Hansen's Salon Effects? Which are your favourites? Mine are still the Halloween ones 😛