I first heard about Bioderma's Crealine H20 on one of Lisa Eldridge's Youtube videos. As you know, I absolutely adore the lady and the amazing work she does. I stumbled upon her work and her videos when Kahani blogged about discovering this very talented makeup artist. She used this product called Bioderma, which looks like water in a fat mineral water bottle. Fascinating!
I've been on the hunt for this elusive makeup remover in Australia ever since. No luck then because it just wasn't available in Australia. I wasn't sure if I wanted to buy this online just yet because all of the US-based online stores that do stock this only sell them in bulk, in at least 500ml bottles. What if it doesn't work for me? I didn't want to commit to such a large bottle if it does not work.
Lady luck smiled upon me when I was invited to an intimate brunch by the Bioderma rep in Australia as an introduction to the brand. Finally, it's going to be available here! I was kindly given a 250ml bottle to try out. It was as though a cloud has lifted. I finally know what the hype on this Bioderma Crealine H20 is all about. And by George, I love it.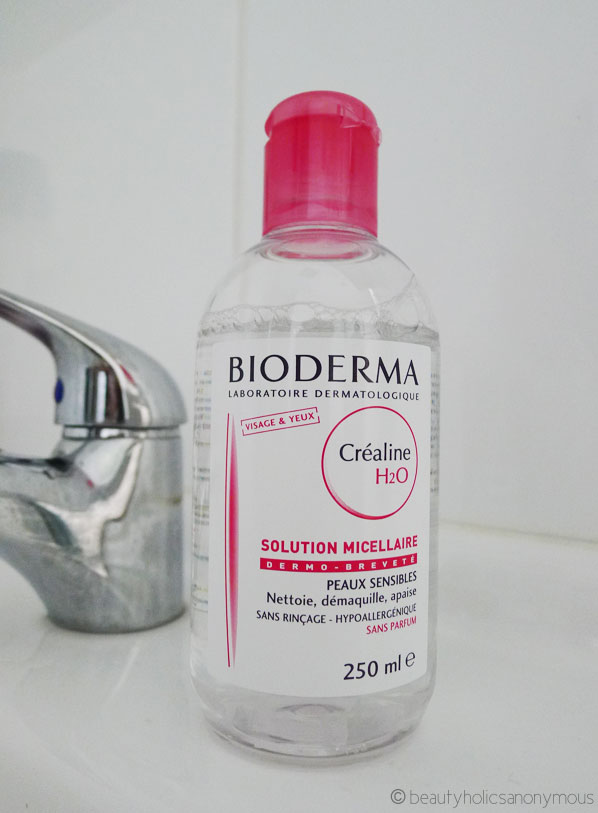 Description:
The 1st gentle daily cleansing and makeup removing water for very sensitive to intolerant skin, skin prone to redness.
Cleanses impurities and removes makeup thanks to the power of its micelles. Respects skin balance.
Soothes the skin thanks to the calming and decongesting effect of the cucumber. Relives immediately and lastingly sensations of overheating, tightness and discomfort.
Guarantees high cutaneous and ocular tolerance. Non-rinse, soap-free, fragrance-free, alcohol-free, paraben-free. Physiological pH, non-comedogenic, hypoallergenic.

Ingredients:
Water, PEG-6 Caprylic/Capric Glycerides, Cucumis Sativus (Cucumber) fruit extract, Mannitol, Xylitol, Rhamnose, Fructooligosaccharides, Propolene Gylcol, Disodium EDTA, Cetrimonium Bromide
This really does look like water in a bottle. I pour the makeup remover into 2 cotton pads until they are about 70% soaked, and then put them over my eyes. Just like how Lisa Eldridge does it. Liquid eyeliner and waterproof mascara take a little longer to remove, and usually another cotton pad is needed to fully remove everything.
Next I would use another two cotton pads with the Crealine H20 to remove my foundation. This is a lot easier to remove. It leaves the skin feeling mighty refreshed and clean.
Here's what I really love about this miracle water – it does not sting the eyes at all. It's so gentle that I can be putting the cotton pads with the makeup remover on my eyes, when I still have contact lenses on, and I wouldn't feel even a hint of a sting on my eyes. Many a time I have to use makeup remover on a cotton swab to remove eyeliner residue on my waterline, and even with gentle makeup removers, this action still stings the eyes. I did not experience any discomfort when using a cotton swab with the Crealine H20 on the waterline.

Only one cotton pad was used to remove all these – waterproof mascara and eyeliners
The way to use the Bioderma Crealine H20 is not to rub the makeup off, but to press a soaked cotton pad on the areas and gently press and massage the area. Leave it on for at least 5 minutes if you can, and then very gently, coax the makeup off with the cotton pad. No rubbing is required, which is vital for the delicate skin around the eyes.
Want to see something even better? Let's say you have ball-point pen marks on your skin (as we sometimes do, when we need to quickly write a phone number on our palm). The Crealine H20 removes the pen marks just like that *snap*. I kid you not! It's good enough to remove tough pen marks (only for ball-point pens though; I've tried it with inky gel pens, and they don't work

), yet so gentle on sensitive skin. It's a contradiction that both baffle and fascinate me.

Will I purchase this once the current bottle is done? Oh, no doubt about it. In fact, I'm already planning on getting a second bottle just to stock up. If you have not tried the Bioderma Crealine H20 before, I highly recommend that you do. There's a reason this is so loved by makeup artists and celebrities, and now I know why. Why, a bottle of Crealine H20 is sold every 8 seconds in the world!
Bioderma is currently stocked in a few pharmacies in Victoria and New South Wales. Do check out Bioderma Australia's Facebook page for a list of stockists, or email contact@cosmetifrance.com to receive an updated list of stockists. In a few weeks, you should be able to head on to the Cosmetiques de France website (it's a Melbourne-based company and also the official distributor of Bioderma in Australia), where they will be selling Bioderma products online. I shall update you when the website is live.
Bioderma Crealine H20 retails at AU$39.95 for 250ml. At the moment, I don't think Bioderma Australia will be stocking the 500ml or 1-litre bottles, but I really hope they will in future because it will be more cost-effective. It's not cheap, but it might be something worth checking out if you have very dry and/or sensitive skin, or if you have problems finding a good eye makeup remover that do not sting your eyes.
What I like about it: Very gentle makeup remover, refreshes the skin after use, suitable for very dry and sensitive skin, removes ball-point pen marks on skin
What I do not like about it: Does not remove ball-point pen marks on clothes. Damn.