Magnetic nail polish has been around for a number of years now. I remembered seeing one by Lancome many years ago and was blown away by the effect. Well, that was until I found out how it really worked. Damn. I should just enjoy the trick, shouldn't I, instead of finding out how the magician does it? 🙂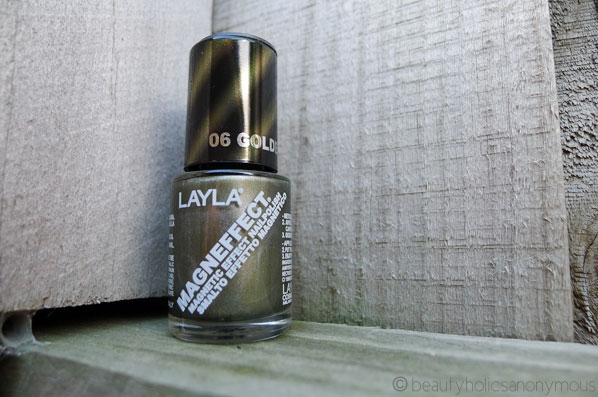 A few weeks ago, I was kindly sent a bottle of the Layla Magneffect Magnetic nail polish in 06 Golden Nugget to play with. Don't really know why it's called golden nugget, because it's a shade of dirty green, which in no way resembles a golden nugget of any kind 😛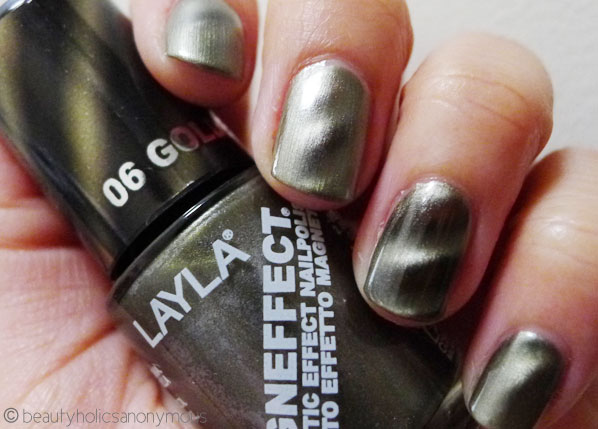 I found that the more nail polish you apply on the nail, the more visible the magnetic effect will be. And you have to be quick in hovering the magnet over the nail. For regular nail polish, I would paint all 5 nails, and then only go back to the first one to paint the second coat. For the Magneffect, I find that you get a much better effect when the nail polish is still wet. So it's paint a thin first coat, pile on the next one, cap the bottle, turn it over, and hover the magnet over the nail. Voila! Fancypants nails!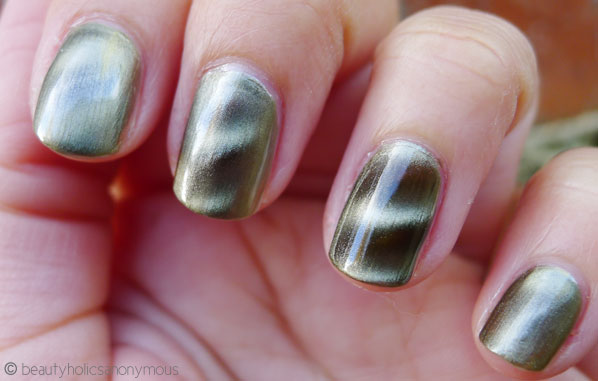 I thought I might try doing criss-cross nails by holding the magnet horizontally, and then vertically. Unfortunately this does not work. You'd only end up with odd-looking bumps. Experiment failed 😛
Formula-wise, it's a beautiful one to work with. Very smooth and creamy, it does not drag or streak (despite it being a frosty polish). I'd love to just wear the nail polish on its own without the magnetic effect.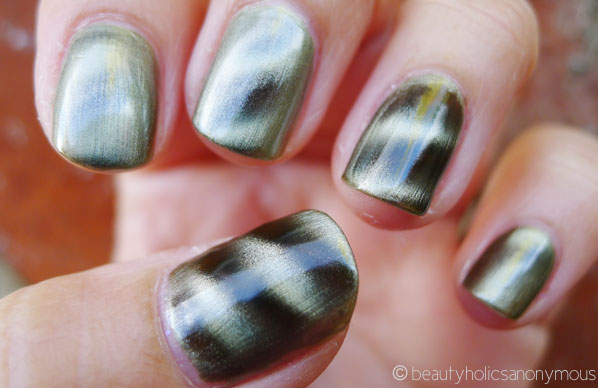 According to its description, Magneffect nail polishes do not require a base coat or top coat. However, I'm not used to not having either of these on, so I did apply a base and top coat. For the top coat, I find that it's better if you wait for the nail polish to dry more first before applying the top coat lest you muck up the effect.
Layla Magneffect nail polishes do not contain formaldehyde, toluene, camphor or DBP. They retail at AU$19.95 each and are available at selected Price Attack stores nationwide. For more information or stockist details, please check out the Magnetic Nail Polish website.