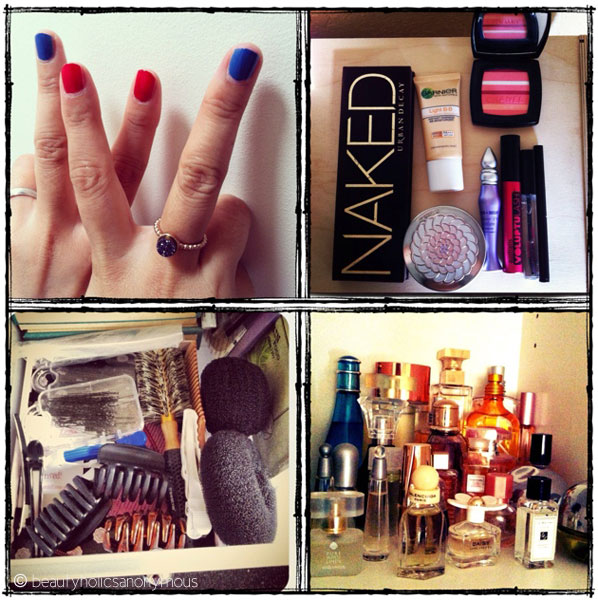 I do my skincare routine in the nude. It's just something I've always done. My husband knows to get out of the room when I'm done with a shower and that it's time to put my lotions and potions on. I'm not ashamed of my body around him, but it's MY time and I want to be comfortable in my routine. In case you're wondering, the blinds are always shut!
When it's time to "put my face on" (i.e makeup), I must have clothes on
I never step out of the house without deodorant on. I don't stink (at least, I don't think I do), but deodorant is my insurance. I'll be very uncomfortable if I didn't have any on.
In my almost-32 years of existence, I've only purchased one eyebrow pencil. As you can probably tell, I very rarely pencil my brows. I'm blessed with thick brows and like to keep it that way. I get my brow fix at my brow lady's once a month. It's not the perfect shape, but I reckon brushing it daily with a disposable mascara wand and applying brow gel to set it allows me to get away with it every now and then.
I must apply body lotion right after my shower. If I forget and get dressed, I'd feel as though something's missing, and have to strip everything off and start again.
I can go out without lippie on (*gasp*), but never without blush.
I can't leave the house without taking a shower first.
I get immense satisfaction standing in front of a big mirror and squeezing the icky yellowish whitehead bits out of my nose. 10 points if they are chunky. 20 points if the liquid splats on the mirror.
Fridays are manicure nights. I don't do my nails any other time of the week, unless there's an event/dinner/party/whatever I need to attend. If I do my nails any other time during the week, the husband will always say "but it's not Friday!"
Not particularly a beauty quirk, but I sing in the shower almost all the time and pretend that I'm in a music video with water cascading down my back. That would be one lousy, porn-ish video, don't you think?
What are your beauty quirks?