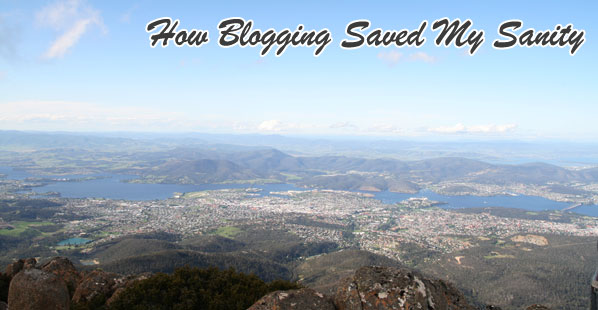 I celebrated Beautyholics Anonymous' birthday yesterday. As I prepared for the 5th anniversary, I looked back to how it all started.
When cousin Beetrice began blogging in 2004, I thought it looked like a lot of fun. It wasn't till 2005 that I too jumped on the blogging bandwagon. My first blog was something I kept in secret, which I did not share with anyone at all. It seemed quite silly blogging and not sharing with anyone, but somehow it felt cathartic writing one compared to a diary (which I used to have heaps of). Before I started blogging about beauty, I had a personal blog for 2 years (in fact, I still do, but it hasn't been updated in well over a year).
There are two very significant moments in my life when I can truly say that blogging has saved my sanity.
Few people know a more personal part of me, something which I experienced years ago. Before I moved to Australia, it wouldn't be something I would readily share with anyone. End of 2004, I left for Japan for work and training, and lived there for about 1.5 years. It was truly one of the most trying times of my life. I was terribly miserable and homesick, had no Internet access where I lived, extremely limited Internet access at work and the only times I could actually go on the Internet was at the end of each week, where I would head to an Internet cafe 30 minutes from where I lived.
Truth be told, I was an emotional wreck. It was the shittiest time of my life, yet also the one when I truly learned about myself. I had a lot of bittersweet moments in Japan.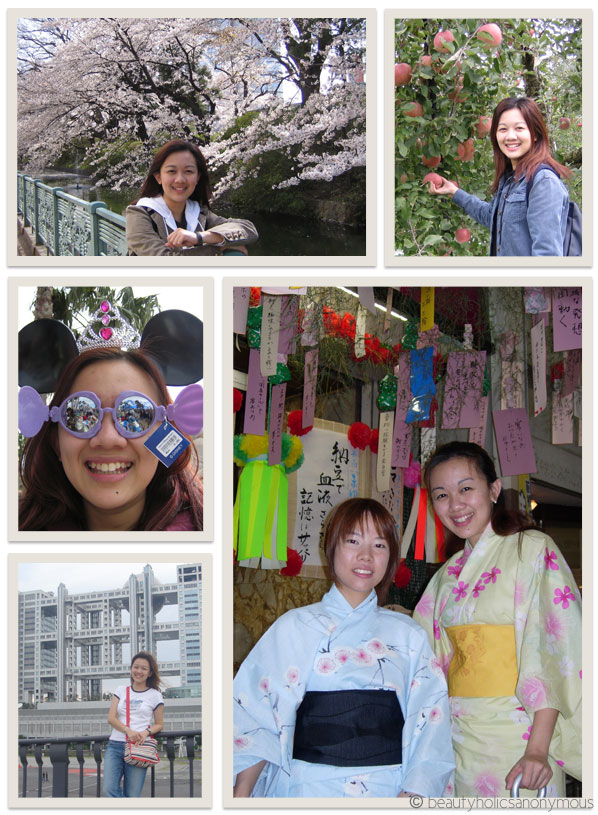 Life in Japan, 2005-2007
So how did blogging come into the picture? There was no Twitter or Facebook back then. The only way I had any contact with friends and family was via work email. Funny enough, with all the websites the company blocked (e.g. Yahoo mail, Gmail, etc), the one website they did not block was Blogger. I was blogging on Blogger back in the day, and what I would do was write about my life in Japan. I would talk about my weekends, what I did, what I saw, did countdowns to the days I would be home, and so on. It gave me something to do during the lonely nights when I was in my room, with nothing on the telly but Japanese talk shows I could not understand. It was all I could do without going absolutely bonkers.
The other significant moment was when I moved to Australia after I married Tim. It was a very big chapter in my life when I came here as I left my family, friends, job, everything behind to a land foreign to me. Other than Tim, I only knew one other friend in Melbourne. Unfortunately, I didn't see her often due to her hectic work commitments.
I usually have no trouble settling in to a different country. I was right at home in the UK after the first week (I studied in Scotland for 3 years), and as difficult as Japan was for me, I didn't have much trouble because every now and then, I would be out with my Japanese and Malaysian friends. It was different in Australia because I barely knew anyone. The first 6 months was really bad, and I was homesick. Poor Tim tried introducing his friends to me, and as much as I liked them, they were HIS friends. I needed to have some of my own.
It's funny how the blogging universe can turn things around for you. It was in Melbourne, just a couple of months after I moved here, that I met LeGeeque. I've been a reader of her old blog (now defunct) for months before I came to Australia, and we've been exchanging comments on our blogs. She gave me plenty of tips for my bridal photography, and I waited in anticipation of her blogging about her wedding.
Our six degrees of separation became even smaller when she found out that my first boyfriend was her best mate from work! Till today, I don't know how the heck she managed to find that out. She emailed me one day, saying that it was high time we met. So we did, over coffee, and hit it off immediately. She introduced another friend to me, and now the three of us meet regularly over drinks and meals. Needless to say she became my closest friend in Australia.
How did beauty blogging come into the picture? Well, I started beauty blogging in Malaysia (with the encouragement and guidance from Paris B), and continued in Australia. A year after I moved to Melbourne, I stumbled upon Val's blog. Again, we exchanged comments on our blog, and when I was back in Malaysia for one of my annual trips, I offered to get her a mascara she's been raving about. We finally met in person when I passed it to her.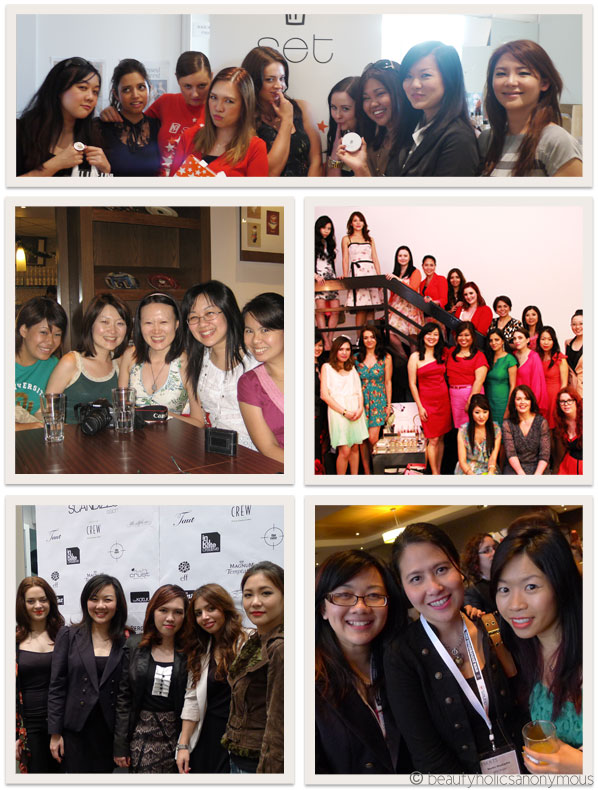 Through Val, MBBE was born. With that, as they say, the rest is history. I now have a group of girlfriends who share many common interests with me, and a social calendar that my husband is quite envious of. My social life was non-existent in Malaysia and even more before the MBBE was born.
So for me, blogging was never about the freebies. There was no such thing as freebies when I began beauty blogging. It started out as a creative (and distractive) outlet for me, which grew to something much more rewarding. I remembered my very first personal blog post in 2004. I hoped that this "blog thing" would be a project that would last for at least a year, and not just any other thing that I usually begin but never finish.
Well, it's been 7 years since I began blogging, 5 years since I started the beauty blog, and things are getting better every day. Will I ever stop blogging? I honestly don't know. Things change when chapters of our lives change and sometimes we move on. For now, I'm very happy where I am and it's all thanks to blogging.
I wouldn't want to change that for the world.
Bloggie Wednesdays
is a series of articles just on blogging. They contain tips, how-tos, discussions about anything and everything you need to know about blogging and how we can be better bloggers. If you have any suggestions, tips and tricks about blogging you would like to share with us, or if you have any questions you would like me to address, please let us know in the comments.