This was a gift from LeGeeque on her holiday to Malaysia a month ago. She messaged me on GTalk raving about this lipbalm, and whaddyaknow, I got one too! It's lovely to have good friends who know that even though you really don't need another lipbalm, you could still always do with just one more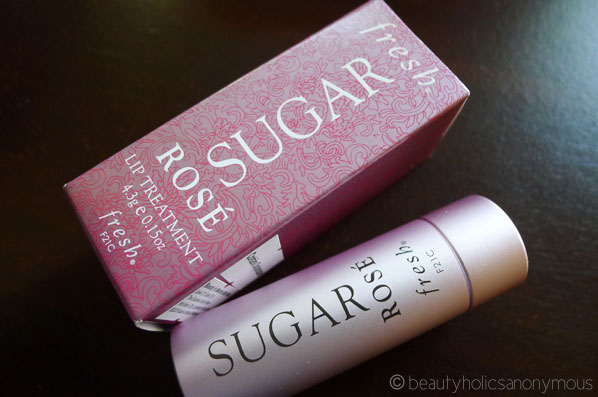 Description:
Sugar Lip Treatment SPF 15 blends reparative oils and waxes with real sugar, a natural humectant, for delectable and dependable moisture. Sweet and tart black currant oil, rich in plumping essential fatty acids, cushions the lips while antioxidant grapeseed polyphenols and vitamins A, C, and E provide protection from wrinkle-causing free radicals. It also provides essential, year-round protection from damaging UV rays. Does not contain parabens, sulfates, synthetic dyes, petrochemicals, phthalates, GMOs, triclosan.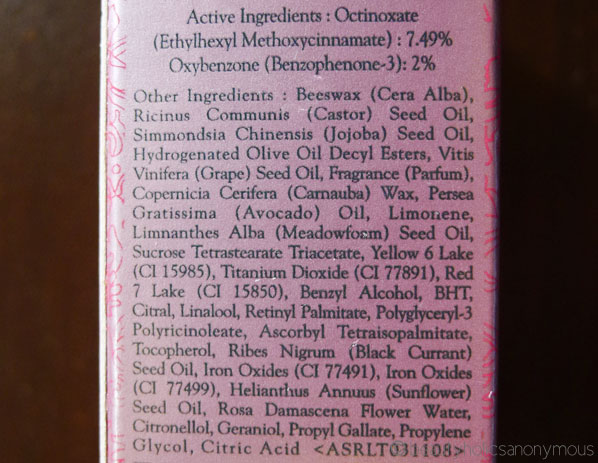 This was my first beauty product from Fresh, and let me just say, I'm impressed enough to want to try out the range. As far as lip balms go, I need them to NOT be waxy and stink of artificial sweetness. The Sugar Rose Lip Treatment is neither.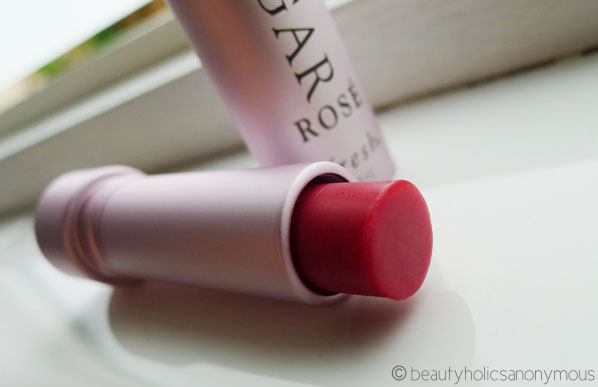 It's incredibly smooth and glides on the lips very well. It's not waxy, so it does not jerk on the lips when you apply it (there are lip balms that do; those are the dry and waxy ones which I dislike). It also has a sheer, rosy tint that gives my lips just a subtle pop of colour when I need it.

I'm not sure if you're going to understand this next bit, but when I'm about to fall sick, or am feeling very "heaty" (it's a Chinese health thing that I don't really know how to explain), my body may be feeling all kinds of shit, but my lips have this slightly swollen, rosy tint that is just beautiful. Now when I'm healthy, that rosy tint disappears. It's very strange, and I cannot fathom it. This lip balm is a very close second to that sickly rosy tint on my lips that I want. Without me having to feel like poo.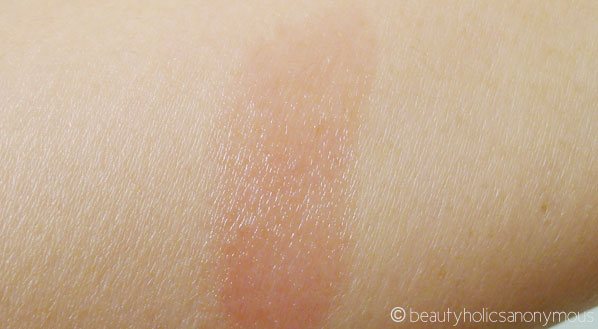 Another bonus to the lip balm is that it contains SPF 15. Not very high, but at least it's some form of sun protection on the lips. There's no chemical scent on the lip balm, only a hint of a type of candy I can't seem to remember. Oh wait. Hang on. I know! It smells a little like Tic Tacs!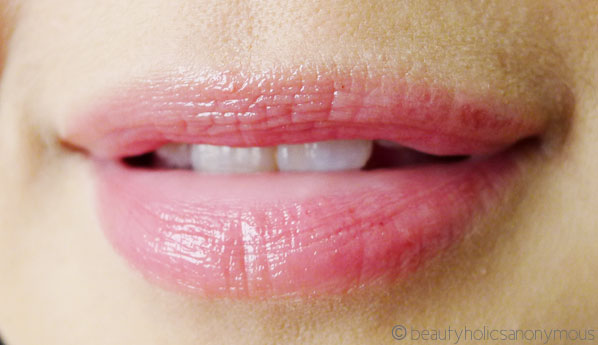 I believe I've raved enough about the lip balm. I would love for you to try it, but unfortunately, this isn't available in Australia. LeGeeque bought this from Sephora Malaysia, and you can get one from Sephora US as well. Oh, and you can also get it from Strawberrynet

I believe they're selling it for AU$29.50.
What I like about it: Lovely rosy tinted lipbalm, contains SPF, smells like Tic Tacs
What I do not like about it: Not available in Australia