Press releases have been flying off the roof about the gift ideas for Mother's Day (for those who do not know when it is, *gasp* for shame! Oh all right, I won't tell on you. Psst, it's 13 May :P). Bloggers have been blogging about gift ideas for Mother's Day too.
I thought I'd do something a little different. I can't profess to know what's good for your mother, and what I think your mother might like may, quite honestly, be quite the contrary. For today, I thought I'd share a few gift ideas of what I think Mama Beautyholic (also known as my mother) would like for Mother's Day.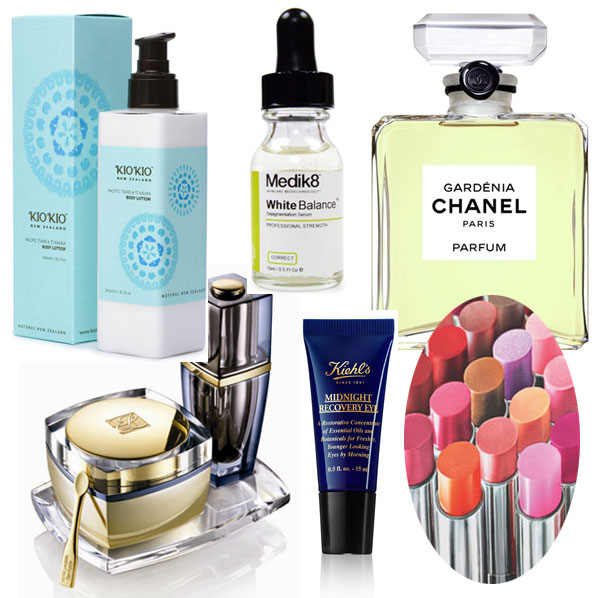 Medik8 White Balance Professional Strength Depigmentation Serum – Mum has a bee in her bonnet about her freckles. I think they are cute, but she hates them. She would love this serum, as it targets hyperpigmentation.
Estee Lauder Re-Nutriv Re-Creation Face Creme and Night Serum – Nourishes, replenishes and nurtures skin with the extra rich hydration needed for mature skin. Plus this will look damn good on her dressing table.
Revlon ColorBurst Lip Butters – Mum's not a fan of bright lippies, and only prefers to wear subtle shades. She doesn't like lipgloss either as she finds them too sticky and glossy. I think the Revlon Lip Butters would be perfect for her because it's moisturising on the lips, and the shades are subtle yet pretty for her.
Kio Kio New Zealand Pacific Tiare & Ti Kauka Body Lotion – I love my body lotions but Mum is obsessed with hers. She believes in smooth and soft skin, and believe it or not, when we meet again after months apart from each other, after giving me a hug and a kiss, she would feel my elbows. If they are rough, oh how I would get a mouthful from her for not using body lotions more frequently. I use them very regularly now thanks to Mum. I believe she would love the Kio Kio body lotion as it smells really good, is absorbed quickly and does not leave any greasy residue on the skin. Perfect for the humid Malaysian weather, I say.
Kiehl's Midnight Recovery Eye cream – Mum and I have the unfortunate habit of eye-rubbing. She did it when she was young, and started having premature fine lines below the eyes. Growing up, she would smack my hand everytime I rub my eyes and say "do you want to end up having fine lines like me? Stop it!". This bad daughter never listened and am learning my lesson now. The Kiehls Midnight Recovery eye cream would not magically erase the fine lines, but it does hydrate the eye area well, and reduces the appearance of fine lines. Plus it has a lovely, calming scent that I think she would enjoy.
Chanel Gardenia – My mother has just about the most impressive perfume collection I've ever seen, especially Chanel fragrances. My father buys her a new one everytime he's away on business, and sometimes she would sneak a few of those bottles for me. I think she would love the Chanel Gardenia for her collection.
Oh I could go on and on with ideas. She's very much a beautyholic like I am. In fact, she was the one who started me on my journey of lotions and potions. Ultimately, what I think she would love is a good meal, a shopping session with us arm-in-arm, and a mighty good gossip fest, as we highly enjoy doing. I really wish I was back in Malaysia to give her all that. I think that that could be a lovely Mother's day for her 🙂