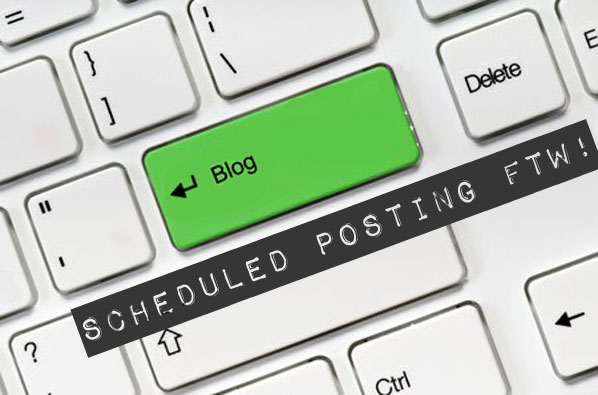 I'm the kind of person who has zero inspiration in front of the computer. I'll be sitting in front of the monitor, staring and willing for an idea to pop up. Come on brain, I need to write something on the blog!
Bloggie Wednesdays are particularly difficult to write. They sometimes require an amount of research and it's quite a feat making them look interesting enough to read (at least, enough for me not to fall asleep reading and writing it). I have the ideas in my head, but for them to come out in words is like trying to drag a cat to water. Painful and bloody hard.
For me, ideas can come at anytime. I can be on the porcelain throne and suddenly bam! The words flow (and other unmentionables) and right after I'm done, they go on the iPad or computer right away.
This is where scheduled posts come in handy. When the ideas flow, I'll be on the computer relentlessly typing and hammering away on the keyboard. It can be days or even weeks before my next flow of inspiration come back, so it's best to write them down and schedule them as different posts for the next few days or weeks rather than post them all in a day. Too much for you to read, and no backup for me for the next few days.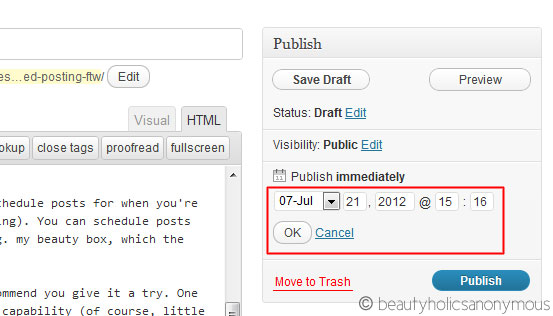 Another reason I love scheduled posting is that I get to see how the post will actually look like before it is published. This is very important to me. I'm a bit of a perfectionist (okay, it's more than a bit); I must be sure that the post looks exactly how I imagined it to be. Even when I'm blogging something to be published on the same day, I will schedule it to be published an hour later. This way, I'll be able to see a preview of the post, read it carefully, thoroughly check for spelling and grammatical errors, make sure that the images are aligned properly, etc. It might take a bit more time but it really helps to make sure you've written the best you can without realizing a few minutes after you've published the post that oops, you've made a typo.
Scheduled posting is also crucial in angry blogging. By that I mean the rants, the complaints, etc about something at has gotten you so fired up, you just have to write about it. By all means write about it to get it off your chest. Sometimes the act of writing it down or typing it out is cathartic. But hold your horses before you click on Publish! Schedule it for a week later. During that time, sleep on it.
A day before it's to be published, go through the post again. Is it worth letting everyone know now? Were the words too harsh? Do you need to rephrase certain words? Always remember that once the post is published, you cannot take it back. Often I've read angry words by bloggers who published blog posts, only to delete the post an hour later. By then the post has already been cached by Google, and I would have already read it on my Google Reader.
There are so many benefits to scheduled posting. You can schedule posts for when you're away on holiday (hence you don't leave gaps in your blogging). You can schedule posts with other bloggers and write a shared theme with them (e.g. my beauty box, which the #evurl girls and I published at the same time).
Now that I've told you how good post scheduling is, I'm going to tell you not to take it too seriously. If there's a piece of news you want to get out to your readers on your blog, feel free to jump in at anytime. Don't worry if you already have a post scheduled for that day. That's the good thing about having an editorial calendar too. It's good to shift things around when necessary.
If you've never given scheduled posting a go, I highly recommend you give it a try. One of the reasons I moved to WordPress years ago was for that capability (of course, little did I know that just a short month later after I did, Blogger came up with that feature too).
Have fun scheduling! 🙂
Bloggie Wednesdays
is a series of articles just on blogging. They contain tips, how-tos, discussions about anything and everything you need to know about blogging and how we can be better bloggers. If you have any suggestions, tips and tricks about blogging you would like to share with us, or if you have any questions you would like me to address, please let us know in the comments.