When I first saw this post on Garance Dore, first thing I thought was "I'm going to nick that for this blog"

. Of course, the women she interviewed in her My Essentials series had heaps of designer items in their closets and you're going to see a whole lot more high street items here (not for lack of trying, more like lack of funds

).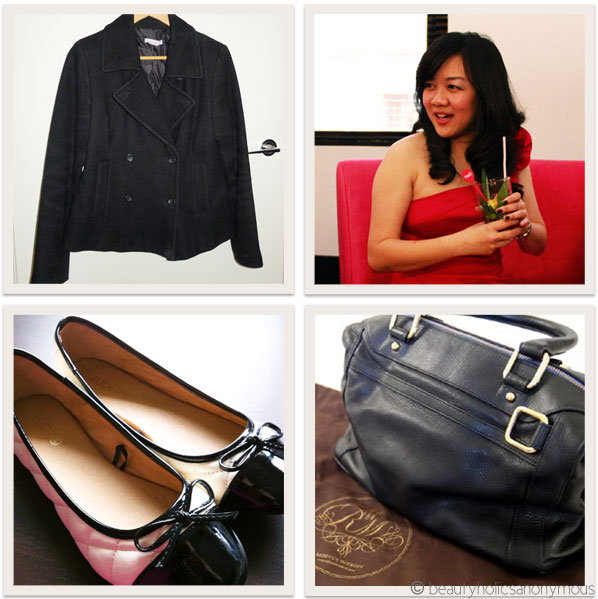 My Top: I have four V-neck sweaters from Country Road that are my arsenal for winter. I bought one, loved it so much, and ended up buying another 3 in exactly the same style but different colours. They're not granny sweaters with funny patterns on them, but light, 100% extra-fine merino sweaters which keeps me warm when I'm outdoors. I don't normally need to wear any shirts, tees, etc under these sweaters. Just a sweater and coat are enough to keep me toasty. What I learn from these sweaters is that if you find something good that suits you, buy more for backup, even if they are basically the same sweater in different colours.
My Jeans: I have a pair of dark blue Bettina Liano bootcut jeans that gives me just about the greatest behind EVER. The most expensive pair of jeans I've ever owned, but my bottom is worth the money

My Evening: A pink one-shoulder cocktail dress from Review. I wore it for my 31st birthday and the Melbourne Beauty Blogger Event 2011. Together with a pair of heels, I feel like a million bucks.
My Intimates: I'm a Bonds and Calvin Klein girl through and through. Bonds are fantastic for that time of the month. They still look good and comfortable enough to stay away from granny pants.
My Coat: My trusty ol' black coat from Barkins. It's been with me for 3 winters and still going strong for something that cost me about 50 bucks. I purchased a bright red one from MNG last year and I'm loving that bright pop of colour in the dreary winter.
My Bag: Rebecca Minkoff Morning After Mini Tote. Its black leather and gold hardware goes well with any outfit. I like to cycle my bags so that each gets sufficient loving but I always go back to this.
My Shoes: Funny enough, it's not an expensive pair of leather shoes or a kick-arse pair of heels, but my Rubi Chanel-esque quilted ballet flats. It's currently the most comfortable pair of shoes I own (better than my Hush Puppies leather flats), and it hasn't even fallen apart yet after a year of wearing them almost daily. Whaddyaknow. Rubi!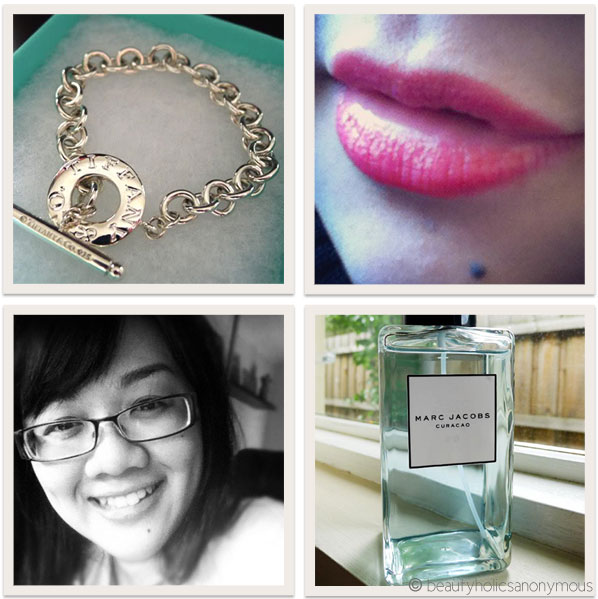 My Accessories: My wedding band. It's the only piece of jewellery I must have on me if I don't wear any other forms of accessories (I do take them off when I'm at home though). Another would be a white-gold necklace + cross with tiny diamonds on it. It was a Christmas gift from my mother many years ago which bears significant meaning to me, especially during that point in my life when I was feeling my lowest.
As for fashion jewellery, I'm partial to my Dara Ettinger agate ring and the Tiffany's bracelet Tim got me for my birthday last year.
My Watch: Emporio Armani, a gift from my mother-in-law. It's a nice chunky watch that goes well with layering of bracelets.
My Glasses: Calvin Klein
My Scent: Marc Jacobs Curacao for warmer days and Hermes eau d'Orange Verte for cooler days.
My Hair: A flat iron is a must the next morning after I've had my hair washed. My hair is very thick and extremely frizzy after a hairwash, so my Cloud Nine Wide Iron comes in very handy. After spritzing my 'do with Toni & Guy's Glamour Moisturising Shine Spray and the Classic Shine Gloss Serum, I'm ready to walk out of the house looking human again.
My Lips: The gem of a lipbalm from the Pangea Organics scores top marks for smooth, kissable lips. For bright lips, I can't go past Tom Ford's True Coral and Ciccone Cosmetics' Voluptas. I recently discovered Hourglass Rouge Femme in Raven and that has gone right up to the top of the list of stunning reds.
My Skin: Too many to list since I'm a stickler for skincare, but I'd say Cetaphil for the body (cleanser and body cream) and Estee Lauder's Advanced Night Repair for the face and neck.
My Workout Routine/Sport: I'm useless at working out and sports. My exercise routine is sedentary at best. But when I do workout, I like doing yoga stretches and walking.
My Inspiration: My mum for her wisdom, my dad for his strength and humour.