As a lover of cleansing oils and all things pretty, how lovely are these limited edition mamechiyo for shu uemura bottles?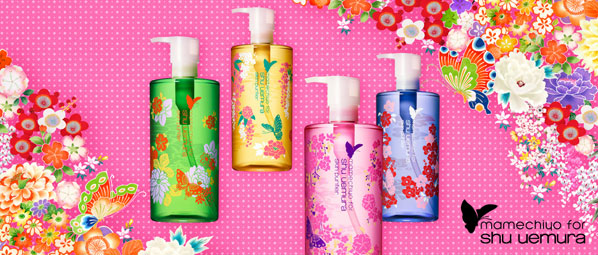 Celebrate the season to come with shu uemura's iconic cleansing oil and UV under base mousse, specially designed in the beautiful kimono artistry of mamechiyo. Dress up your skin routine with spring flowers and butterflies. mamechiyo is a contemporary kimono artist who has taken the fashion and art world by storm with her kimono designs. Fusing the east and est, old and new, she creates a new world without borders and with a timeless beauty.
When a bottle of the cleansing oil and the UV Under Base Mousse (review to come) landed on my desk for review, I was excited yet apprehensive. Excited because I've never really tried products from shu uemura before, and apprehensive because I wasn't sure what to think of the cleansing oil (as pretty as the limited edition print was).
Purple and it has cherry blossoms? Come to mama!
When people talk of shu uemura's cleansing oils, my mind immediately goes to the big yellow bottle. I'm aware that shu uemura has other types of cleansing oils, but the yellow one is the original and most popular one. I once received a deluxe sample of the original cleansing oil in one of the beauty boxes I was subscribed to. I tried it and I really didn't like it. It was thick, claggy and all round ick. I didn't understand why LeGeeque liked it (Silly me thought the pink version of the cleansing oil she was using had the same consistency as the yellow one).
Well, this cleansing oil, specifically the Whitefficient Clear Brightening Gentle Cleansing Oil, certainly changed my mind.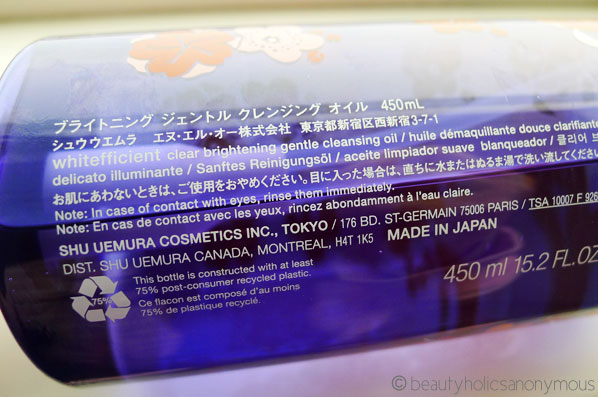 What a difference this cleansing oil is to the original one! While the original one is thick and greasy, this one is light and does not leave any oily residue on the skin. It reminds me very much of Biore's Cleansing Oil but better.
On a few of occasions, I had forgotten to remove my mascara before jumping into the shower. I tried removing the mascara with the Biore Cleansing Oil, and even though they didn't sting my eyes before, it was the first time I had actually used the oil right on the eyes, and it stung a little (eyes became irritated and red). I tried the same thing with the shu uemura cleansing oil; lo and behold, no stinging on the eyes. That's one notch above the Biore

Thanks for changing my mind, shu uemura. I'll always hate your yellow-bottled cleansing oil, but you've managed to sneak your way into my heart with this one instead. Well played.
Is this something I will repurchase? You bet I will. I probably won't be able to get the ones with the limited edition design when I'm done with this bottle, but what the heck, it's the actual cleansing oil that counts.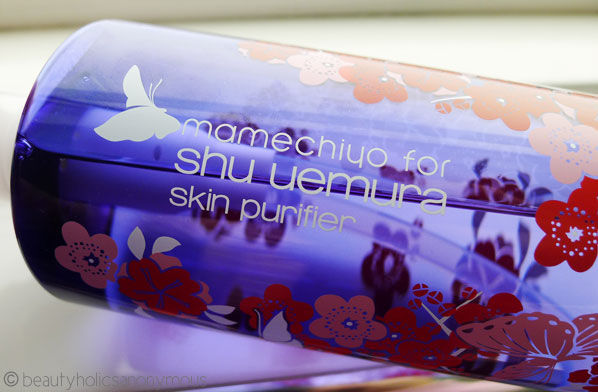 shu uemura cleansing oils retail at AU$52 for 150ml and AU$105 for 450ml each and are available exclusively at David Jones nationwide (for stockists call 1300 651 991). The price might shock you initially, but cost per ml calculation for the cleansing oil worked out to be cheaper than a number of popular mid-range cleansing oils and makeup removers (I shan't reveal the names here, but you can do the math

).
What I like about it: Light, does not leave oily residue on skin, removes makeup well, gentle on the eyes.
What I do not like about it: Nothing
Have you tried shu uemura's cleansing oils before? What did you think about them?