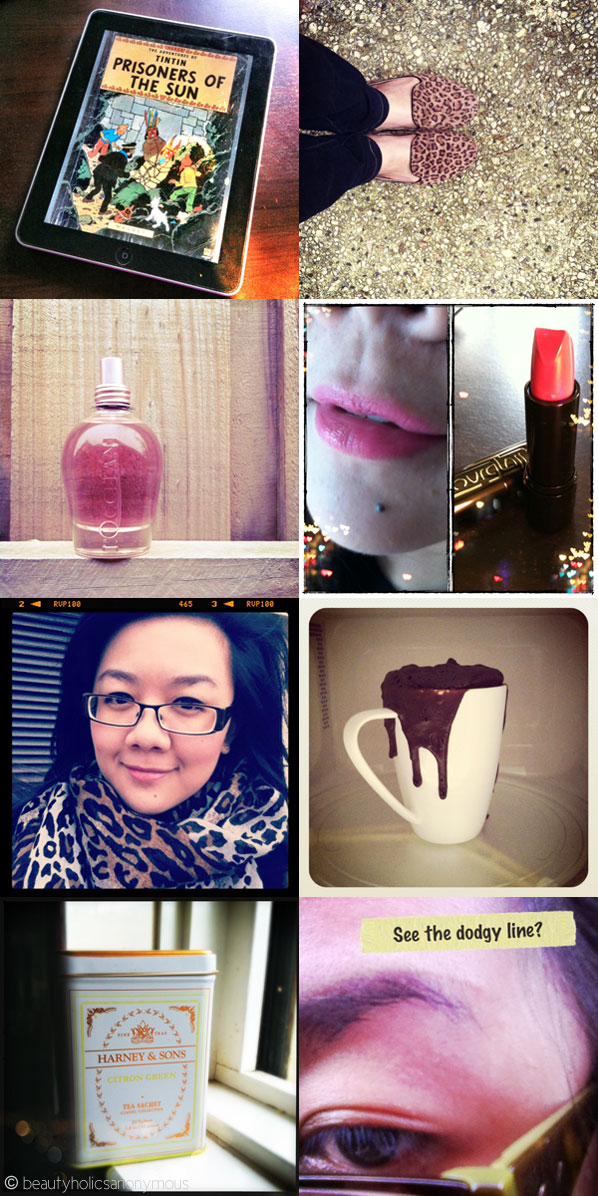 Currently reading: Heaps of Tintin and Asterix comics I downloaded on the Internet. Bring me back to 1995 baby yeah!
Currently watching: Reruns of The Amazing Race (US version). I get on my high horse and yell at the TV "oh come on even I can do that!". But of course, I can't. Plus I don't think my relationship with Tim can survive if we actually went on The Amazing Race. There will be bloody murder; either he kills me from frustration in a challenge, or I him whilst he's driving to goodness-knows-where.
Perfumes I'm loving: L'Occitane Pivoine Delicate eau de toilette. It's a beautiful fragrance of roses and peonies. Not my typical sort of winter fragrance since I like my winter scents slightly heavier with a touch of musk, but this is quite a delightful change.
Frequently worn outfit: I'm loving my leopard-print loafers sick. So comfortable (once I added my shoe inserts, of course. I don't wear flats without shoe inserts for support), and so cheap. Another gem from Rubi. Oh, and my leopard-print scarf of course. You can tell that I'm a huge fan of leopard-print.
Frequently worn jewellery: Other than my wedding band, I didn't wear any other pieces of jewellery in June. In terms of accessories, I prefer colourful scarves.
Makeup I'm currently loving: Hourglass Rouge Femme lipstick in Ballet and Raven. This came highly recommended by Beauty Swatch. When I saw the review, I knew I had to get at least one to try. So after a stint of shopping on Zuneta.com, I tried it and fell in love right away. These lippies feel heavy and luxurious to the touch. My cup of tea

Food I'm currently loving: Hello chocolate cake in a mug! It's winter and it's comforting.
Drink(s) I'm currently loving Harney & Sons Citron Green tea. I bought a tin from the Melbourne Good Food & Wine show and I'm loving this tea. Goes very well with the chocolate cake in a mug

Currently loathing: My "embroidered" eyebrows. I had eyebrow embroidery done over 2 years ago, and I hate it. The first time I did it, I thought it was okay. Maintaining my brows was very easy. The second time was just awful. The beautician used a lot of pigment and made my brows look fierce (and not in a good way). The shape was too wide. The pigment was supposed to fade after 1.5 years but it's been way over 2 years and it's still there. My brows have grown away from the "shape". Now it just looks like I used an eyebrow pencil and drew away from the "lines". Ugh. I don't recommend eyebrow embroidery, just like I do not recommend under-eyeline tattoos. You can always fill them in with makeup. Once it's been tattooed, you're stuck with it, whether you like it or not years down the road.
Currently excited about: Making soy candles! I've been making a lot of lavender ones for LeGeeque, and different scented ones for myself. It's a lot of fun to make them. Wonder if I should sell them in markets? Hmm …
Images from my mobile phone and Instagram. Find me! I'm sweetcontemplation