It's been a while since I've done a What's In My Makeup Bag post. Nothing much as changed; I pretty much still carried the same stuff with me from day one, give or take a few items. This is more like an inventory check for me every 6 months, plus I want to show you my new makeup bag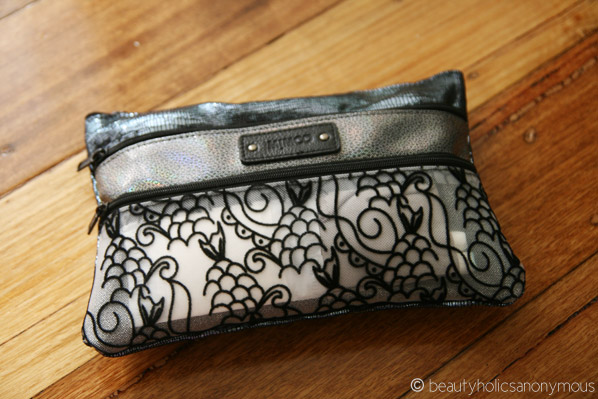 The makeup bag I'm currently using is from Mimco. It came with some makeup sent to me for consideration. I admit it; I was a lot more excited about the makeup bag than I was about the makeup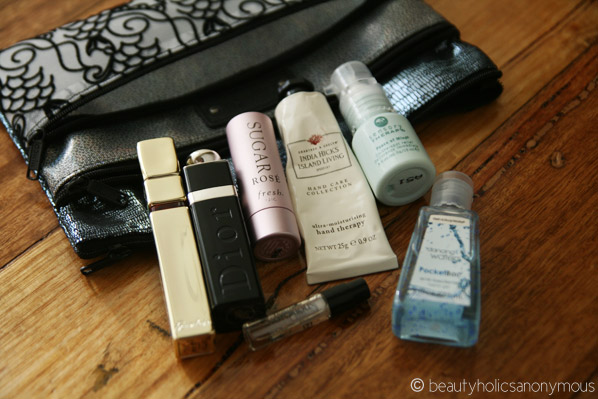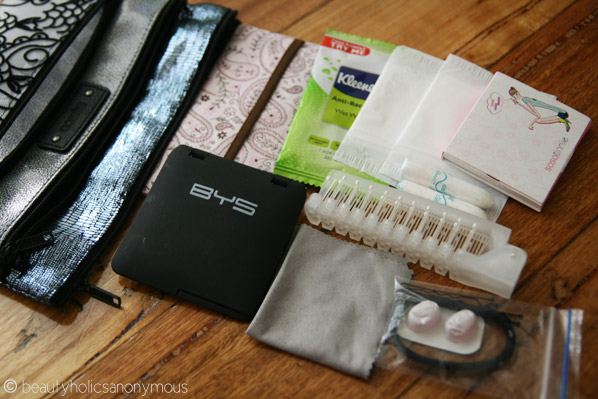 Hairbrush
BYS mirror
Foldable hair brush and comb (something I swiped from the Business class Malaysian Airlines lounge – the first and so far, only time I flew business class, and I nicked a hair brush. I'm classy like that).
Guerlain Kisskiss lipgloss in 420 (for when I want a strong pop of colour on the go)
Dior Addict Extreme in Lucky (pretty lil' coral)
Fresh Sugar Rose Lip Treatment (my multitasking baby – a lipbalm and lip tint)
Origins Sensory Therapy Peace of Mind On-The-Spot Relief (I recommend every lady have a bottle of this in her purse. Helps tremendously with headaches, blocked nose, or when you just need to close your eyes for 3 seconds and relax).
Crabtree & Evelyn India Hicks Island Living hand cream (so far, the only C&E handcream I've used that much)
Bath & Body Works PocketBac antibacterial hand gel in Dancing Waters
Sasatinnie blotting sheets
Tissues (I bought this tissue holder 4 years ago and still love it)
Wet wipes (for removing makeup swatches on the go)
Sample vial of fragrance (I switch every now and then. This week, I have Ralph Lauren's Notorious. Great for when I forgot to spritz perfume before I go or when I have to go a public loo and it's stinky)
Panty liners & tampons
Cloth to wipe my glasses
In the ziplock bag – 2 Nurofen capsules, 2 bobbypins and a hair tie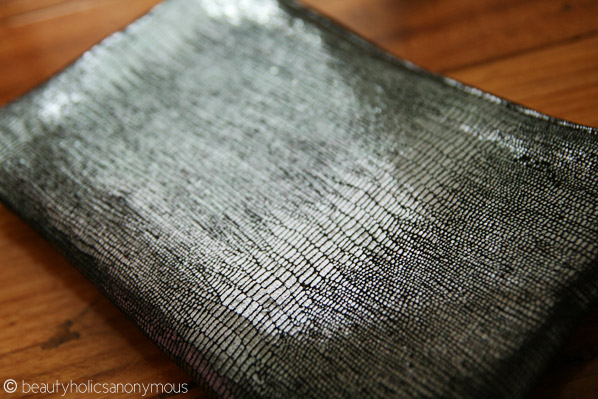 All these fit just nicely in the makeup bag. I carry these with me everywhere I go. Looks like a lot, but it's not really. I don't use all of these at once, but I don't feel right taking anything out (you never know what you'll need; who knows I might have a Macguyver moment with my bobby pins), so all of them stay in the bag.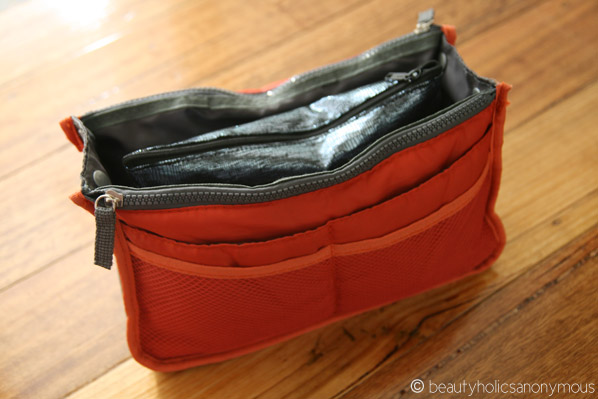 Oh oh before I forget, I thought I'd also show you my new bag organiser. I bought it from a group deals website, and almost forgot about it because it took two months to arrive! Thanks goodness it wasn't an expensive one. Just a pretty pop of orange in my bag. Thanks to this, I now carry more junk with me.
What's the most random thing you have in your makeup bag?