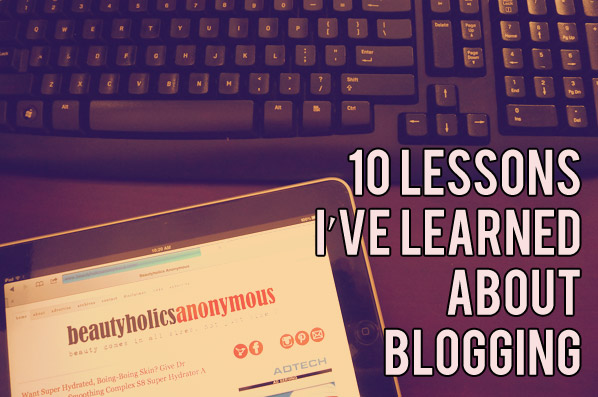 1. Backup! Backup! Backup!
Always backup my database and WordPress files before updating to the latest version of WordPress, even if it's a minor upgrade. WordPress can be a temperamental little b***h if I don't do so. If I backup, there are no problems. If I don't backup, sure enough there will be problems. I think mine just hates me for not following the routine.
2. Have a blogging mentor
Having a blogging mentor helped me so much in my blogging journey. Someone who knows more than me, someone who is honest enough to tell you that "hey, there's something wrong with your blog, go fix it". Or "hey, that background is a tad busy. I think it distracts your content from all that's going on in the background". Someone whom you can go to when you have issues with people and your blog. Someone who can tell you the truth without worrying about stepping on your toes. You know who mine is. I highly recommend you have one too.
3. Not nominated for a blogging award? It's OK!
It's okay to be disappointed if I wasn't nominated for a proper blogging award and other blogs I know are. Come on, I know you secretly think this too!

4. It's OK to live-tweet during events
Never apologise on Twitter when tweeting during a blogger event, about the event. It's an expectation of the brand for me to spread the word to the public when I'm invited to such events. It's something I learned recently. Do bloggers live-tweeting events bother you? Would you do the same if you were invited to the event too? Serious questions, not rhetorical ones. I'd love to hear your thoughts on this.
5. Meet other bloggers
It's important to meet and get to know other beauty bloggers. Blogging can be a lonely hobby (despite having a million friends and followers on Twitter and Facebook). Social media and chatting online is one thing. Actually interacting with people in real life is a whole other matter. I highly recommend also doing the latter. Plus it's fun chatting makeup with people who love them too.
6. A fancy-schmancy camera does not guarantee awesome pictures
I don't need a fancy DSLR camera to take nice pictures for my blog. I've seen a few blogs whose bloggers took pictures with DSLRs, and to be brutally honest, just don't quite make the cut. It hurts me to see photographs taken with a DSLR that are blurry, over-exposed, taken with lots of flash, etc (Tip: Play around with the manual mode in your camera. You can do so much better than just sticking to the Auto mode. Start with Aperture Priority and play with the numbers). I also follow blogs who captures most of the photos on their mobile phones, and while they're not crystal clear, they look really good. I've learned that it's how you tell the story, not just what you tell it with.
7. Focus on the positive especially with loyal readers
There will always be people subscribing to my blog for giveaways, and then unsubscribing once they've realised that they did not win. It was very annoying and plenty disheartening at first, but in the process have also captured and retained loyal readers. It's better to focus on the latter with positivity than be frustrated with what I cannot control.
8. Take all press events seriously
Press events will come and go, but a simple faux pas can tarnish your reputation. If you've already RSVP-ed to an event, found out you were invited to another event at the same time (and you really prefer to go to the second one), don't fob the first event's organisers off with a lame excuse and go to the other one. I almost made that embarrassing mistake once. Thank goodness for bloggers who subsconsciously reminded me that people will be tweeting about the event. If the people at event A found out I was at event B when I was supposed to be away for a "family emergency", there goes my reputation.
9. Maintain editorial control at all times
There's no need to have to submit review drafts to brands for perusal first before publishing. Don't be bullied into thinking it's necessary to do so, especially when the products are provided for consideration. We're the editors of our blogs, not the PRs.
10. Mind your Ps & Qs
Always be polite and respectful when communicating with PRs and brands, even if they don't extend the same courtesy to you. I believe in killing people with kindness, even if they don't deserve it (a very important lesson I learned from my mother). You catch more flies with honey. Don't burn bridges unnecessarily.
What's the most important lesson you've learned in your blogging journey?
Bloggie Wednesdays
is a series of articles just on blogging. They contain tips, how-tos, discussions about anything and everything you need to know about blogging and how we can be better bloggers. If you have any suggestions, tips and tricks about blogging you would like to share with us, or if you have any questions you would like me to address, please let us know in the comments.