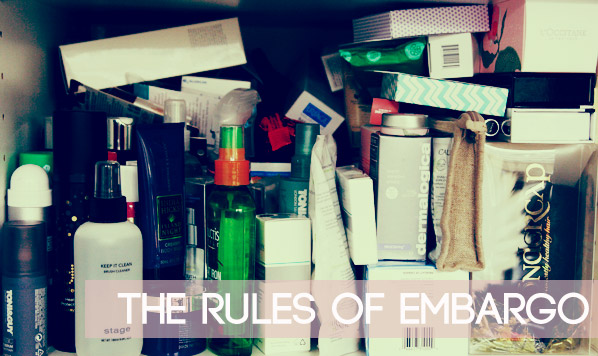 When I started blogging five years ago, I had no idea what press embargo was. In fact, I've been blogging away for the first three years without a clue, even when I was receiving product from brands for review.
No one told me what it was. To be honest, I didn't even think to ask, because it was my understanding back then that items sent to me for review would already have been launched in the market (or at least, going to be launched very soon).
For the past year or so, I've been hearing a lot of stories on the grapevine about bloggers breaking the rules of embargo. Most of the time, embargo was overlooked unintentionally, especially by newer bloggers on the scene.
So what is press embargo?
According to Wikipedia,
In journalism and public relations, a news embargo or press embargo is a request by a source that the information or news provided by that source not be published until a certain date or certain conditions have been met. The understanding is that if the embargo is broken by reporting before then, the source will retaliate by restricting access to further information by that journalist or his publication, giving them a long-term disadvantage relative to more cooperative outlets.

Embargoes are usually arranged in advance as "gentlemen's agreements." However, sometimes publicists will send embargoed press releases to newsrooms unsolicited in hopes that they will respect the embargo date without having first agreed to do so — the phrase "For Immediate Release" often found at the top of press releases indicates that the information in the release is not embargoed.
I had the pleasure of chatting with and picking the brains of three PR experts whom I've worked with for the past few years. What better source of information on the rules of embargo than to ask the people who deal with brands and media on a daily basis? As always, all identities are kept anonymous.
What are your views on embargo rules and how strictly should they be enforced?
PR #1: I tend to launch all new products 3 months in advance to meet long lead media deadlines. However, with bloggers and online media who have the luxury of immediate exposure, embargoes are in place to maximise the impact of coverage and excitement at the time the product is available in store. If a specific date or embargo is specified, I trust that the date will be respected. If I need to strictly enforce the embargo, I stress this information in advance before providing product or brand news. On occasion, I've held separate events months apart so I can cater for both long lead print media and bloggers. I've also staggered the distribution of my media kits to avoid early exposure.
PR #2: We try and avoid embargos and prefer to work with bloggers as close as possible to retail timings.
PR #3: Embargoes are enforced for a reason and its quite simple – choose to ignore them and you will quickly find yourself on the do-not-contact list. To not abide by the embargo may jeopardise a global story that a PR has worked very hard to develop.
If an item is embargoed to a future date, even if we are not to blog about it, are we allowed to even mention it (or Instagram a picture of it) on Twitter and/or Facebook?
PR #1: Creating interest and excitement with your readers is a great conversation starter and if any coverage or mention is given prior to the embargo date, a disclaimer as to when and where the product will be available is always appreciated. Ideally, this is no more than a couple of weeks out from the in store date!
PR #2: On the rare occasions we do request an embargo, then yes, that would apply to all forms of social media.
PR #3: In my opinion an embargo means no comments about the product whatsoever, be it images, social feeds etc – it's black and white speak nothing until after the embargo date.
What happens if we break the rules of embargo?
PR #1: Depending how early the news has been released, it just disappoints your readers as they can't run out and buy product right then and there, particularly if it is a discretionary purchase that doesn't require weeks or months of saving. It's also a red flag for the PR to be even more mindful in future dealings as the launch of a product is just a small piece of a larger campaign – a retailer promotional offer or an exclusive could all be spoiled if an embargo is not respected. Providing PR material prior to launch dates gives the blogger the opportunity to trial and plan prospective coverage and to be informed to give an educated post, not necessarily be the first to announce the news.
PR #2: If someone breaks an embargo, it tends to be a big issue for us and our clients – they're generally used for commercial reasons – and it's unlikely we would work with a blogger again who breaks one.
PR #3: Let alone destroying your relationship with the PR, you will find that news travels quickly about things like this and you may well find that most PRs choose to back away from dealing with you. Bad experiences don't disappear and you don't want to be known as the one to look out for, for all the wrong reasons.
Many thanks to the PR experts for their valuable insight to press embargo.
In short – respect press embargo. When you receive a product for review, always double-check the press release that comes with the product. All press releases come with release dates (whether it's going to be available in the next few months, or already available for immediate release). If you're not sure, do contact the person who sent you the item on when it's okay for you to talk about the product.
I hope this helps you when reviewing products sent for consideration. Press embargo no longer only applies to journalists, but to bloggers as well. Best to err on the side of caution and wait, no matter how enticing it is to want to talk about the product.
Bloggie Wednesdays
is a series of articles just on blogging. They contain tips, how-tos, discussions about anything and everything you need to know about blogging and how we can be better bloggers. If you have any suggestions, tips and tricks about blogging you would like to share with us, or if you have any questions you would like me to address, please let us know in the comments.