I'll admit I'm not diligent at cleaning my makeup brushes. When I first started using makeup many years ago, I, erm, washed my brushes once every 6 months. That is, if I even remember to wash them in the first place.
Of course, back then, I didn't know about makeup brushes and microbiology. To me, dirty just meant dusty (my house in Malaysia does attract a fair bit of dust on a daily basis), and the way to clean a "dusty" brush was just to flick it a few times and then it goes back on my skin.
Have I freaked you out enough yet?

The problem is, it's pure laziness on my part in not washing my brushes. Too lazy to take all of my brushes to individually clean with shampoo and conditioner, too lazy to rinse the detergent out of the brushes, too lazy to wait. There must be a way to clean the brushes quickly and easily.
Thankfully, I found two ways of cleaning my brushes.
1) Spot-clean each brush with a bottle of brush cleaner spray at the end of the day.
2) Clean all brushes with the Daiso Sponge Cleaner.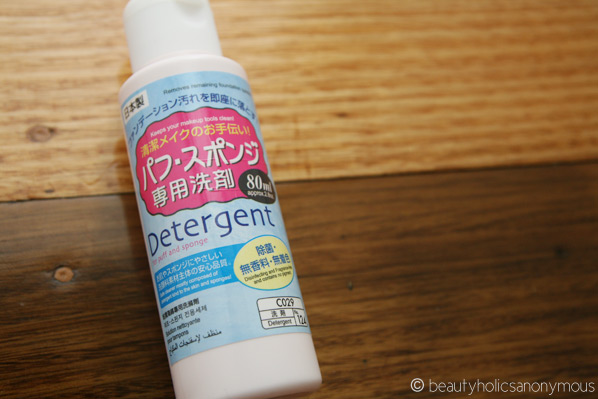 This pink bottle of detergent is perfect for me to clean all of my makeup brushes quickly and easily. All I have to do is dispense a pea-sized amount in a bowl, fill it with water, swirl a dirty brush in the soapy solution for 10 seconds, and rinse. The rinse-off is very quick; I don't have to keep rinsing suds out, like I do with shampoo and conditioner.
Now if you've been using the Daiso Sponge Cleaner as well, you'll find it rather caustic on makeup brushes. I do too. But why do I still prefer to use it regardless?
Two words. Clean and quick. It removes every bit of dirt and gunk from my makeup brushes. I'm careful not too use too much detergent when cleaning each brush, and to make sure the gel is always diluted with water before swirling my brushes in the soapy water.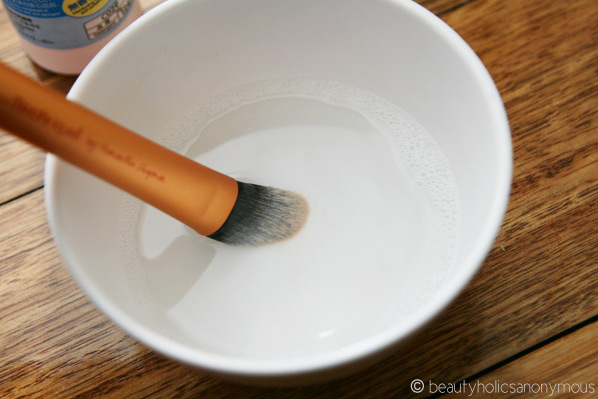 But if it's so strong, wouldn't this kill my brushes, I hear you ask. My answer is yes and no. The sponge cleaner is a detergent, thus is caustic and will dry the bristles out over time. As for me, I've been using it for almost a year now on my more expensive brushes and the bristles are still soft. There's barely any hair fallout (except for the usual wear and tear with use). Once every two weeks, I treat my brushes to a good conditioner. They're still in excellent condition.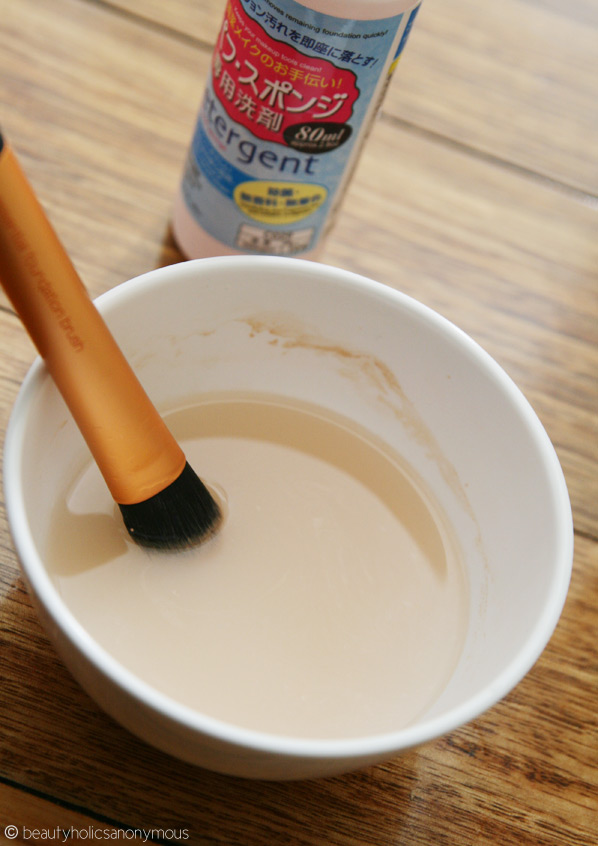 If you're worried about using this on your expensive ones, then I'd suggest using this on your cheaper brushes. I use the Daiso cleaner on my Real Techniques brushes and boy, they're so easy to clean, especially the foundation brush.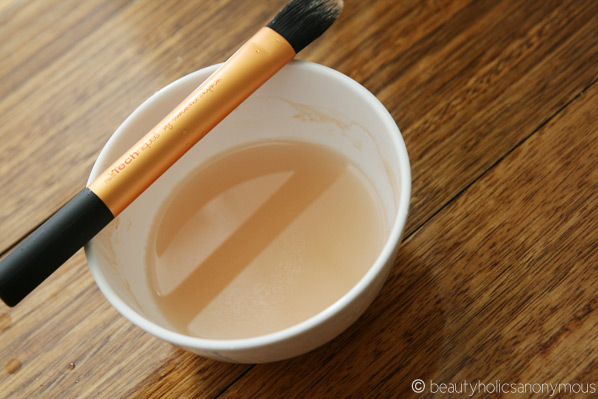 With the Daiso cleaner, I wash my brushes at least once a week. With shampoo and conditioner, I'm a lot more reluctant because it takes a lot more time to clean the brushes with these. If I were to choose between regularly-cleaned brushes vs. seldom-cleaned brushes, I'll take the former any time.
This is not to say that the Daiso cleaner is the best there is out there for brush cleaning. Again, it's a caustic detergent, which may not be the right solution for your brushes especially if they are expensive ones. If you have a method that works for you, one that you're diligent in following, do stick with it. But if you're lazy like me and still want dirty brushes cleaned the quick and easy way, the Daiso cleaner is actually pretty darn good.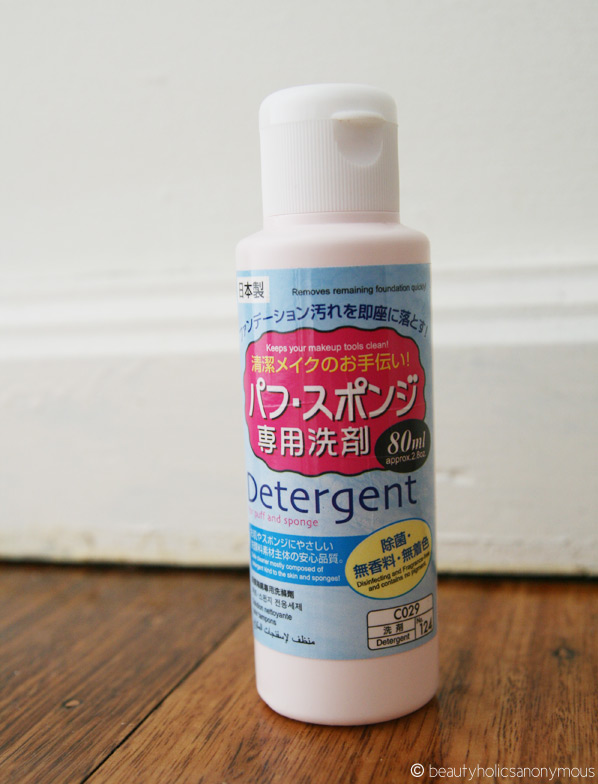 As for the price, it's cheaper than a cup of coffee at $2.80 a bottle (available at all Daiso stores). I have at least 2 bottles in my bathroom cabinet on standby ;).
Have you used Daiso's Sponge Cleaner before? What did you think about it? Did the quality of your makeup brushes deteriorate when used with the cleaner?