Five Minutes with My Favourite Blogger is a series of posts where I'll be showcasing some of my favourite bloggers. These are the bloggers whom I admire and inspire me.
Enjoy!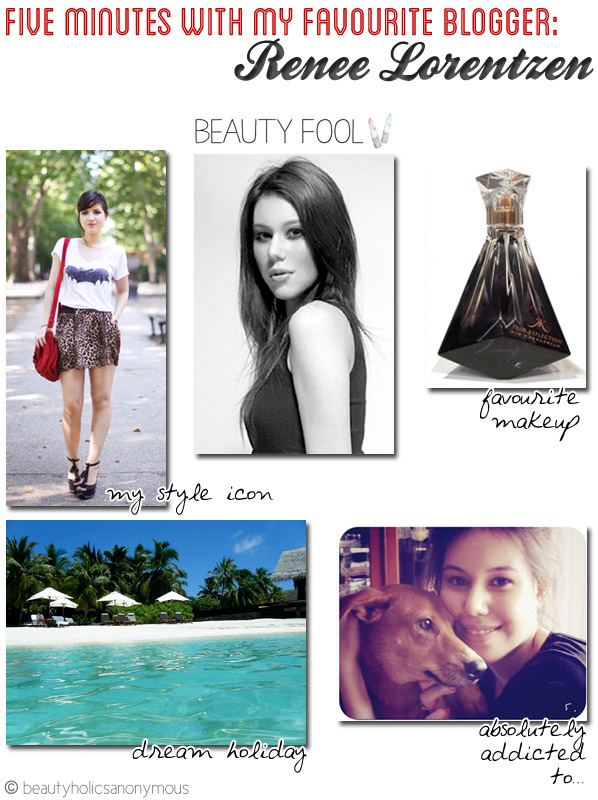 Image Credits: Le Blog De Betty | Maldives | Beauty Fool
My style icon: How funny that you should ask! I have never really been into fashion, but in the last month I have so I have been looking around for inspiration, etc, and shopping like a mad woman! To be honest, I don't know if I have one particular style icon, but as a blogger, I look to blogs! I have found some great fashion blogs and I suppose you could say they are my style "inspirations"! LeBlogDeBetty is one of my favorites right now – I just love her casual style and I think if I had all the resources (ahem, money) I'd definitely dress like that; I think we have similar taste!
Dream holiday destination: Definitely the Maldives. I've been wanting to go ever since I saw a photo of it's flawless beaches! It's always the background on my desktop and it looks like paradise. It's crazy expensive too, so I'll have to save up a lot. Hopefully one day!
One random thing you can find in my bag: Unfortunately I am not that random, but one thing my friends find totally weird is that I always have food in my bag. Not like, little mid day snacks, but proper food – sandwiches, homemade bread, everything. But I get very hungry during the day when I'm out! Is that really so weird?
My favourite item of makeup: Hmm… I do love eyeliner; every since I was 15. Beauty wise, my favorite (and down right obsession!) is perfume. Love perfume so much.
You will never see me without: Food, haha! Also I must have my phone with me at all times. I used to be so anti-phone but now that email, music, Twitter is all on it, it's a must!
I'm absolutely addicted to: Perfume! Dogs! I am a huge animal lover and so I'm obsessed with my dog. Also, I am absolutely addicted to blogs. I'm always looking to discover new ones. I was a magazine addict, but then blogs came along and took over!
One thing on my bucket list: Hmm… I don't know to be honest. Probably just traveling destinations! Other than The Maldives I would really like to go to New York City, Greece and New Zealand.
Renee blogs at Beauty Fool.