When I was contacted by the people of KUU Konjac to review their Konjac sponges, my first thoughts were "Kon-what sponge?" Now I love me a good skincare gimmick (goodness knows I've been suckered to buy the Clarisonic. Okay, I sucuumbed to peer pressure. Moving on. Ahem), and after reading more about Konjac sponges, I was highly intrigued.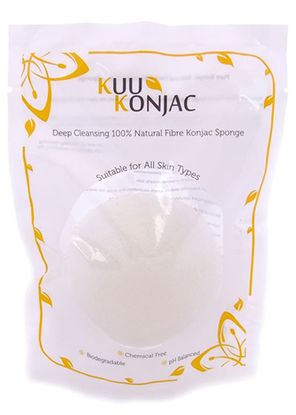 A week later, the sponge arrived. It was packed in a ziplock bag and looks quite damp on the inside. I took it out of the bag, gave it a good rinse and squeezed it with my palm. It felt very toing-toing! I had a good giggle (ahh the little things that amuse me), and proceeded to use it on my skin.
That was months ago, and let me tell ya, whoever came up with the idea of using this konnyaku potato plant as a sponge was a freakin' genius!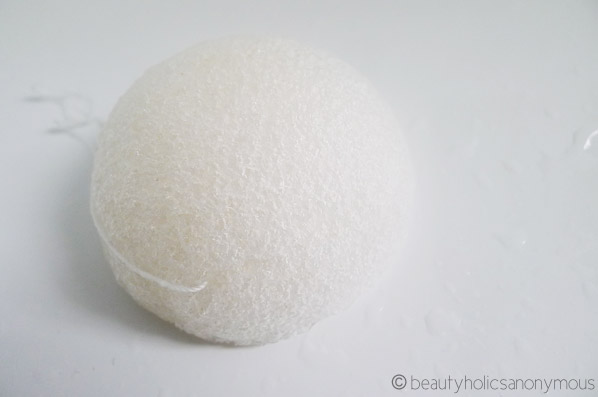 Description:
Made from 100% natural Konjac vegetable plant root.
In Japan the Konjac (Konnyoku) sponge has been used on their delicate skins for over a century, and now it's finally hit Australia!!
100% Natural Sponge
Free from colours, additives and preservatives
Naturally sustainable & environmentally safe
Naturally pH balanced alkaline which neutralises any acids (oil and dirt) for deep cleansing
Stimulates blood circulation and new growth of skin cells
Excellent for all skin types – Even those with hypersensitive skin
Extra soft – Ideal for those with skin disorders such as eczema
Suitable for infants
This sponge sucks in water like there's no tomorrow. When it's plump with water, it's covers the whole palm. But when you hang the sponge by its string and let it dry out, it shrinks to half its size.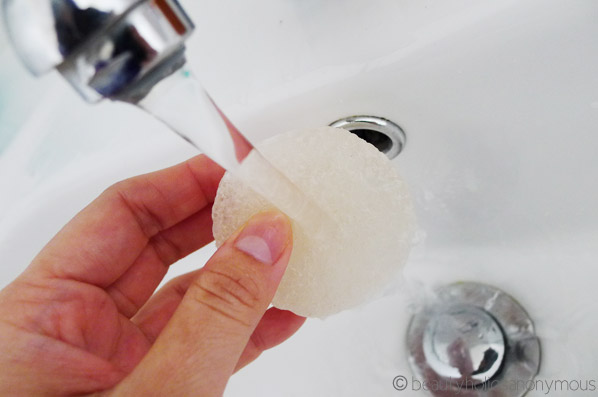 I've been using this as a scrub in favour of abrasive exfoliants. It's so gentle that I'm able to use this daily without worrying about over-scrubbing my skin. In fact, for me, this odd little sponge wins over my Clarisonic, hands down. Big claims from me, you'd say. It's true. Ever since I started using this months ago, my Clarisonic has been collecting dust on my bathroom cabinet.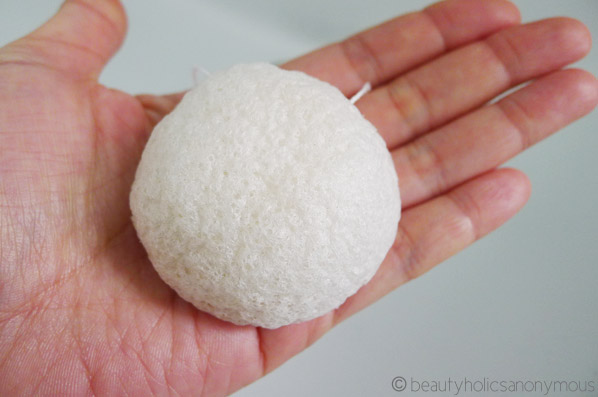 Dry sponge
Every evening, after cleansing my skin with cleansing oil, I'll hop into the shower, remove the oily gunk, squirt a tiny amount of facial cleanser between my palms, give them a bit of lather, apply the cleanser onto my face and neck and then massage my skin with the Konjac sponge. It's very soft, springy, and feels pretty darn good on the skin. It's not drying on the skin, and doesn't leave the skin feeling tight and dry after cleansing. You don't have to use a facial cleanser with the sponge, but I prefer use a tiny amount just to get some lather going.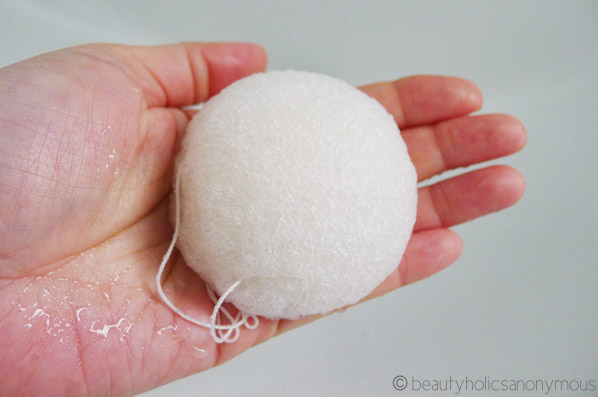 Damp sponge
I can't sing enough praises of this lil' unassuming sponge. Even if I had all the money in the world, I'd forego the Clarisonic and other expensive scrubs in a heartbeat and stock up on this cheapie. If you have very sensitive skin and can't use scrubs, do give the Konjac sponge a go. It's formulated for the most sensitive of skins.
KUU Konjac sponges come in a few types: Pure (that's the one on this post), French Red Clay (for dry/sensitive/mature skin), French Green Clay (for oily/combination skin) and Baby Sponge (for infants). My next sponge to try is the Green Clay one

.
KUU Konjac sponges retail at AU$7.95 each and is available on the KUU Konjac website and selected health and beauty stores nationwide (click for stockists).
What I like about it: Cleanses the skin very well without leaving it feeling dry and tight, feels good on the skin, and cheap as hot chips.
What I do not like about it: Not easily available in stores