There's been a lot of talk on the blogosphere lately, on Google deprecating Feedburner's APIs and that they will be shut down on 20 October 2012. I've been getting emails and comments on what I think of the issue and what can be done.
So what's this debacle about?

In short, since Google acquired Feedburner years ago, they haven't been updating the service in a long time. They shut down their Twitter and blog mid 2012 and announced that the APIs (application programming interface) have officially deprecated as of 26 May 2011. This meant that Feedburner APIs were no longer in active development and that they'll be shutting it down in October.
Most of us (including me) didn't realise this until we started seeing the "0 subscribers" tag in our Feedburner widgets. Then all hell broke loose.
What does this mean for you and I who use Feedburner?
To be honest, at this point I'm not 100% sure. Google has been keeping mum about what their plans are for Feedburner for a while now, much to the frustration of a massive amount of bloggers using their service.
My opinions are still premature at this point since I'm not getting much information from Google. I'll update/amend this post when I get more information.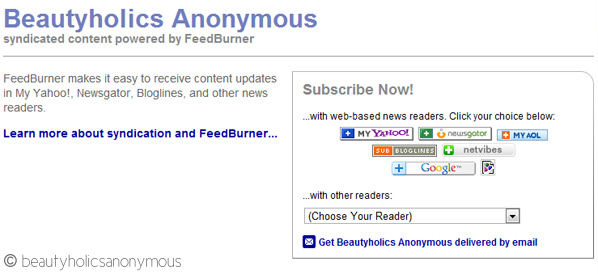 For now, here are my thoughts on this issue:
Google isn't shutting Feedburner down. It is closing Feedburner's APIs down. This means that all services linked to Feedburner, e.g. your plugins will not work. The stats may not work.
If Google really is shutting Feedburner down for good, they wouldn't be fixing the "0 subscribers" issue. They would have just left it as it is. They would also have informed us sooner like they did when they closed Google Friend Connect down.
Your website still has its own feed, regardless of Feedburner's. Each platform and domain has its own feed. When you first started blogging, before using Feedburner, your feed address will look something like this: http://www.yourdomain.com/feed. When you started using Feedburner, that domain feed is redirected to Feedburner's (e.g. http://feeds.feedburner.com/yourdomain).
The problem I see with this is the migration to another feed service for people to subscribe via email to. Right now, if you're using Feedburner for your blog, chances are that you'd also have readers who are subscribed to your blog updates via email. Once the API shuts down on 20 Oct, you'll still have your feed, but the email subscriptions will stop. The problem I see is with having to request your subscribers to resubscribe to your domain feed or your new feed address.
Readers subscribed to your blog via a RSS reader like Google Reader shouldn't be affected. They're subscribed to your domain's feed, even though it's redirected to Feedburner's address.
So, what am I going to do with my feed?
Plan to redirect my feed. I can either use my original domain feed, which is http://www.beautyholicsanonymous.com/feed, or continue with my Feedburner feed address and redirect it to another service's. For now, I'll be switching back to my original domain feed.
Backup my list of subscribers on Feedburner (Go to Publicize -> Email Subscriptions -> View Subscription Details -> Export CSV). I don't know if I'll lose the list of subscriber email addresses once the APIs shut down, but it's better to keep a copy of them just in case I need to contact them about my blog's feed migration to another service.
Find a plugin or service to continue feeding my subscribers blog updates via email subscriptions. There are services which you can use, e.g Feedblitz (paid option) or MailChimp (newsletter service, free for up to 2000 subscribers and 12000 emails sent per month. If you have a substantial number of readers, the free option is redundant. You might as well pay for better options). At this point, I haven't decided what to use just yet.
My concern isn't about Feedburner shutting down, but more of the big hassle of having to get readers to resubscribe to whatever service I'm going to be using next. It's an inconvenience to your subscribers. This is when you'll start losing readers. If you're going to use Feedblitz, they will redirect your feeds and stats without having to worry about people resubscribing. It's not a problem if you're willing to pay for the service.
Feedburner will still continue to redirect your domain feed to its Feedburner feed and vice versa. So it's still there. For those who are subscribed to your feed via RSS readers like Google Reader, I don't think there'll be a problem. As for your email subscribers, you'll need a third party service to handle the delivery of feeds because Feedburner's isn't going to work anymore.
PS: At the time of writing, my widget is now back to normal, showing the proper number of subscribers.
Bloggie Wednesdays
is a series of articles just on blogging. They contain tips, how-tos, discussions about anything and everything you need to know about blogging and how we can be better bloggers. If you have any suggestions, tips and tricks about blogging you would like to share with us, or if you have any questions you would like me to address, please let us know in the comments.