Five Minutes with My Favourite Blogger is a series of posts where I'll be showcasing some of my favourite bloggers. These are the bloggers whom I admire and inspire me.
Enjoy!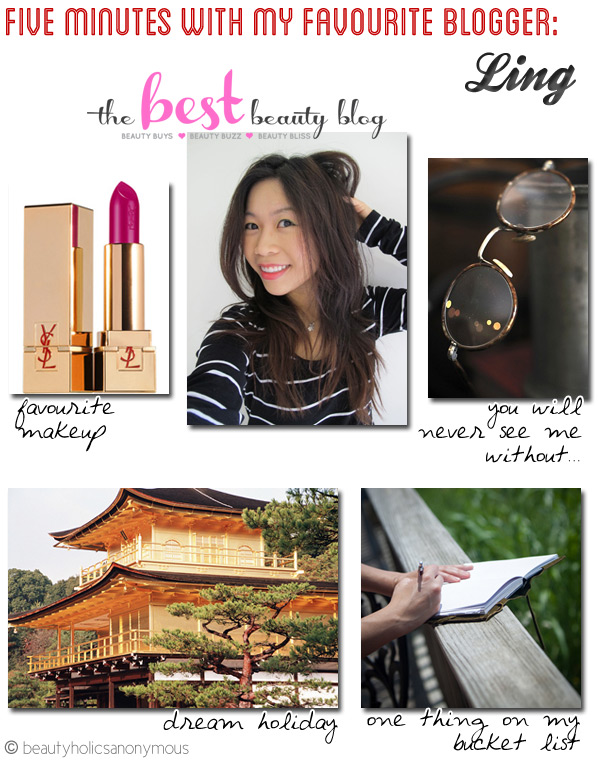 Image Credits: Japan | Writing A Book | Glasses
My style icon: Bizarrely, I don't actually have a style icon because I am probably one of the least stylish people I know and I don't follow the newest hottest trends. I am so un-stylish that I have never read an entire Vogue magazine! I should get me a style icon though because my wardrobe needs a revamp so if you or your readers have any suggestions, I will check them out

Dream holiday destination: I would love to go to Japan to experience the culture, eat lots of Japanese food (ramen and sushi), go shopping and people watch. Of course, you can do the same thing in most countries…but Japanese people have the wackiest inventions and the coolest gadgets and amazing skincare so I gotta go!!
One random thing you can find in my bag: Unlike most girls who carry around tissues, make-up essentials, mints, tampons, etc and have heavy handbags, my bag has to be as light as possible because of my shoulder/back problem. This means that my bag is boring and it will usually only contain my phone and my purse. The end. But perhaps, randomly, you may find strands of my hair in the bag because I shed hair like no tomorrow!
My favourite item of makeup: Oooh, that changes all the time! Of course, I love lipsticks but I am also currently loving foundations. I think it's because everyone and their dog have discovered BB creams and to be 'unique', I am going back to foundations – just to be difficult…I mean different

You will never see me without: My eyes! By my eyes, I mean my glasses or my contact lenses. I am as blind as a bat! I really want to get them lasered but knowing me, I'll be the unlucky 1% who gets her eyeball lasered to a crisp

I'm absolutely addicted to: Rambling! *cue Rambo music* I love to ramble on emails, blog posts, Facebook statuses, Twitter updates…anything that can be written, like this for example. But when it comes to speaking, I am not as articulate and I hate the sound of my own voice, so I may look quiet and reserved, but in my head, I am sending you rambling written messages!
One thing on my bucket list: I want to write a best-selling novel! Come on, if EL James, author of 50 Shades Of Grey, can do it, I want a piece of that too!
Ling blogs at The Best Beauty Blog and Lip Stalker.