It's true what they say. You simply cannot take good passport and/or driver's license photos.
Late last year, I was back in Malaysia to spend some time with my family and friends. Mum insisted that I cleared up some of the junk I had left in my old bedroom. During the spring-cleaning, I stumbled upon my treasure box. It wasn't a box of jewellery or expensive items, but things I collected when I was in school. It contained items that I deemed precious to me back then.
In the box, I also found my old passport-sized photos.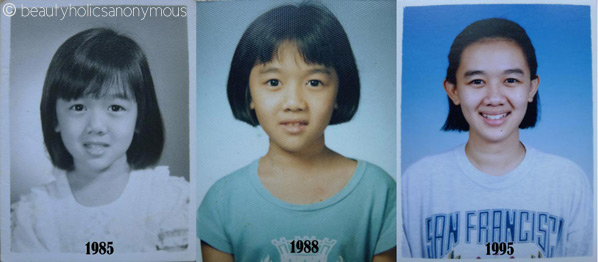 1985: I was five years old. I can't remember what the photograph was for, and why it was in black and white. Malaysian passport photos require a blue background, which made me wonder why my parents had this picture of me taken.
1988: Eight years old. Typical bowl hair cut for Chinese girls. My hair was pretty much this length till I was 11, when I had a godawful boy's cut (couldn't find the picture for it). I think this picture was hastily taken for school records (hence the sloppy t-shirt).
1995: Fifteen years old. Good Lord, look at my brows and eye bags. What did I have to worry about back then to have such horrid bags under the eyes? Ah yes. Form Three exams. That San Francisco t-shirt I was wearing was a favourite of mine. It was a gift from my late maternal grandfather. I literally wore that t-shirt to its death (too many holes to even salvage anymore)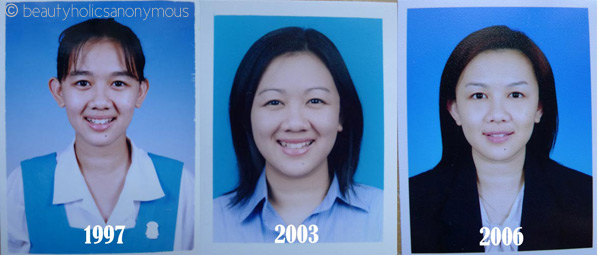 1997: Seventeen years old. That was my school uniform. This picture was taken for the school yearbook. By then I had shoulder-length hair which I tied up almost every day of my school year. Big brows, big eye bags, big ears.
2003: I was 23 and straight out of university. I came back from the UK about 10kg heavier than when I left home. You can tell that from my face. I knew nuts about makeup and eyebrow maintenance back then, hence the thin, over-tweezed brows. This photo was taken for job applications.
2006: 26 years old and third year of working as an engineer. The blouse was part of the work uniform. I lost that 10kg and then some. This photo was, I think, taken for my visa application to Japan.
I have a couple of pictures taken between 2006 and 2009, but I can't remember where I've put them. Fast forward to end of 2011, which is when the photo below was taken.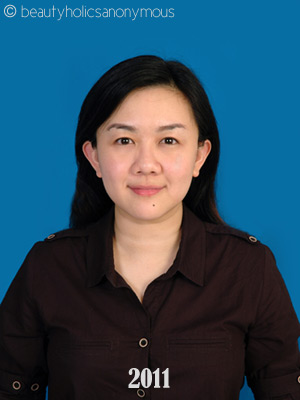 I've gained back a lot of the weight I've lost, and goodness me, what's with the bad uncombed brows?! Ah yes, I needed a very quick photo for passport application, and had to rush to the nearest photo studio after 9pm to get this done. Thus, you see the lack of makeup, bad brows and one craptastic picture.
Out of all these photos, the only one I liked is obviously the cute lil' me of 1985 ;). Everything else was just blah. My drivers licence photos in Malaysia and Australia were terrible too. I'm not used to not smiling and showing my teeth in photographs, which is why I looked bloody awkward in the photos.
Man … I can't believe I even showed you these! 😛