Last week I showed you some recommendations on skincare under $10, $20 and $50. It was a doozy doing that because there were so many good and affordable items to choose from. Today, I'm going to show you my makeup cheapie picks. It wasn't as easy as I thought.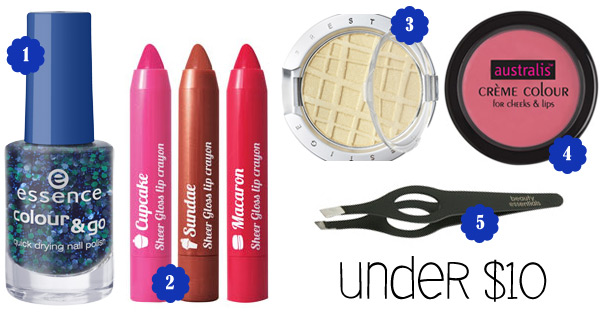 Under $10
1. Essence Nail Polish in Blue Addicted ($2.55)
This gorgeous nail polish is a fantastic dupe to Deborah Lippman's Across The Universe, and at such a low price too. As much as I detest flakie nail polishes (only because they're a pain in the bum to remove), this is just too good to resist.
2. Face of Australia Sheer Lip Crayons ($5.00)
Okay technically it's $14.95 for three and you can't get them individually, but really it's only just $5 each. You don't even need a mirror to apply this; just draw on your lips like a Sharpie. Easy peasy. The colours are very buildable too. They go on quite sheer, but as you keep drawing the lips, the shade starts to pop. I find that the colours don't show much if I had lip balm on prior to application. The lip crayons work better without lip balm (you don't need to apply any; these lippies are moisturising enough on their own).
3. Prestige Mono Eyeshadows ($6.99)
These eyeshadows were originally $13.50 but the price has dropped in a lot of Priceline stores. I believe they are discontinuing this range to bring in a newer range of single eyeshadows. These single eyeshadows were one of the first eye makeup products I purchased in Australia, and I can't recommend them more. They are beautifully pigmented, stays on the lids for hours (even on my incredibly oily lids) and are great value for money. I'd watch out for any Prestige promotions in Priceline catalogues to get them when the price drops. I even had an inventory check note on my phone on what mono eyeshadows I already have. Now that they have dropped the price to $6.99, these really are worth getting.
4. Australis Creme Colour for Cheeks and Lips ($9.95)
A pretty lil' cream blush cheapie for the cheeks. I don't use this on my lips, just my cheeks. It goes on quite sheer, but it's buildable to how "flushed" you want to look. For the price of 3 cups of coffee? This is all right in my book

5. Beauty Essentials Precision Tweezers ($8.49)
Okay, technically NOT makeup, but it's a grooming tool to prep your brows for makeup, no?

Prior to moving to Australia, the only tweezers I used were the ones that looked like pairs of scissors. This was the first, erm, press-tweezer-thingy I used. Y'know, like Tweezerman's but without the hefty price tag. This one's precise all right. It even tweezes hair less than 1mm. In fact, I had to be careful when using this because it's so sharp, it made me bleed on several occasions when I wasn't careful. Other than that, it's the best pair of tweezers I've ever used.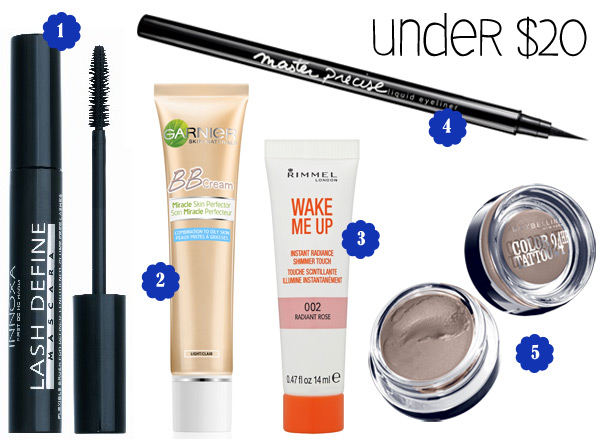 Under $20
1. INNOXA Lash Define Mascara ($19.95)
This has been my daily mascara for many months now. It's so easy to use, does not smudge and defines my lashes clearly without the clumps. It's sort of like a comb that looks like a brush, if you know what I mean. It doesn't have the bushy bristles a brush has, yet it does not look like a comb. Big love for this mascara. Big love.
2. Garnier BB Cream Miracle Skin Protector for Oily to Combination Skin ($13.95)
I've blogged about this before and I'm happy to recommend it again. My favourite BB cream is Garnier Asia's version, and when Garnier Australia came up with the one for Oily to Combination Skin, I was mighty chuffed because it's so similar to the Asian version. It's not heavy on the skin, gives good enough coverage to conceal slight blemishes without looking "made up". Two thumbs up!
3. Rimmel Wake Me Up Instant Radiance Shimmer Touch ($12.95)
I like using the Radiant Rose just on top of my cheeks to add a bit of dimension to my blush. When used sparingly, it gives a very pretty glow to the cheeks without looking like two disco balls pasted on the face. I'm not usually a fan of cream/liquid highlighters, which was why this was quite a delightful surprise.
4. Maybelline Master Precise Liquid Eyeliner ($13.95)
Okay, I only bought this because I liked how it looked in the advertisement (the model had a floral motif painted near her eye with the eyeliner). I was rather apprehensive in actually using it because I was still quite lousy in applying liquid eyeliner (slowly improving now

). Glad to report that this felt-tip pen made it very easy for me to draw dots along my lash line and connect them. Not a bad liquid eyeliner for a n00b to begin with.
5. Maybelline Color Tattoo Eyeshadows ($11.95)
There was high anticipation for these eyeshadows before they were finally launched in Australia. I can see why people like it though. I have the one in Tough As Taupe, and it clearly is tough because it sticks on to my oily eyelids like glue. No crease, no smudges, nothing. I've had this on for over 10 hours before and it wouldn't even budge. So easy to apply too. No makeup brushes necessary, just pat on the lids with your fingers. I'm not too keen on the other shades, but I would repurchase Tough As Taupe in a heartbeat.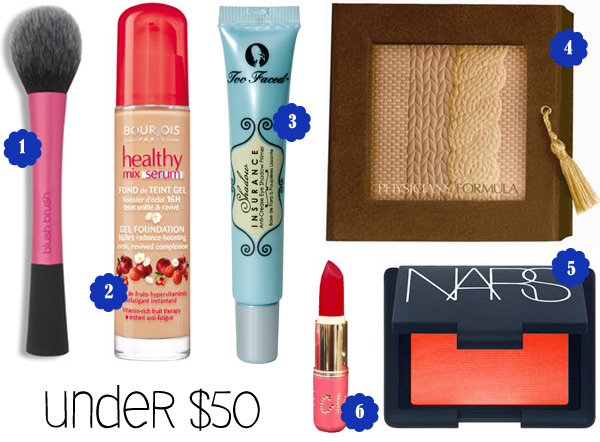 Under $50
1. Real Techniques Your Finish/Perfected Blush Brush ($22.99)
I'm on a never-ending quest to find the perfect blush brush. Although the Real Techniques Blush Brush isn't the perfect one (it can't be if I'm still on the hunt for one), it's pretty damn good in my books. It has very soft synthetic hair, doesn't bleed when cleaned and doesn't shed (I've been using this for many months and it has yet to shed a single hair).
2. Bourjois Healthy Mix Serum Gel Foundation ($32.00)
My Holy Grail of foundations. Smells good, feels good, looks very good. This is the foundation I always go back to. It's the foundation I bring with me when traveling, it's the foundation I reach for when I need my skin to look fabulous, day or night.
3. Too Faced Shadow Insurance ($26.95)
Another Holy Grail makeup for me. I alternate between this and Urban Decay's Primer Potion, but I find this works slightly better on my oily lids than the Primer Potion. My eyelids become an oil slick without primer, so this is an absolute must-have for me.
4. Physicians Formula Cashmere Wear Ultra Smoothing Bronzer ($24.95)
I can't believe it. A bronzer n00b actually recommending a bronzer

. Okay, I won't deny that I was drawn to the bronzer simply because of how beautiful the cable-knit and stockinette stitch design is. When used sparingly, it's not overly-shimmery. It actually looks good on my skin (a lot of bronzers don't). Whaddyaknow. Could I actually be a bronzer convert?

5. NARS Blush in Exhibit A ($45.00)
This was my very first blush from NARS and will always be my favourite. It's a brilliant reddish-orange blush that screams holy-crap-how-can-I-put-that-thing-on-my-face. I've always worn blush very subtly (read: can barely be seen) so when the makeup artist recommended that to me, I gave her such a horrified look she had to back away a little. Yet she convinced me I should try it out, and I did. It's such a beautiful blush; I highly recommend you at least try it out in store before even thinking about buying it. The Exhibit A changed my mind about how I wore my blush for good.
6. Ciccone Cosmetics lipstick in Voluptas ($25.00)
My ultimate red lipstick. It's not a bright red, but a slightly deeper red that just screams sophistication to me. It's not very matte nor is it very creamy. Three layers of this on, and the colour will not budge, not even after meals.
Okay, I cheated by categorising nail polish and tweezers under makeup. It wasn't easy deciding on good makeup I would like to recommend, not when it's under $10. Sadly, this isn't the US where you can get a much wider variety of good-quality makeup for under US$10. I originally wanted to suggest makeup you could purchase online (it will certainly be cheaper), but decided against it in the end. I wanted to recommend items that were easily available to you, something you can go to the shops for.
Perhaps the next one, I'll do something you can only buy online. Now that will be fun, won't it?

Are there any fabulous yet affordable beauty products you'd like to add in any of the categories above (under $10, under $20 and under $50)? If so, let us know in the comments!