Often I get emails requesting for recommendations on affordable beauty products. Beauty products that work well AND will not leave the wallet screaming on the way out of the shop (don't we know what the latter is like, eh?

)
Here are some of my top picks, categorised under $10, under $20 and under $50. You've probably seen some of them on Beautyholics Anonymous before, but I like them too much not to give them multiple mentions.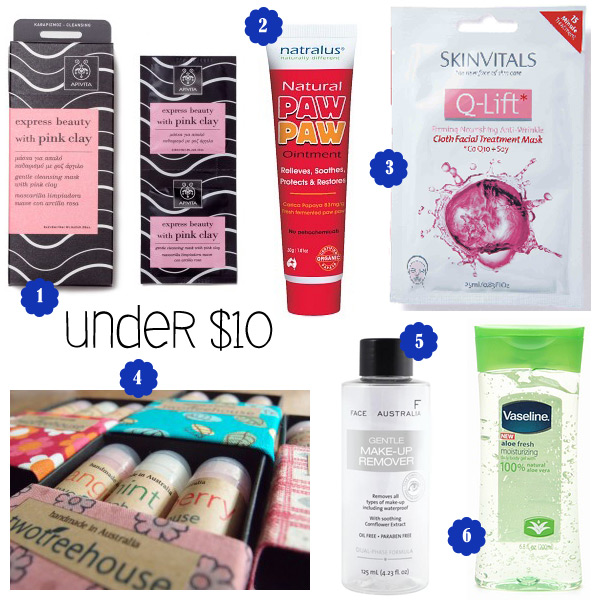 UNDER $10
1. Apivita Express Beauty Masks (from $7.90)
My favourite is the Gentle Cleansing Mask with Pink Clay. It's not drying on the skin, doesn't sting and deep-cleanses my skin well without it feeling like sandpaper. The Express Beauty Masks are great for traveling (no worries about exploding jars and bottles!)
2. Natralus Paw Paw Ointment ($5.50 for 30g)
This ointment is actually better than the one by Lucas. That's right, I'm calling it. It's much easier to dispense (you know how hard papaw ointment can be to squeeze out of the bottle) and it's not heavy on the lips or skin. It tastes pretty good too.
3. SkinVitals Masks ($3.99 each)
When I've run out of My Beauty Diary masks, I turn to SkinVitals sheet masks. I find the masks a lot better than most Korean ones like The Face Shop, Skinfood and Missha. I've tried all the masks in the Facial Masks range, but the Q-Lift Treatment Mask is the one I've repurchased countless times.
4. Twotreehouse Lip Balms ($5 each)
Even though they are only available in a pack of 3 for $15, each lipbalm is only $5. For something that's handmade, customised to the designs you want, cute-as-a-button-packaging and feels good on the lips, it really is a bargain.
5. Face of Australia Gentle Makeup Remover ($8.95)
I've recommended this makeup remover to more people than I can remember. It's such a fantastic cheapie that does the job of removing stubborn makeup without stinging my eyes.
6. Vaseline Aloe Fresh Moisturising Body Gel ($7.68)
This is a godsend in summer when it's bloody hot outdoors and steaming indoors without air-conditioning. What I found even better with this body gel is soothing razor burns. I had a couple of unfortunate episodes with the epilator a few months ago. The scrapes on my skin stung badly, especially after taking a shower. The body gel helped tremendously in soothing the injured skin.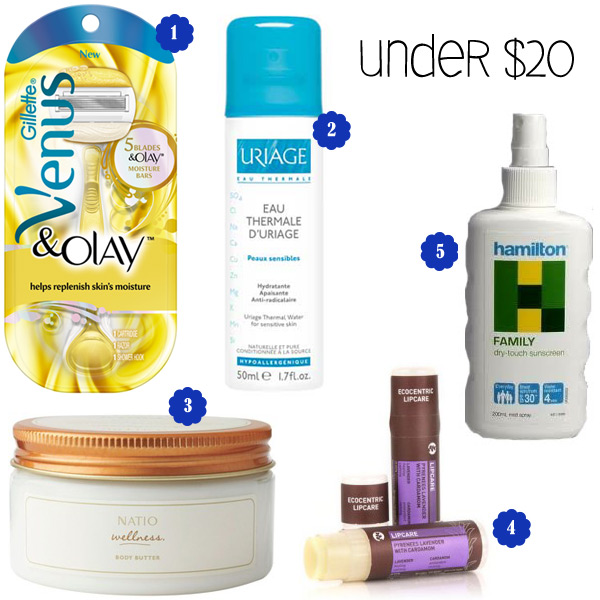 UNDER $20
1. Gillette Venus & Olay Razor ($14.99)
This is a strange-looking razor that looks like it has two piece of rubber at the top and bottom of the razor. It's fat and quite-frankly, unsightly (the two pieces of 'meat' just looks weird to me). That was before I started using it. Whaddyaknow, this funny-looking fat razor is now my favourite Gillette razor in the entire Gillette for Women range, mostly because I don't have use any shaving gel, shower cream or hair conditioner on my skin prior to shaving. All I have to do is wet my skin, wet the razor and shave away. It gives a very close shave without nicking or chafing the skin. Yes you two rubber thingamajigs, I'll have you any time.
2. Uriage Thermal Water Spray ($10.95 for 50ml)
Again, another product I gush about because it just feels damn good on the skin. Whether you're on the plane, on the road, at your desk, watching the telly, applying your makeup (good for setting your makeup), this perks the skin right up. I accidentally tasted the water once. Salty

3. Natio Wellness Body Butter ($18.95)
I'm now on my second jar of this body butter. I'm head-over-heels in love with the Natio Wellness range (I've tried just about everything in it); in fact, I don't just recommend the Body Butter, I'd say try 'em all! The subtle not-sickly-sweet scent just gets to me, y'know?
4. Pangea Organics Pyrenees Lavender with Cardamom Lip Balm ($17.95)
My night lip balm, the one I use just before hitting the sack. Hydrates the lips all night, smells and tastes absolutely delicious.
5. Hamilton Family Dry-Touch Sunscreen Mist Spray ($16.45)
Non-sticky, easy-to-apply sunscreen for the family. The husband (who almost always forgets to apply sunscreen before leaving the house) likes this because it's very easy to use. As for me, I like its convenience, plus it's quick and easy to apply. It does smell rather, erm, sunscreen-y but it doesn't stink.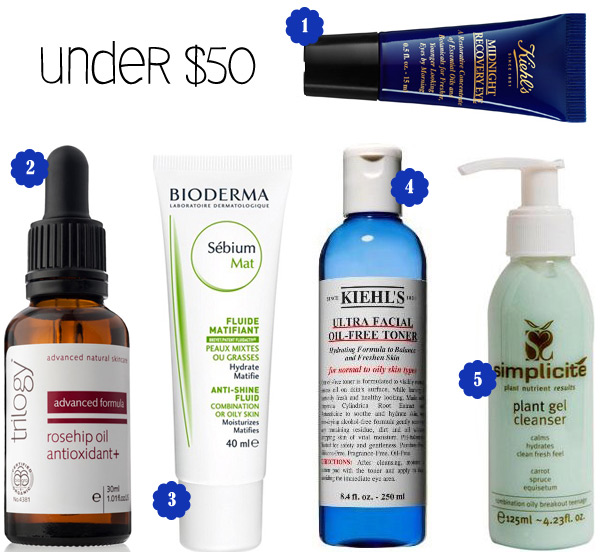 UNDER $50
1. Kiehl's Midnight Recovery Eye ($44)
This is one of my favourite eye creams (I don't have many

). It helps to reduce the appearance of fine lines below my eyes and hydrates the delicate area well. It's also the best-smelling one I've used (what can I say; I'm a sucker for lavender). As I only needed about the amount equivalent to one grain of rice for both undereye areas, this took me ages to finish. Again, another value-for-money product

2. Trilogy Rosehip Oil Antioxidant+ ($29.95)
This is holy grail of skincare products for many women and I can see why. It provides great hydration on the skin, even for oily to combination ones. I skip my night cream altogether when using the Rosehip Oil.
3. Bioderma Sebium Mat Anti Shine Fluid ($27.95)
A saviour for oily to combination skin. It keeps the skin matte (especially my oily T-zone) for hours. I was devastated when I used up the last drop of my Caudalie's Vinosource Moisturizing Matifying Fluid, so this came in very handy. In fact, I realised that the Bioderma one worked better for me than Caudalie's. It's cheaper too. Yay!
4. Khiel's Ultra Facial Oil-Free Toner ($28)
I finished a bottle of this toner a few months ago. It took me almost a year to get through the entire bottle, which says a lot in terms of value for money. It refreshes the skin after cleansing and does not strip the skin dry.
5. Simplicite Plant Gel Cleanser ($39.70 for 125ml)
This is one of the best cleansers I've tried (and goodness me, I've tried many). It's luxurious on the skin, cleanses well and does not leave the skin feeling dry and tight. If you're looking to indulge yourself in a cleanser, I recommend the Plant Gel Cleanser.
Phew that was a lot of products, wasn't it? But really, it goes to show that you don't need expensive skin and body care products for good skin. I hope this helps you in your search for good and affordable beauty products.
Next up, makeup!
Are there any fabulous yet affordable beauty products you'd like to add in any of the categories above (under $10, under $20 and under $50)? If so, let us know in the comments!