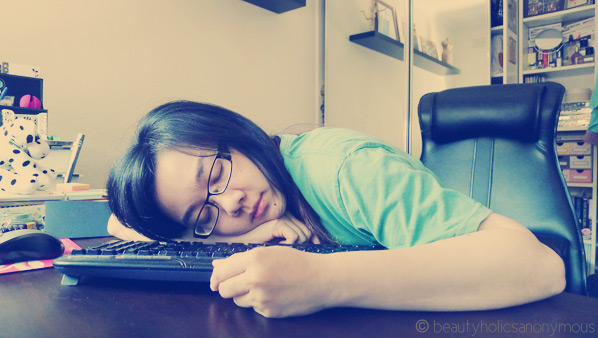 Lately I've noticed a number of tweets and Facebook status updates that read something like this:
"Oh no, still haven't blogged. It's been days/weeks!"

"Sigh. So tired from work, but still have to blog"

"Everyone's outside enjoying the gorgeous sunny weather, but I'm inside blogging".
Sound familiar?
Goodness knows I've been there. Not going out because the weather's finally good enough for me to take pictures for the blog. Missing out on birthdays, BBQs, dinners, etc because that day is the only day I have free time to blog. Knackered from work yet I still have to blog.
When did blogging start being work and stop being fun? What are we blogging for? What are you blogging for?
When blogging starts to become nothing more than a chore, it's time to evaluate the direction you want for your blog. Unless you're intending to run your blog as a business, it's okay to take a step back. Instead of blogging daily, try blogging a few times a week. Instead of blogging a few times a week, trying blogging once a week. You can blog less and still be consistent. Many successful bloggers do that.
The problem with what I'd call forced blogging (blogging when your heart's not in it) is that you almost always end up with posts that are – to be brutally honest – crap. At the Problogger Event, I learned that you have to write content that give you energy. Write about topics that inspire you. For me, sometimes it's not enough to create content that gives you energy. You jolly well also need the energy to write!
If you're worried about losing your readers, here's an experiment you can try. Take a step back from blogging, but continue to engage with your readers on your social media platforms. Instead of writing a long review of a product on your blog, post a picture of it on your Facebook page with a note on what you like/don't like about it. Go through your archives, post a link of an old article and talk about it.
Have fun with Instagram, take lots of pictures and share them with your followers. Allow your pictures to inspire you. Have a bit of a dilemma? Ask your readers for help.
Rest assured that even when you're not blogging often, your readers and followers will still come back to you for more. When you're ready to blog again, that's where they'll be as well.
Blogging can be work, but it should be "good" work. It should be something you enjoy doing. It shouldn't exhaust you and it definitely shouldn't stop you from enjoying your life.
It's okay to take a step back. Just holler when you're good and ready to blog again 🙂
Has blogging stopped being fun for you at some point? How did you work it out?
Bloggie Wednesdays
is a series of articles just on blogging. They contain tips, how-tos, discussions about anything and everything you need to know about blogging and how we can be better bloggers. If you have any suggestions, tips and tricks about blogging you would like to share with us, or if you have any questions you would like me to address, please let us know in the comments.