Five Minutes with My Favourite Blogger is a series of posts where I'll be showcasing some of my favourite bloggers. These are the bloggers whom I admire and inspire me.
Enjoy!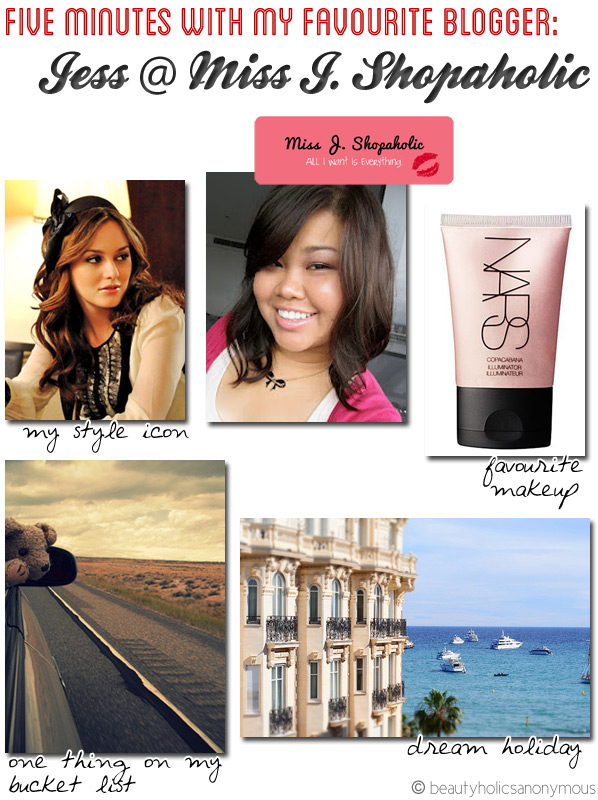 Image Credits: Leighton Meester | Cannes | Road trip
My style icon: Ooooh this is tough, as honestly, I just like to take certain trends and use them in ways that work for me. I do love Lauren Conrad and Blair Waldorf (yes, the character from Gossip Girl not Leighton Meester lol) though. I also adore Audrey Hepburn as she was just so effortlessly elegant and sophisticated. Love classic looks, accented with accessories.
Dream holiday destination: Cannes and the French Riviera. I've never been and it always looks so stunning in pictures.
One random thing you can find in my bag: Random? I don't know… bobby pins?! I have like an endless supply in my bags but can never find one when I need it! Also I always carry an umbrella, I do live in Melbourne after all and it's known for having 4 seasons in one day.
My favourite item of makeup: Blush. Oh and I'm a total sucker for highlighters/illuminators too!
You will never see me without: My phone, sounds bad I know but I'm obsessed with Twitter and Instagram lol
I'm absolutely addicted to: Shopping. Duh. It's all in the name

One thing on my bucket list: Road trip across the USA, from LA to NY. Which we're actually planning to do next year! Can. Not. Wait.
Jess blogs at Miss J. Shopaholic.