Five Minutes with My Favourite Blogger is a series of posts where I'll be showcasing some of my favourite bloggers. These are the bloggers whom I admire and inspire me.
Enjoy!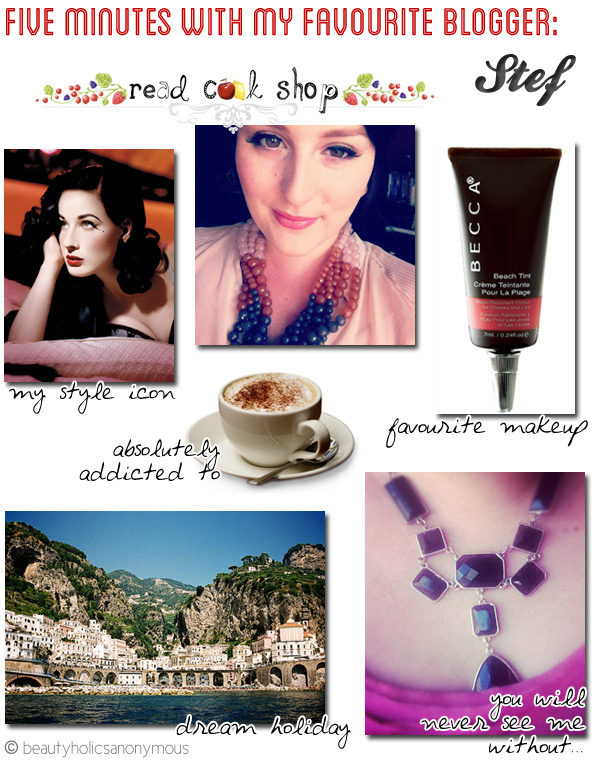 Image Credits: Italy | Dita Von Teese
My style icon: It's tough to pick just one! From an inspirational standpoint I love Dita Von Teese for her commitment to old-school glamour; her hair and makeup are always so perfect and I love her vintage aesthetic. I also love that she's stayed true to her own style, rather following what others are doing – I admire that just as much as I admire her particular style. I also really like Kate Middleton's style (cliché, I know!) and people like Michelle Williams, Kate Bosworth and Liv Tyler for a more 'dressed down' look.
Dream holiday destination: Without a doubt: Italy. Being of Italian heritage (my dad's family is from Trieste in the north of Italy) I've always dreamed of going there, and I'm taking Italian language classes at the moment too!
One random thing you can find in my bag: a book or my iPad – for unexpected reading opportunities. I hate being stuck anywhere without something to read.
My favourite item of makeup: A rosy or peachy coloured blush, nothing picks up your skin more than a pretty pink or peach blush. It's like instant awakens! A few favourite shades are: Mac Well Dressed, Smashbox Soft Lights in Lens and Becca Beach Tint in Grapefruit.
You will never see me without: Jewellery – I wear it everyday! My staples are my wedding and engagement ring (of course) and pearls, but I love all kinds of jewellery from the fine and delicate, to the chunky and loud.
I'm absolutely addicted to: Coffee…it's a necessity for me to function.
One thing on my bucket list: Writing a novel and getting it published
Stef blogs at Read Cook Shop.