Note: This is a picture-heavy post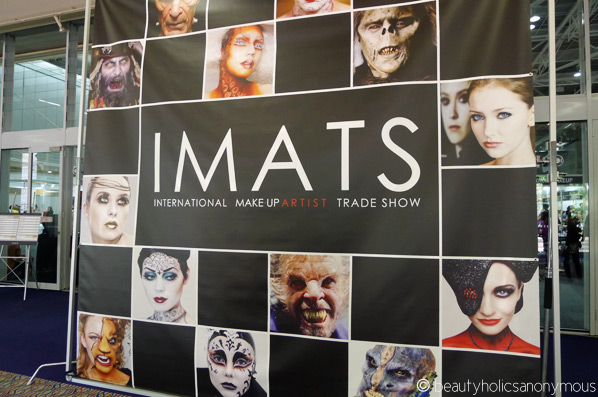 I was going to squeeze my post on the IMATS Sydney 2012 into my writeup of the Beauty Bloggers Utopia weekend just a few days ago. After poring over hundreds of photos I took at IMATS, I figured the IMATS deserved a post of its own. This way I can show you more photos of the day, what I saw, what I bought, etc. More importantly, the latter.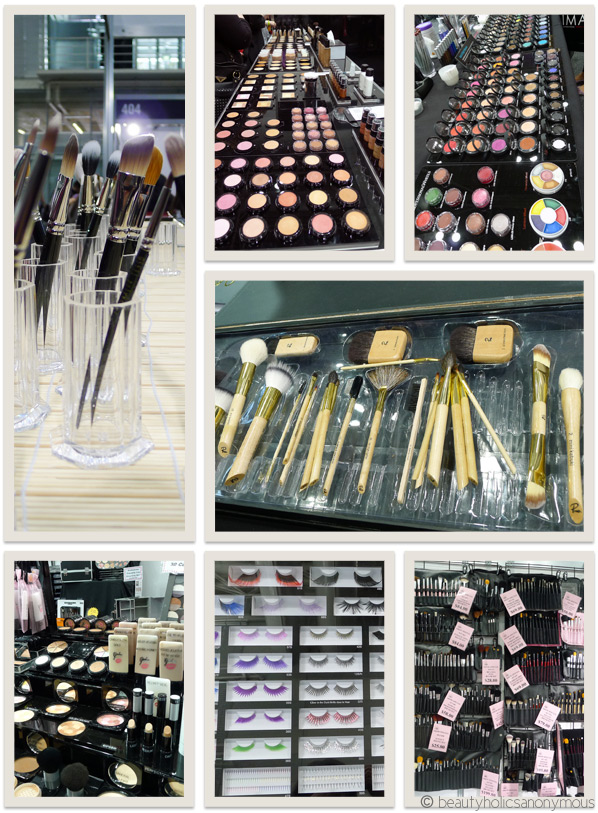 If you're not familiar with what the IMATS is, it's the International Makeup Artists Trade Show. I did an IMATS round-up on Beauty Directory last year, so do check it out. It's pretty much the same this year. Most of the brands that were at the IMATS last year were present this year too with the exception of NYX. Let me tell you, the disappointment of most attendees was overwhelming when they discovered that NYX was a no-show this year. It appeared in the program; however they pulled out at the very last minute. I had no idea why.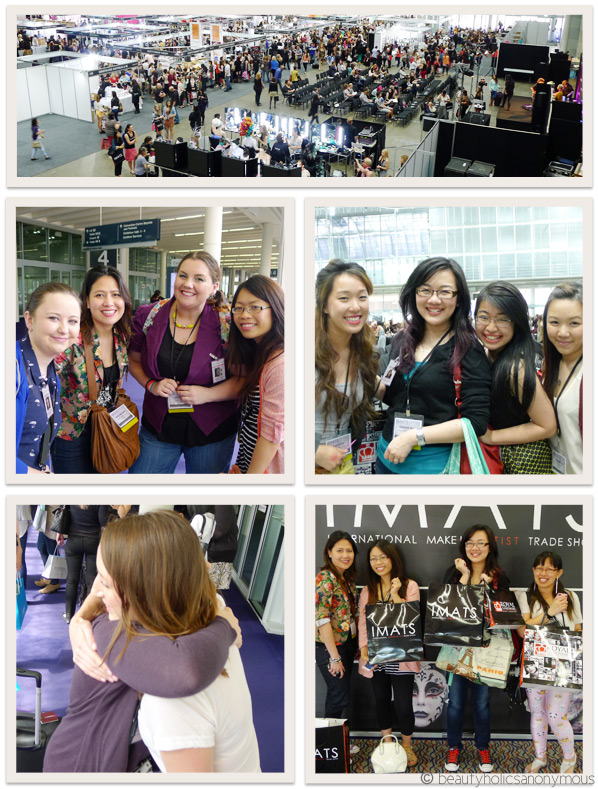 Top-L-R clockwise: IMATS at the Sydney Convention and Exhibition Centre | Emma, Norlin, Lizzi and Ling | Bumped into Tram, Alice and Tezza at the IMATS | Hugs all around! | Showing off our shopping haul
Everything else was pretty much the same. It's makeup and brushes heaven at the IMATS. The reception at Royal & Langnickel far outweighed Crown Brushes this time (at least, that was what I noticed). It was such a feat trying to literally get my body past the crowd of ladies trying on and picking up R&L brushes. It's no wonder why Royal & Langnickel makeup brushes are always so popular at the IMATS. They have good quality makeup brushes at such low prices (e.g $2-$5 for eye makeup brushes, $7-$15 for face brushes and so on. Their makeup brush sets sold like hot cakes.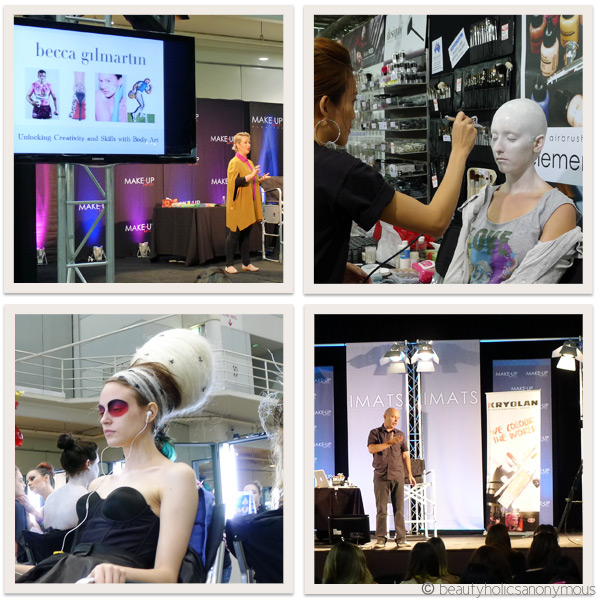 A tip for future IMATS attendees who would like to check out R&L brushes: either go very early or go late. Decide on what brushes you want quickly because there will definitely be a line behind you trying to get in. Don't take your own sweet time deciding if you want a $2 brush vs a $3 brush, because the ladies behind you will smell blood and they will not hold back before telling you to sod off

As always, there was plenty of body art going on at the trade show. This fascinated me greatly last year and this year was no exception.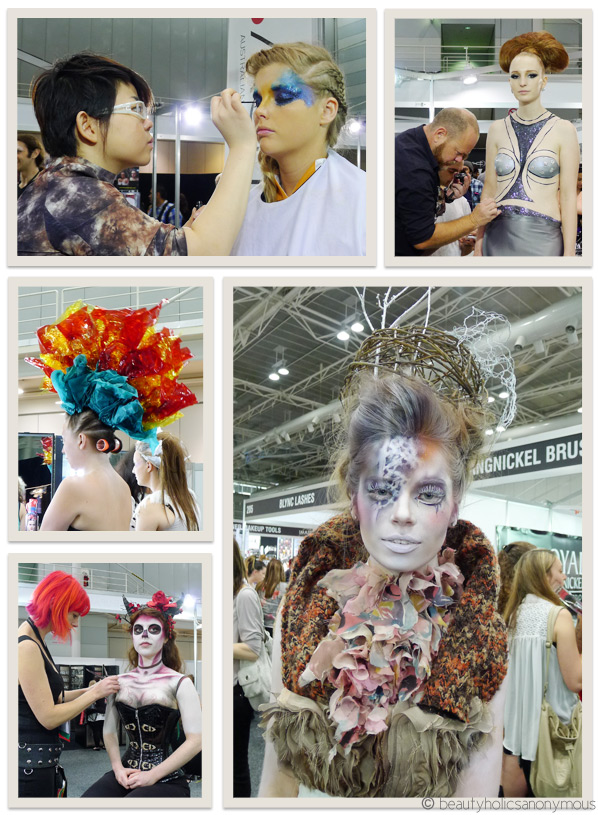 The Beauty Bloggers Utopia delegates were given a special treatment of snacks, complimentary manicures and massages at the mezzanine level of the IMATS. This was a godsend especially if you've been shopping non-stop for the past couple of hours.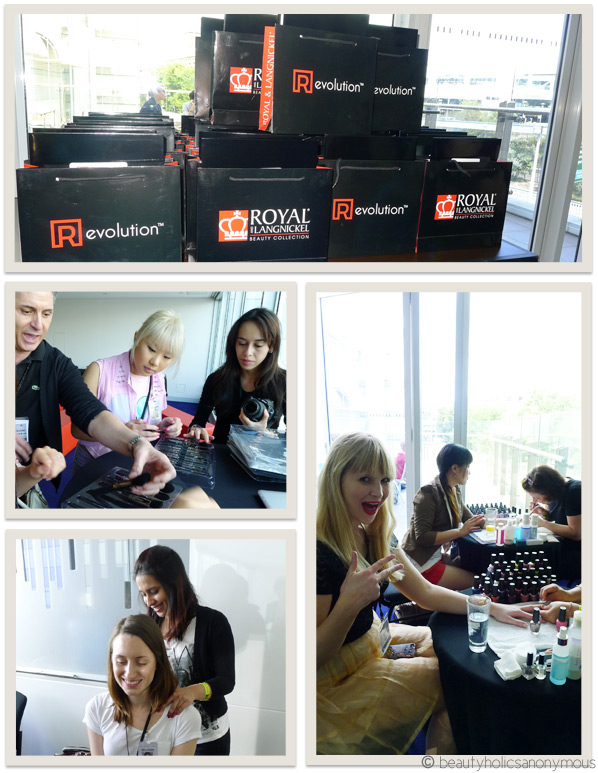 Top-L-R clockwise: R&L's new [R]evolution makeup brush range | Kitty and Megan checking out the new brushes | Michaela getting her nails done | Stacey enjoying a good massage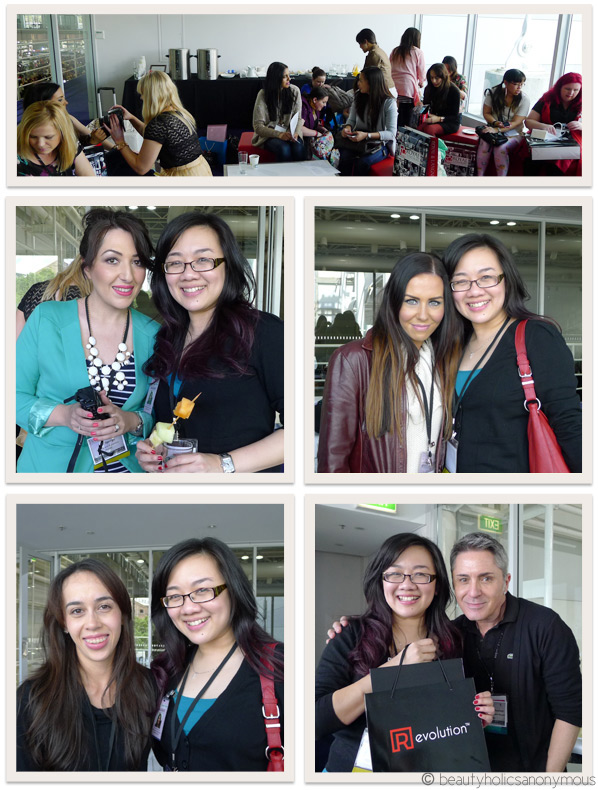 Top-L-R clockwise: The Beauty Bloggers Utopia enjoying a bit of time off | With Lilit | With Rosemary | With Megan | With award-winning makeup artist and designer of R&L's new range of [R]evolution makeup brushes, Kevin James Bennett
Of course, what is IMATS without shopping?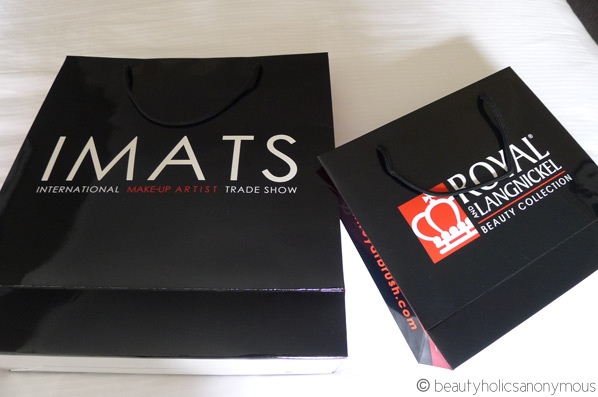 I was very good last year when I only purchased a few makeup brushes (one of them from Hakuhodo, no less, but y'know. Still). This time, I actually had a list of stuff I wanted to get. Truth be told, it was only a tiny list but temptations were far too great for me to resist this time. And no, another Hakuhodo brush was definitely NOT in the list.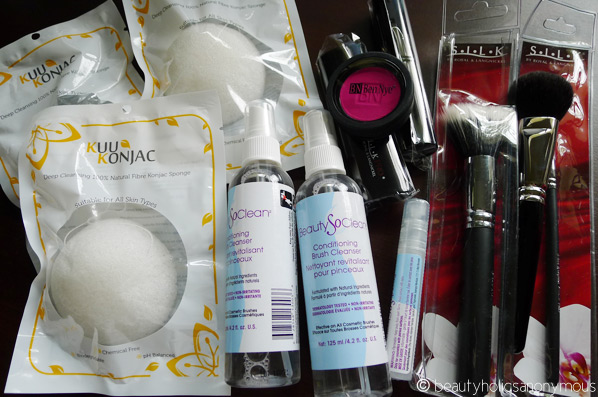 The items on my list were: BeautySoClean makeup brush cleansers (heard good things about them, had to try them out) and a stippling brush for LeGeeque. In the process of walking to the booths where these are, I also happened to *ahem* procure more things. Bought three more R&L brushes, some Kuu Konjac sponges (they were only $4 each!) and, erm, another Hakuhodo makeup brush (blush brush). This one brush pretty much blew my entire budget for IMATS. Yikes!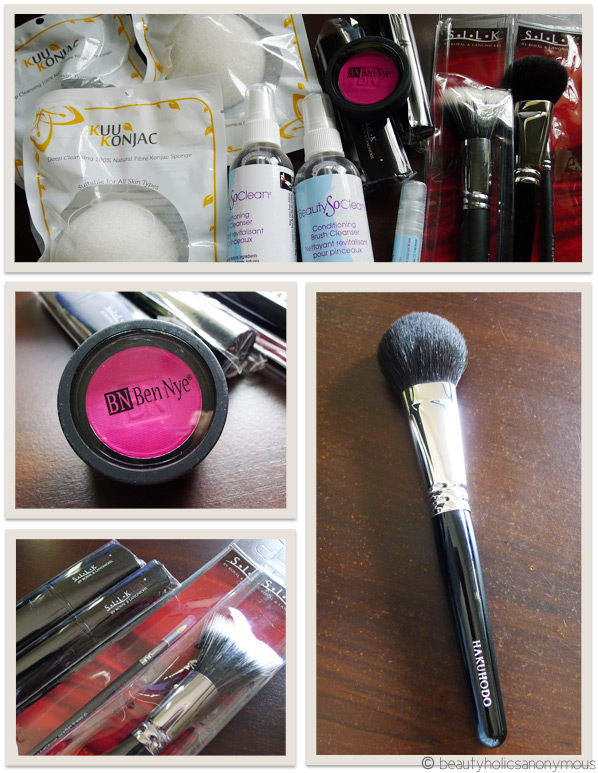 As for the Ben Nye powder blush, my first round of covering the IMATS missed the booth. They usually do very bright eye makeup colours, which isn't really my thing. But when I saw Norlin's shopping haul and laid eyes on this, I knew I had to get it. The colour reminded me so much of Tom Ford's blush in Narcissist and it's only ten bucks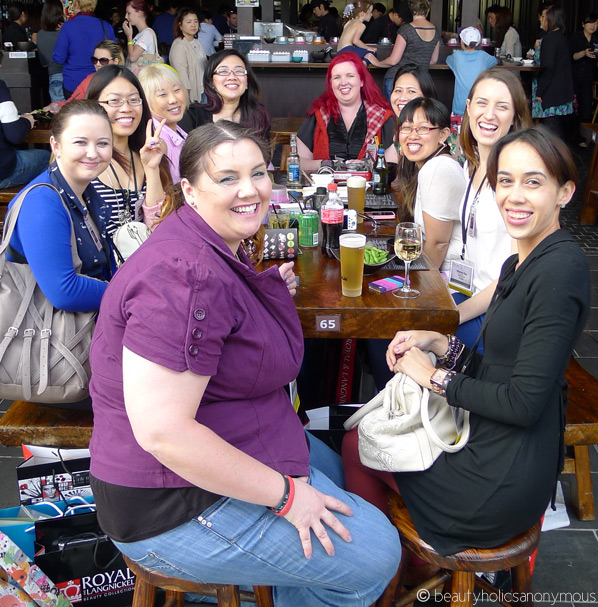 Well-needed sustenance after 3 hours of shopping
And that concludes my IMATS experience this year. It happens once a year (usually at the end of September) so if you do happen to be in Sydney at that time, I highly recommend you check it out. The crowds are crazy, you may or may not have to fight with another girl for that last eyeliner brush, but you know what? It's still heaps of fun. Go with your girlfriends, get fun makeup at lower prices and help each other stick to your budget. Yeah, as if the last one helped me at all

Stay tuned in the next couple of days when I'll be showing you pictures of my amazing weekend at the Beauty Bloggers Utopia