I heard about the spirulina 'super food' many years ago. Along with other forms of super foods, it became a big health phenomenon in Japan. A colleague told me all about it and how well it worked for him in terms of keeping him energetic, especially in the lethargic afternoons. Back then, I thought it was hokum and did not buy any of the supplements to try.
Next my mum got on the spirulina bandwagon, claiming that it too help keep her energy levels up. Then my husband got hooked on it too. Seriously, am I the only person in the family who's not tried spirulina?!
So when Ella Baché contacted me with news of their new SpiruLines skincare range, my hokum radar went on full alert. Spirulina on the skin? How would that work? Yet I was highly intrigued and decided to give the Creme-Green Lift (which is the Intensive Wrinkle Smoothing Cream) a try. I've been using this daily for the past month, and let's just say, I'm pretty game on giving spirulina a go now.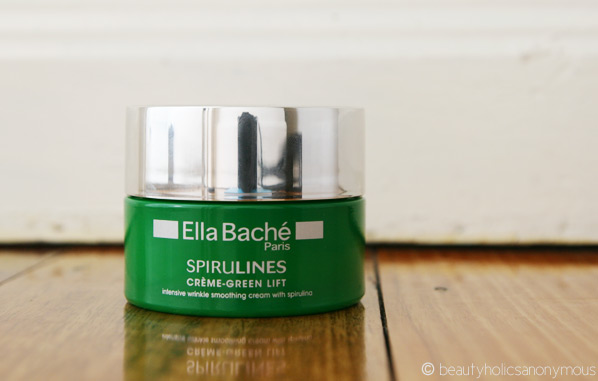 Description:
Discovered in South America in the early 16th century as a complete food source, spirulina is now a widely used nutritional and dietary supplement. After years of research, the experts at Ella Baché developed SpiruLines into the 'super food' for the skin which delivers vitamins, minerals, amino acids and chlorophyll to assist in restoring health and hydration, while minimising the first signs of ageing including fine lines, loss of firmness and visible UV damage. The Creme-Green Lift is a daily day and night cream to address fine lines and firmness. Skin's texture is instantly smoothed and skin firmness improves over time.

The packaging is simple opaque glass jar, and a green one as to keep with the theme of the range. It's not my usual preference of skincare packaging as I do have to multi-dip into the cream with my fingers. It's not a deal-breaker when it comes to skincare but it is something to take note of.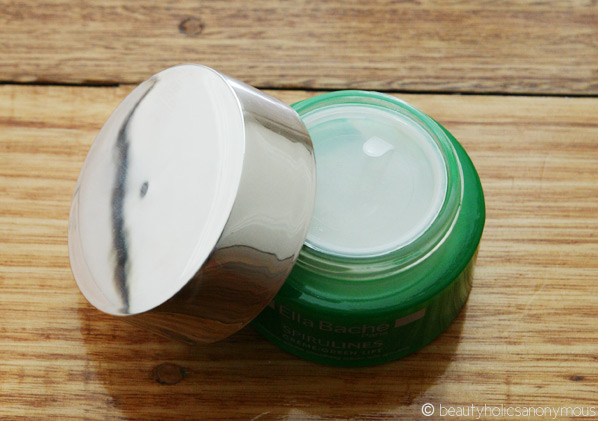 The cream is a gorgeous one. It's light, luxurious, slightly mousse-like to the touch and spreads very well on the skin. The scent is a unique one. If you do take spirulina supplements, you will notice that it smells just like them. It smells like plants after the rain and fresh clean air, if I'm to put a description to it.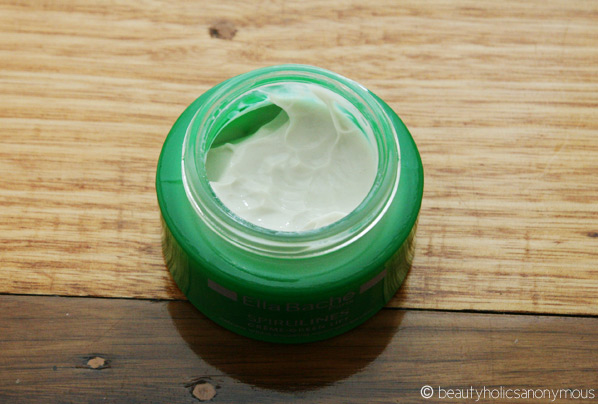 Did it remove the fine lines off my face? Sadly no. Nothing short of a miracle (and cosmetic procedures) would do that. I wasn't expecting it to anyway. I also did not notice any brightening of the skin. However, it did address the other issues like firmness and skin texture. My skin feels smoother and more supple the next morning. It kept my skin well-hydrated at night without the greasy feeling.
It's a lovely moisturiser to use. I was initially rather apprehensive in trying it out at first as I thought it might be too rich for my combination skin. I'm glad to say that that's not the case. Even though it's suitable to be used day and night, I prefer to use this as a night cream. I do like to slather something luxurious on my skin at night

Did spirulina do its job on my skin? At this point, it's too soon to tell. There are no significant changes to my skin yet. Still, it's a more-than-decent moisturiser and if you're a fan of spirulina supplements, this is something you might like to check out as well.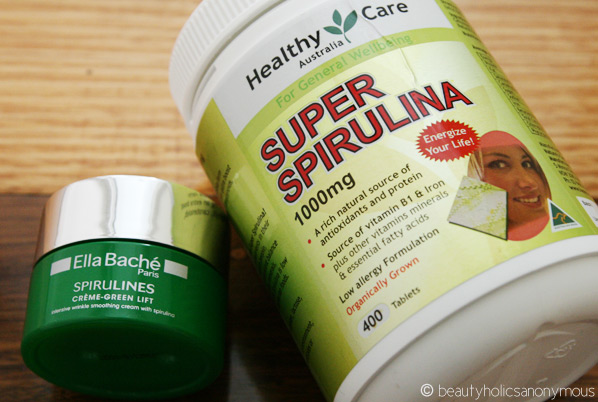 Ella Bache SpiruLines Creme-Green Lift Intensive Wrinkle Smoothing Cream retails at AU$118 for 50ml and is available at Ella Baché salons and David Jones stores nationwide.
What I like about it: Luxurious cream, very unique scent, moisturises the skin well while keeping it smooth and supple.
What I do not like about it: It's quite pricey
Have you tried any skincare products with spirulina? Do you take spirulina supplements? Do they help? I've yet to tackle that big jar of tablets!