Looks like my Beauty That Won't Break The Bank posts were quite a hit! 🙂 It wasn't my intention to make them into a mini series, but there are just too many good and affordable beauty products out there that I just had to write them up in different categories.
Today, it's all about hair care and what goodies you can find for under $10, $20 and $50.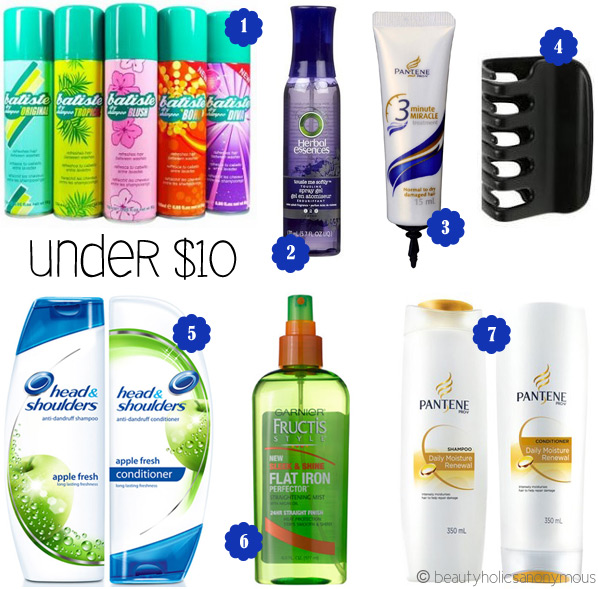 Under $10
1. Batiste Dry Shampoo ($9.99 for 150ml)
In terms of dry shampoo, I'm usually a fan of Cedel, but I just couldn't resist the ones from Batiste. You get a variety of fragrances with Batiste (Cedel only has one), which is fun. I buy different travel-sized ones in case I want a different scent on certain days. Batiste dry shampoos do not leave any white powdery residue on hair and are easily brushed out.
2. Herbal Essences Tousle Me Softly Spray Gel ($6.99 for 170ml)
I rarely use styling products on my hair (a smoothing serum is the best I would do), but when I do need to fix a dodgy fringe or give my hair a bit of pizzaz, the Tousle Me Softly Spray Gel is the product I turn to. It's not hair spray nor thick gel, so my hair still gets a lot of movement. Plus it's Herbal Essences, so you can guarantee your hair will smell awesome.
3. Pantene Pro-V 3 Minute Miracle Weekly Intense Treatment ($7.99 for pack of 3)
I've used a lot of hair masks (I have to; my hair would be like wire without treating it to masks frequently), and I have to say, these little Pantene tubes are still the best I've used. Whenever I'm in Malaysia I'd buy boxes of these, remove the tubes and throw a few in each corner of my luggage :P. Even though my hair is quite long, I don't actually need to use the entire tube per wash. Half a tube would suffice per wash, thus saving the next half for another hair wash. Essentially I get 6 uses out of each box of 3. Not bad, eh?
4. Lady Jayne Claw Grip Sports Syle Super Hold ($8.49 for Large)
I can't remember how many of these clips I've used now for the past 4 years. I go through about 2-3 clips a year, so I'm guessing over 10 clips? I buy a lot of cheap hair grips from Malaysia but none could even compare to this Lady Jayne one. If you open the grip, you'll notice rubber pads along the "teeth". This allows the clip to grab on to the hair without falling off. I use this to hold my hair up when I'm applying skincare products on my neck and chest. It's not a cheap hair clip (at least, not in my books), so when Priceline offers discounts on hair accessories, I stock up.
5. Head & Shoulders Apple Fresh Shampoo and Conditioner ($5.99 for 200ml)
Every now and then, my scalp gets dry and flaky, which means I need to bring out my anti-dandruff stuff. I've used anti-dandruff shampoos by other brands but Head & Shoulders is still the one I turn to. Tim loves shampoos by Head & Shoulders, even though he doesn't have dandruff. I'd leave it on the shower caddy for when I do get dandruff and I'd notice that the bottle was finishing so quickly even though I only used it every other day. I had the good stuff out for him (e.g. Wella), but he still insisted on nicking my Head & Shoulders. Even though he didn't have dandruff. Ugh. The latest one I'm we're he's using is the Apple Fresh. Smells yummy!
6. Garnier Sleek & Shine Flat Iron Protector Straightening Mist ($9.99 for 177ml)
This is a good yet affordable heat protecting spray by Garnier. It leaves no oily residue and controls the frizz while protecting your hair when you're running a flat iron through it. It also smells just like any other Garnier hair care products. If you're into Garnier haircare fragrances (just like Pantene has its distinct scent), then you'll like the smell of this one too.
7. Pantene Daily Moisture Renewal Shampoo and Conditioner ($7.99 for 350ml)
I've used many types of shampoos and conditioners. I used to use a lot of expensive ones because I thought that the more you pay, the better the quality would be. But you know what? After years of trying out countless bottles of shampoos and conditioners, the best for my hair still comes from Pantene. I don't know what it is or how they do it, but their shampoos and conditioners know my hair inside out. They may contain a lot of silicone, but it's something my hair needs to stay manageable (I've tried a number of silicone-free ones; they made my hair feel and look awful). I'm currently using the Daily Moisture Renewal range. To be honest, all of their ranges work the same for me. Except for the Aqua Light, I can't tell the difference between one range and the other. 🙂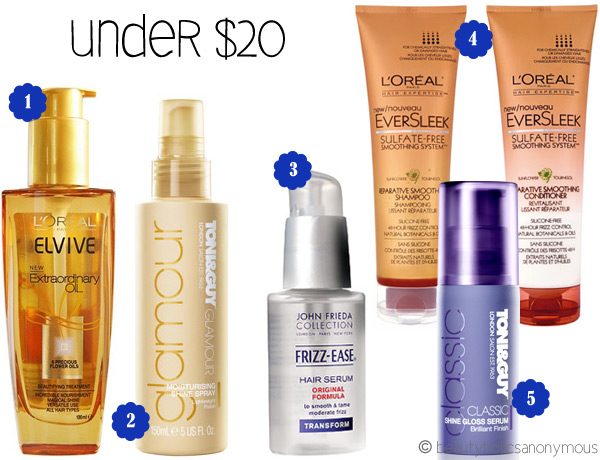 Under $20
1. L'Oreal Elvive Extraordinary Oil ($19.95 for 100ml)
I've reviewed and compared this to L'Oreal Professional's Mythic Oil. To me, it's just as good, conditions the hair and keeps it soft and bouncy. Smells better too 😉
2. Toni & Guy Glamour Moisturising Shine Spray ($15.99 for 150ml)
If you're not keen on a shine serum, perhaps a shine spray is more up your alley? Just like the Classic Shine and Gloss Serum, this spray gives a gorgeous glossy finish to the hair. Hold the bottle about 30cm away (yep, that far) and spray on the hair. When you hold it too close to your hair, you end up spraying too much on one area, which will make your hair look greasy instead of glossy. For added shine, spray whilst blowdrying with cold air.
3. John Frieda Frizz Ease Hair Serum (16.99 for 50ml)
This was the very first hair serum I used. I remembered buying this at Boots during my university days (it was over £7, which was a lot of money for my close-to-empty student pocket back then. I treasured this almost like gold) and loved how my hair feels the next day. It doesn't eliminate ALL frizz, but it does iron a few kinks out and leaves the hair looking smooth and shiny. I bought at least 3 more bottles just before I left the UK for good. I'm still using it today, and it's just as good as it was years ago.
4. L'Oreal Paris Hair Expertise EverSleek Reparative Smoothing Shampoo and Conditioner ($13.99 for 250ml)
If you're looking for an affordable range of sulfate-free and silicone-free hair care products, do check out the ones by L'Oreal. I mentioned above that my hair doesn't really handle silicone-free hair care products well, but these aren't bad. It took quite a bit of getting used to but in the end, my hair did look and feel healthier.
5. Toni & Guy Classic Shine and Gloss Serum ($15.99 for 30ml)
I don't use this so much to smooth the frizz, but more to "finish" my hair. It gives an incredible shine to the hair, making it ever so shiny. It enhances the glossiness of dark hair.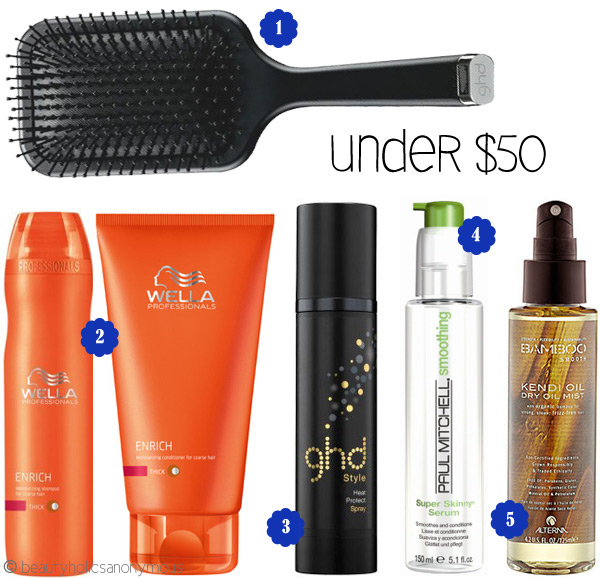 Under $50
1. ghd Paddle Brush ($34.00)
I first heard of paddle brushes in Enid Blyton's school series, Malory Towers. Apparently the prefects in boarding school used to punish naughty students by whacking them with paddle brushes! Try smacking yourself with me. Trust me, it hurts :P. Smacking aside, paddle brushes are fantastic for brushing out long and thick hair. It presses and smoothes the hair down, making it less "poofy".
2. Wella Enrich Moisturising Shampoo and Conditioner for Thick Hair ($24.00 each)
A good set of salon-end haircare products. Cleanses hair well without the squeaky clean feeling and smells good. I particularly like the conditioner as it made my hair feel very soft and bouncy. Recommended for thick and coarse hair.
3. ghd Style Heat Protect Spray ($24.00 for 120ml)
My current go-to heat protectant before subjecting my hair to the flat iron. Easy to use, doesn't smell bad (in fact, as long as it doesn't smell of coconuts, I'm pretty much okay with any fragrance :P). Always remember to apply some form of heat protecting product on your hair before using your flat iron or curling tongs.
4. Paul Mitchell Super Skinny Serum ($25.15 for 150ml)
I reviewed this in early 2011, and I'm still using it! It's a thick serum that's great for smoothing frizzy hair. You have to be careful not to use too much of it as it will weigh your hair down (too much makes the hair look greasy). It's still one of the best hair smoothing serums I've used.
5. Alterna Bamboo Kendi Oil Dry Oil Mist ($29.95 for 125ml)
This is supposed to be best for use on fine to medium hair types, but I say it's good for really thick and coarse hair like mine too. The oil is very light, smoothes frizz and smells lovely. Lesson learned: even if it says it's meant for another hair type, it might just work for you too.
You'll notice that I had a lot more to say about the hair care products under $10 than I did the rest. That's because the majority of hair care products that I use and love are under a tenner. My hair is difficult enough as it is to manage most of the time, and it certainly helps when the products that work for me are so affordable. 🙂
Are there any fabulous yet affordable haircare products you'd like to add in any of the categories above (under $10, under $20 and under $50)? If so, let us know in the comments!