I have a bad habit of overpacking when traveling, especially when it comes to toiletries and makeup. I almost always ended up bringing things I don't need and forgetting the things I do (e.g I'd forgotten toothbrush and toothpaste but remembered to bring hair oil that I never used).
For the trip, I planned months in advance on what to bring and this time, I made sure I only brought the essentials. Well, as essential as I hoped it to be 😛
In-Flight Essentials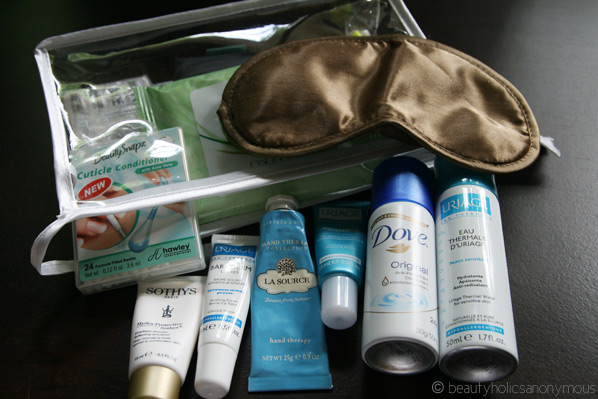 Some of the items worth mentioning:
Sothys Hydra-Protective Softening Emulsion moisturiser – moisturised my skin well in the very dry cabin air. I forgot to release some of the air in the tube before boarding so when I uncapped the tube 30,000 feet in the air, some of the cream exploded on my hands. It made a good hand cream too 😉
Uriage Bariederm Reconstructive Barrier Lip Balm – fantastic for traveling. Keeps the lips properly hydrated even in such low humidity
Uriage thermal water – skin saver. I sprayed so much that I came home with a nearly empty can.
Ear plugs – I once had to endure the not-very-delightful musical stylings (or snorings) of a passenger sitting 2 seats away from me for 5 hours. I never travel without ear plugs now.
If you're planning to travel long distance and doing stop overs in between, I highly recommend you take advantage of any available shower facilities. They're usually not free of charge; we had to pay about SG$9 per person for a pay-as-you-go shower in Singapore (basic amenities like towels, shower caps, drinks and snacks were provided). But it was worth every penny because it felt damn good to take a long shower to shake the kinks off the long flight before embarking on another long one. Do check the airport facilities of the country you'll be stopping over, and bring an extra change of undies and facial cleanser.
My Makeup Bag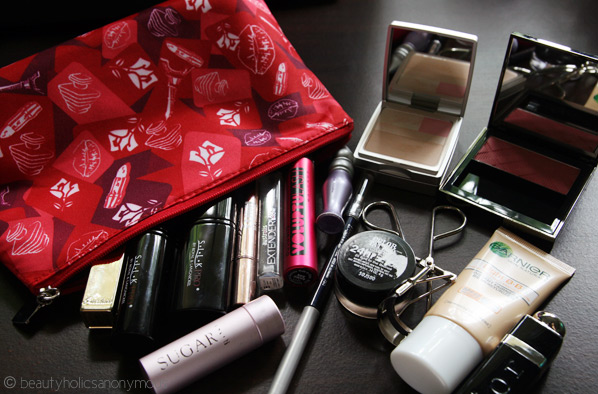 I kept my makeup bag very simple this time. I didn't want to bring lots of eyeshadows, blush or lippies because I know I will end up not using most of them.
Eyes – Maybelline Color Tattoo in Bad to the Bronze and Clinique Quickliner for Eyes Intense (Intense Black), Urban Decay Primer Potion and Australis Voluptulash mascara. It's such an easy look to do without fussing about with makeup brushes. Props to the Color Tattoo. Twelve hours of wear and not a single crease in sight.
Cheeks – Burberry Rose Blush
Face – Garnier BB cream (Asian version) and RMK pressed powder
Makeup brushes – retractable face and blush brushes by Royal & Langnickel. No eye makeup brushes as I applied the Color Tattoo with my finger. Less items to bring with me.
Lips – Fresh Sugar Rose Lip Treatment SPF15, Dior Addict Extreme lipstick in Lucky and Guerlain's KissKiss lip gloss in #420. I ended up only using the Fresh Sugar lip balm the entire trip.
My Toiletries Bag
I've collected a lot of samples over time and trips like this are good ways to use them up. However, there are non-negotiables for me like moisturiser, eye cream and serum that I don't compromise on, so I brought the usual trio that I use daily.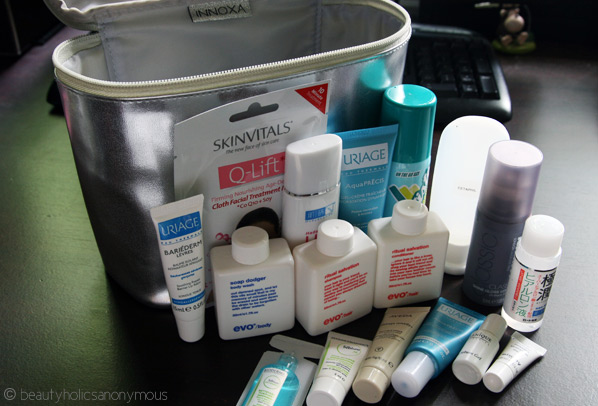 Some items worth mentioning:
evo Self Indulgence Body Creme – I chuckle every time I read the description on the bottle and it smells fantastic.
Alpha-H Age Delay Cleansing Oil – it's not the usual liquid oil I'm used to. This comes in a jar and is like a gel. Great for traveling as I didn't have to worry about accidental spillage. Works just as well as most cleansing oils do.
Mary Kay eye makeup remover – it's an oil-based makeup remover and did a good job in removing my mascara and eye liner.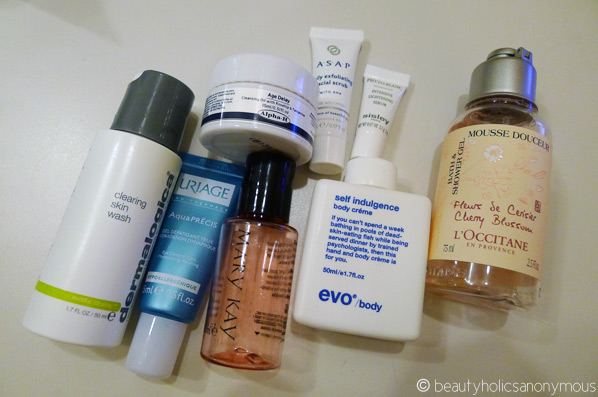 Holiday empties are the best. I finished all these on the last day of the trip
Oh and I almost forgot. I brought an empty Bobble filter bottle with me on the plane as well. You don't normally get to drink a lot of water on flights unless you keep asking for it (hence annoying the hell out of the flight attendants walking in and out with your small plastic cups of water), so I highly recommend that you bring an empty bottle with you and request a flight attendant to fill it up as soon as you board.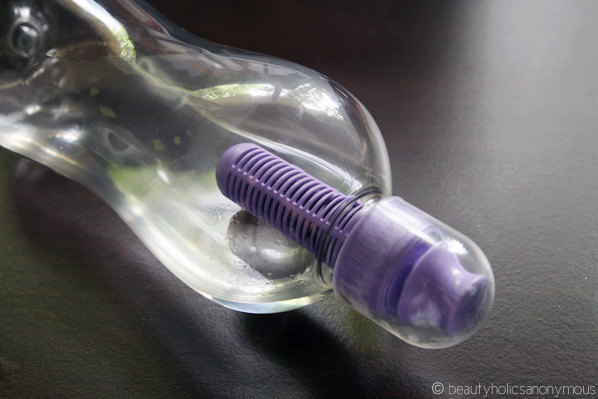 I hope you've enjoyed taking a peek into the beauty products I brought with me to Japan. Looks like a lot, but believe me, it's been cut down to the items I'd actually use instead of bringing everything but the kitchen sink. And I still ended up not using some of them 😛
Next up, my highlights of Japan! 😀