Welcome to another episode of BB Creamology!
The first episode featured a couple of Western BB creams. Today, I'm going to do mini reviews of more Asian BB creams instead. I've always preferred Asian BB creams to Western ones because I think they work better for Asian skin. Having said that, one of my favourite BB creams does belong to a Western brand so I guess you can't judge BB creams by, er, culture. 😛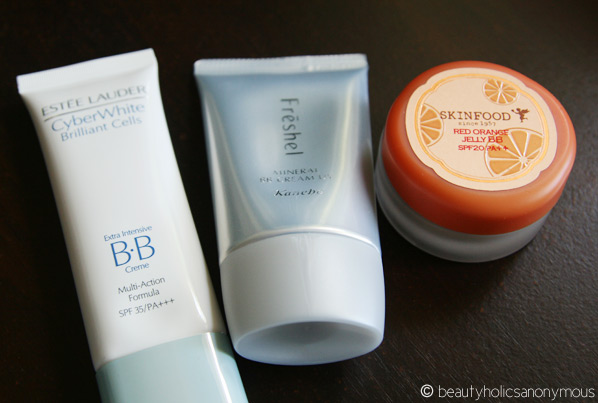 The BB creams I'll be writing about today are only available in Asia at the moment. You can also get them online from Asian beauty e-tailers or eBay (please only go for reputable sellers with high ratings. Personally, I don't buy from sellers who have less than 99% in ratings).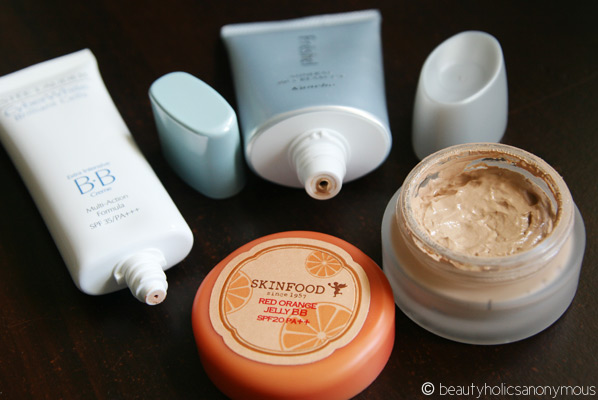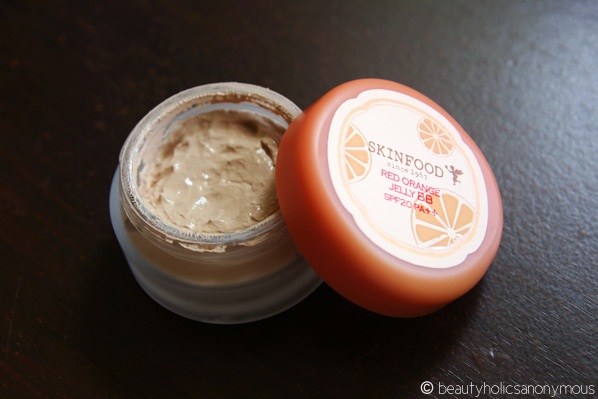 Shade: #2 (Natural Beige). It comes in two shades, #1 being the lighter shade. Warm undertones. Matches my skintone perfectly.
Texture: Pudding (no really, it does feel like pudding! Chocolate pudding to be precise. Yum!).
Fragrance: Citrus, like a tub of oranges
Wet-To-Dry Time: Quick to dry upon application. Dries to a matte finish
Coverage: Medium, buildable
Sun Protection Factor: SPF20 PA+++
Price: Retails at RM52.90 in Malaysia (approximately $17). You can get them cheaper online; prices start from $12
Availability: Skinfood stores (unfortunately these aren't readily available in Australia), Asian beauty stores, eBay.
Estee Lauder CyberWhite Brilliant Cells Extra Intensive BB Creme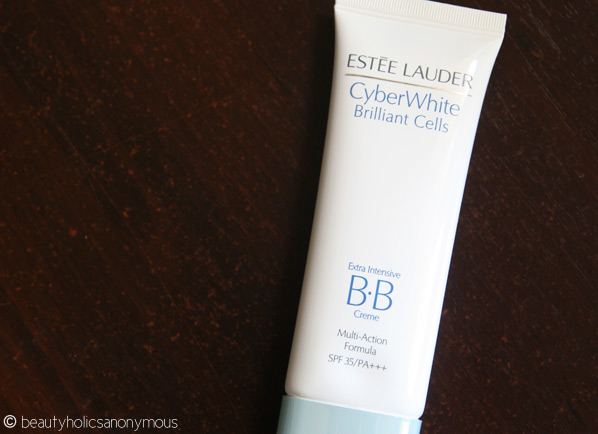 Shade: It has only one shade. Pinky beige with cool undertones.
Texture: Creamy
Fragrance: Slightly sunscreen-y, but not strong enough to be repulsive
Wet-To-Dry Time: This BB cream took longest to dry out of the three. Dries to a slightly dewy finish
Coverage: Medium, buildable
Sun Protection Factor: SPF35 PA+++
Price: Retails at RM175 in Malaysia (approximately $55).
Availability: Estee Lauder counters in Asia, eBay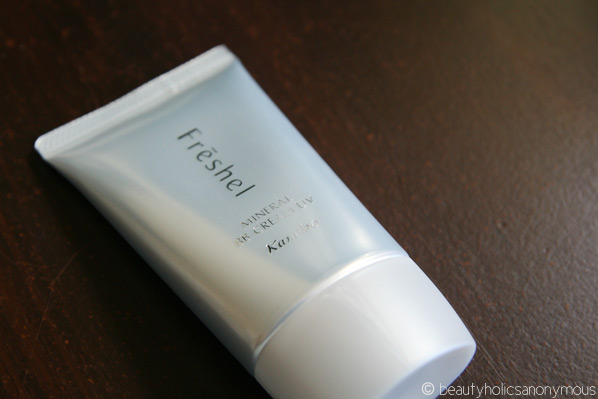 Shade: Available in 2 shades, Natural and Medium Beige. I can't remember which one mine is (can't seem to tell from the description at the back of the bottle). I think it's the lighter one though. Warm undertones. Blends with my skintone very well.
Texture: Thick and creamy. Spreads well and thinly
Fragrance: Similar to Estee Lauder's. Also slightly sunscreen-y
Wet-To-Dry Time: Quick to dry upon application. Dries to a semi-matte finish
Coverage: Medium to semi-full.
Sun Protection Factor: SPF41 PA+++
Price: Averages about $20 online
Availability: Asian beauty stores, eBay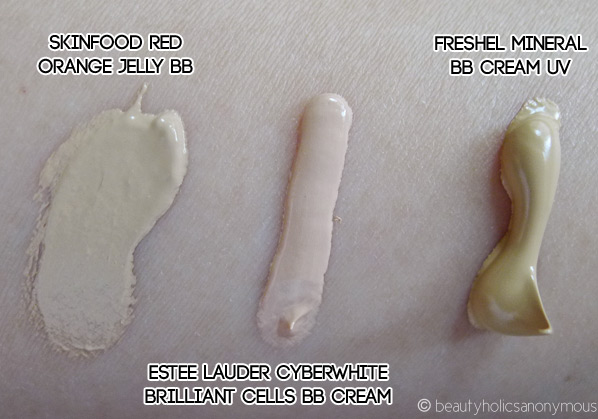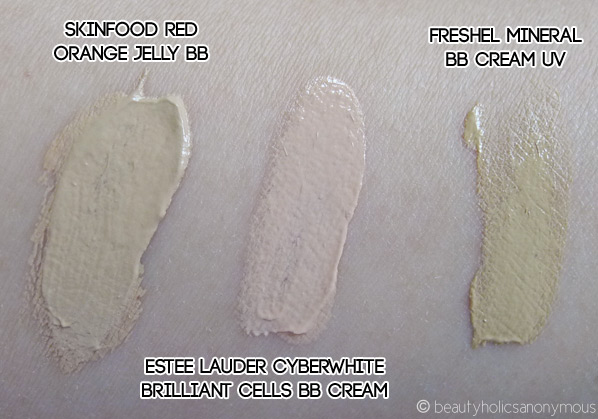 Conclusion:
I picked up the Estee Lauder BB cream whilst flying 30,000 feet in the air over a year ago. I tried it out in Malaysian Estee Lauder counters, thought it was okay but wasn't sure if I wanted to get it because it was very expensive for a BB cream. Whaddyaknow, up in the air, sensibility got thrown to the wind (excuse the pun). I still think it's only just okay. It's not bad, but it could be better. Heck for the price, I expected a lot more.
The Freshel Mineral BB Cream UV reminds me more of a foundation than BB cream. The coverage is excellent yet doesn't feel heavy or sticky on the skin. When I want more coverage on my skin without it looking cakey especially on the nasolabial lines, this is the BB cream I'd go for.
The Skinfood Orange Jelly BB was a gift from Jyoan (thanks Jyoan!). It's something I've seen in pictures but as there aren't any Skinfood outlets in Australia, I didn't get to see it in real life. I really like this BB cream. In fact, it's more of a BB jelly because when you skim your finger across the surface, it bounces like jelly! I like how light it feels on the skin yet giving me enough coverage for the skin to look naturally good. The Skinfood Orange Jelly BB is my favourite of the three.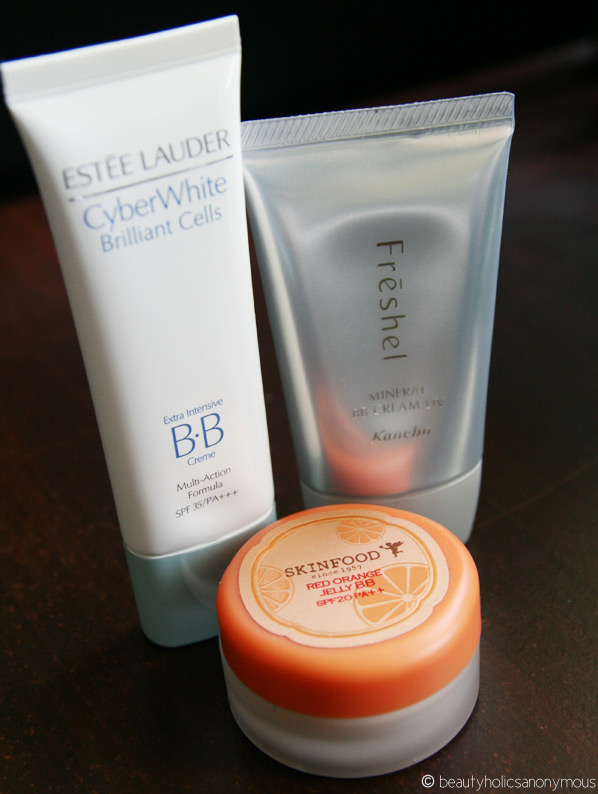 I'll be doing another review on 3 more BB creams soon. I might jump ahead to CC creams first and then go back to BBs. Aww man, too many products, not enough skin!
Have you tried any of these BB creams before? Your thoughts? Yay or nay?