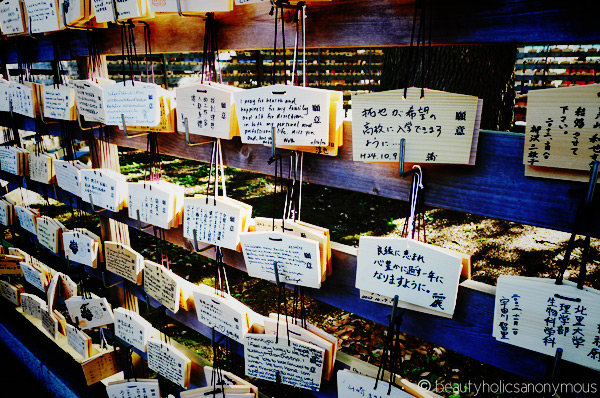 May all your troubles last as long as your New Year's resolutions!
– Joey Adams (American comedian)
Ahh new year resolutions. Something we make at the start of every new year earnestly but seldom do we follow it through. No? Oh just me then 😛
This year forward, there will be no new year resolutions for me. There'll be no more "do or die" statements to make because I can only feel guilty about not meeting my resolutions at all for so long. This time, it's about hope.
In 2013, I hope to:
Consume less dairy
I've actually started this in 2012 and hope to follow it through to as long as I can. It makes me feel less bloaty and reduces motion sickness especially when I'm on the train. I switched to soy milk for my coffees a few months ago and I think they just taste better anyway (even if I have to pay at least 40 cents more for my coffees. Boo!). Cheese is still my downfall so I'm hoping to consume less of it this year. I can't skip cheesecakes for a whole year just yet. That's like asking me to cut my right arm off.
Eat less sugar
Very few people know this but I have a strong family history of diabetes. My late paternal grandfather had diabetes, my dad was diagnosed a pre-diabetic a couple of years ago and a cousin of mine was diagnosed with Type 2 diabetes in his early 20s. My dad changed his lifestyle drastically by cutting out all sugar and most carbohydrates from his diet. Many thought it was a very drastic move because his weight dropped significantly (he became half his size at one point; my dad was quite big man). Yet the change in diet reflected very much in his health and he's no longer in the danger zone. In fact, he's probably healthier than I am.
I haven't done a blood glucose test in a long time, which is something I must rectify at once (appointment is made for next week). I haven't been feeling my best for a while now and although I don't even want to think I might have diabetes, it's not something I can discount altogether. So this year, I'm hoping to cut down on my sugar and carbohydrate intake, and focus more on fibre and protein. Like dairy, I'm not quitting sugar altogether. I still need my sweet treats every now and then. 😛
Not exercise any less
I bet exercising more tops almost everyone's new year resolutions. I include this at the top of my resolutions at the start of each new year and it's usually the one that doesn't get done. So this year, I resolve not to exercise any less. Good enough. 😛
Bake more
Over the years, I'm proud to say that my cooking skills have come a long way from just Indomie Mee Goreng, fried rice, grilled frozen chicken nuggets and scrambled eggs. It's not exceptionally good, but it isn't too bad anymore. But the one thing that I can't seem to get right is bake a damn cake that doesn't come from a box. No really. I can't even do a simple butter cake correctly. Mum taught me countless times and I still managed to get it wrong.
So this year, I'm hoping to get more cakes out of that oven than just meat and potatoes. I'd love to try my hand at flourless cakes. I love the texture and I always feel slightly healthier (read: less guilty) eating them. Plus, if I bake more, I get to control the amount of sugar I allow into the cakes, which is a better option to the heavily-sugared treats in shops.
Weed out the negative and focus on the positive
This is something I started doing late 2012. It has come to a point in my life where I wonder why I'm still keeping toxic people around me or having to read poison on social media on a frequent basis. Culling Facebook 'friends' and muting/unfollowing tweets were great moves to begin with. Removing myself from activities that don't interest me is another.
For years I used to feel really guilty for not keeping in touch with friends, not even on Facebook. I had a lightbulb moment at the start of the new year. I finally realised that keeping in touch is a 2-way street. If a friend doesn't make an effort to keep in touch as well, then why is the blame on me? Does anyone feel the same about this?
Weed, weed, weed. Out with the negative, focus on the positive.
Start a family
I had this pegged for 2012. Well, it's been a year and nothing happened. To say I'm frustrated is an understatement. Anyway, I'm keeping my fingers crossed for 2013. Keep yours crossed for us too, eh? 🙂
That's what I'm hoping for 2013. No resolutions. No guilt.
What are your hopes for 2013?