Five Minutes with My Favourite Blogger is a series of posts where I'll be showcasing some of my favourite bloggers. These are the bloggers whom I admire and inspire me.
Enjoy!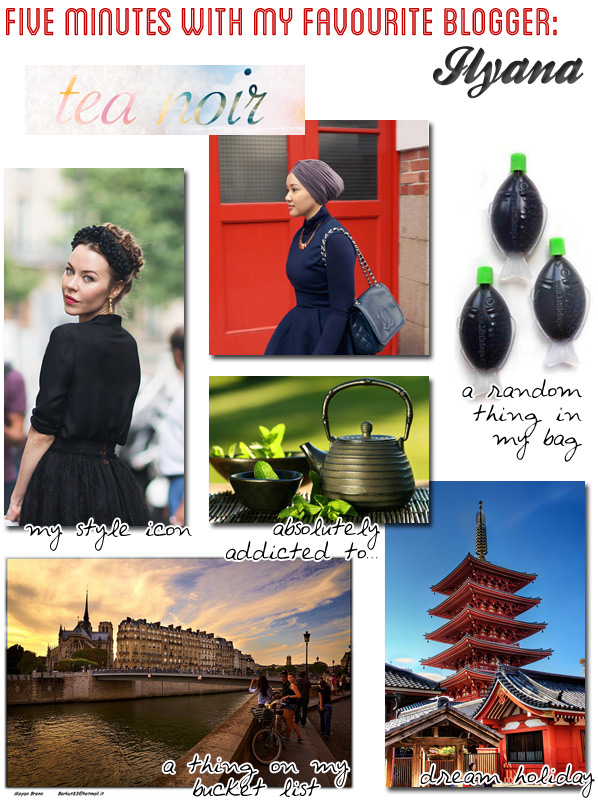 Image Credits: Ulyana Sergeenko | Tea | Japan | Paris (C) Moyan Brenn
My style icon: Ulyana Sergeenko. I think the Russians are slowly taking over the fashion world and Ulyana is one such designer/street style icon I look forward to seeing captured outside the shows. Her style is amazing, as is her eponymous label; it's filled with beautifully tailored print dresses and luxurious knits. Also helps that we're almost name twins 😛
Dream holiday destination: Tokyo. Admittedly, the city's got some stiff competition from Paris, Barcelona and Milan on my list of dream destinations but it's hard to wrestle Tokyo out of the top spot since it's a place I've been in love with since I was 11. I love its culture, food, sights, people and language – I can't wait to meet you, Tokyo!
One random thing you can find in my bag: A miniature bento box-version of a soy sauce bottle. I love eating Japanese food but most places usually provide soy sauce that has alcohol added as a preservative. I'm a Muslim so I can't consume any alcohol in my diet and carrying my own soy sauce is a necessity when you eat as much Japanese food as I do.
My favourite item of makeup: Lipstick! I used to be an eye shadow person but I switched sides after buying every possible eye shadow colour and finish the make-up world could offer lol. I love lipstick, it's a very womanly thing you know? It's all we seem to talk about – most would disagree with me but I can honestly say conversations with my girlfriends always involve some form of lipstick talk, "I bought this new lipstick early this month", "What is that on your lips, it's gorgeous!" – I love it, I could talk about lipstick all day. My current favourite shade is a birthday present from a friend – Maybelline's Colour Sensational Lipstick in Sugar Plum #330. It's a pinkish mauve with gold shimmer, so pretty and decently moisturising for a drugstore lippie!
You will never see me without: Sunscreen! I love Biore's UV Perfect Milk SPF 50+ PA+++. It's so light and doesn't have that pungent chemical sunscreen smell.
I'm absolutely addicted to: Tea. My new roommate loves tea as much as I do so we have a designated tea cabinet that is just overflowing with sachets, tea leaves and chai mixtures. I wish I could take a photo but I'm not in Australia right now, which is a pity because I'm so proud of our tea stash – it's drinkable treasure! Roomie's mom is an air stewardess so she always gets these tea sachets from brands I've never heard of. One of my best tea acquisitions would be from a tea swap I did with my friend, Emma, who was telling me I had to try this bamboo tea she's obsessed with. It's got a lovely mellowness and a light, almost savoury note – the only problem? It looks like weed.
One thing on my bucket list: Traveling to Paris and staying with my best friend. One of his dreams is to live in Paris at some point in his life and I'm praying that it comes true so I can have a couch to sleep on in one of the most romantic (and expensive) cities of the world.
Ilyana blogs at Tea Noir.