Five Minutes with My Favourite Blogger is a series of posts where I'll be showcasing some of my favourite bloggers. These are the bloggers whom I admire and inspire me.
Enjoy!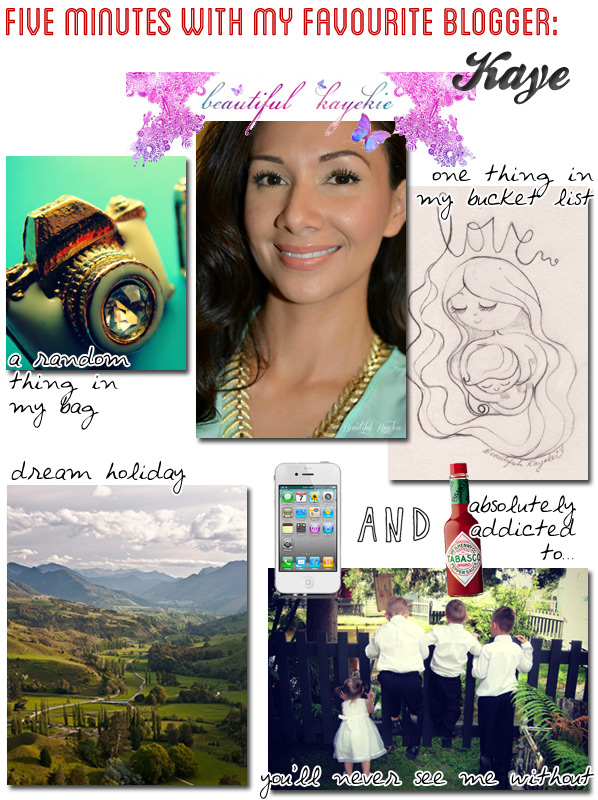 Image Credits: New Zealand | Other photos including illustration
My style icon: I don't have one particular style icon, but I do idolise the style of women in the 30's, 40's and 50's. They were polished, sophisticated and elegant. I don't think I've seen a photograph of a woman from that era with bad hair. Ever. Style and poise back then was a whole other ball game, and they did it all without access to the things we have today. It's truly inspiring.
Dream holiday destination: The south island of New Zealand. I've already been, but would give anything to go back with my camera and a few months to kill. That would be heaven.
One random thing you can find in my bag: Quirky accessories. I make a point to keep my favourite earrings or vintage cocktail ring in there permanently so I can mix up an outfit on the go.
My favourite item of makeup: Maybelline The Falsies waterproof mascara. It has been the rock of my makeup collection and I doubt I will ever change it. It is the only mascara I have tried that holds my short, straight, lashes in an amazing curl until I remove it.
Me without Maybelline The Falsies waterproof mascara: 'hey'.
Me with Maybelline The Falsies waterproof mascara: 'HEEY!'.
You will never see me without: One or all of my children. I rarely go anywhere without them. The bathroom is probably the only place they won't follow me.
I'm absolutely addicted to: Two things: Technology and Tabasco sauce.
I am a very proud tech geek who may or may not need help with that, and I can't eat much without Tabasco sauce. Probably because I've burnt my taste buds clean off.
One thing on my bucket list: To write and illustrate a children's book for my youngest son, who is a special needs child (and also coincidently one of the coolest kids on earth!). I've been drawing bits and pieces here and there, and hope to finish it one day. It's my dream to write a book about love, to serve as a learning and visual aid for children and parents of these very special souls.
Kaye blogs at Beautiful Kayekie.