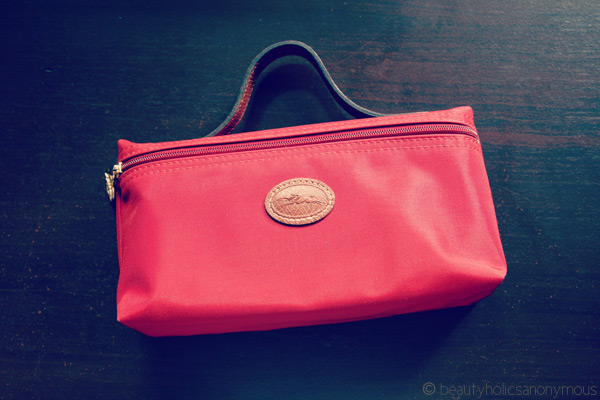 Every six months I like to do a What's In My Makeup Bag post. Between you and me, I'm a big sucker for What's In My Bag/Makeup Bag posts. Humans are natural voyeurs and I'm a bag one. One of my secret habits (well, not much of a secret anymore now that you also know about it) when I'm on the iPad is browse the "What's In My Bag" gallery on Flickr. It's highly addictive!
Right. My turn to show you what's in mine. I'm a creature of habit; most of the items in my bag remains the same. There are very few changes to what goes into the makeup bag. But if you're here for the first time or have only started reading Beautyholics Anonymous a couple of months ago (welcome!), it'll be your first time peeking into my makeup bag. Drats. I wish I had something more interesting to show you 😛
It's a bit silly to call it my makeup bag since I don't actually have much makeup in it. The only items of makeup I carry in the bag are lippies.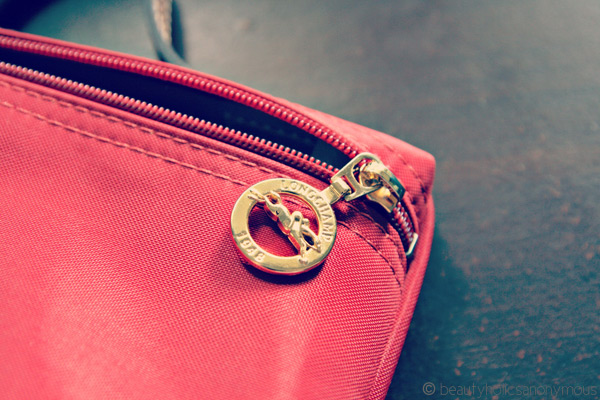 The makeup bag I've been carrying since August is the Longchamp Le Pliage cosmetic bag. This was a birthday gift from a dear friend. I like how roomy it is inside and that it's water resistant from the inside.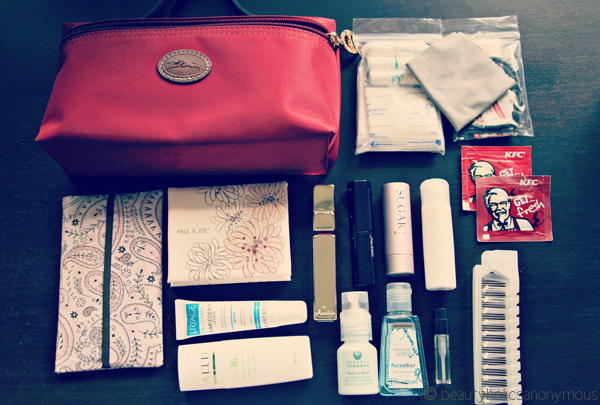 As for the contents, as you can tell, there are barely any changes from the last time I blogged about my makeup bag. The only changes and new additions are:
Decanted Natio Wellness handcream to a travel-sized bottle from Daiso. I absolutely love this handcream and since the tube is too big for me to bring around with me, I decanted it to a small bottle.
You can barely see the words on the Fresh Sugar Rose Lip Treatment anymore. That's how battered and used it is in the bag, which is a very good thing.
Paul & Joe facial blotters. This was a spur-of-the-moment purchase from BeautyBay.com. It also comes with a mirror. This means I don't have to carry an extra mirror with me now. Win!
KFC wet wipes. Why buy extras when you can use the ones from KFC? They're smaller and excellent in removing makeup swatches.
Shiseido Lacquer Rouge in RD309. Such an easy shade to wear.
Uriage Bariederm Lip Balm
ALLIE by Kanebo sunscreen. Now that it's summer, I bring alone a bottle of sunscreen with me in case I forget to apply it on my arms and legs.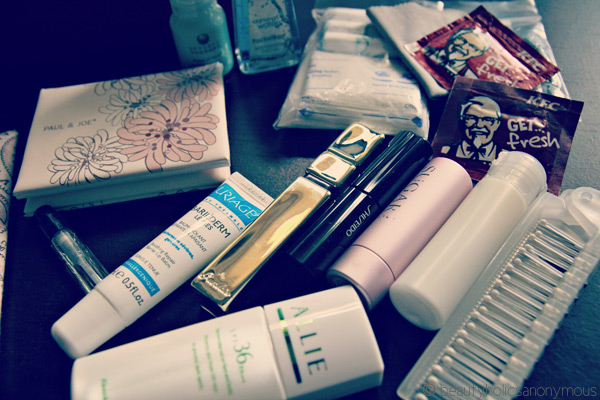 If you follow my Five Minutes with my Favourite Blogger chats, you'll notice that I always ask them about a random item in their bag. I think mine would be the KFC wet wipes. 😛
I can actually fit a lot more junk in my makeup bag since it's so roomy but that's all I'm carrying at the moment. It has never been my style to carry other forms of makeup with me since I almost never use them when I'm out. Once I used to carry a makeup palette with me that included eyeshadows, blushes and lip colours, since y'know, it's what beauty bloggers do :P. A month on and it's back in the drawer, unused. Oh well.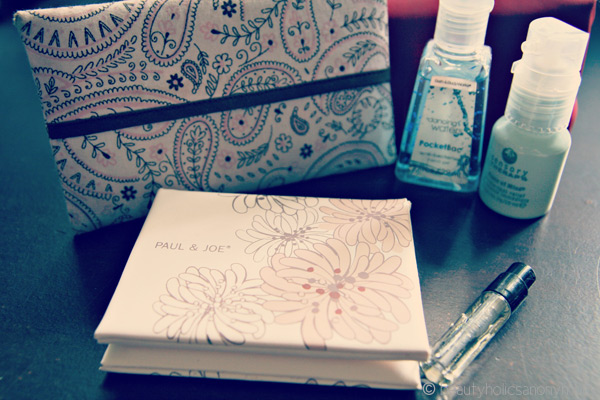 Stay tuned for another update on my makeup bag six months from now. Who knows, you might see a different bag by then. 😉