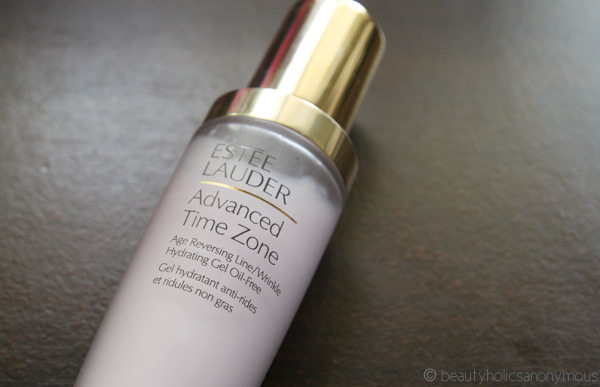 Geez, can you fit a longer name to a beauty product? It's a good thing this came in a bottle instead of a jar or else they'll be hard pressed to find the space to fit the words in. 😛
Ah Estee Lauder. I talked about your blush yesterday and how you started my love for blushes. Today, I shall talk one of your skincare products that has made my skin quite happy. In fact, it still is.
In this review, I shall refer the moisturiser as the Time Zone gel because really, you wouldn't want to read the whole name now, would you? 😉
Description:
Our revolutionary Tri-HA Cell Signaling Complex™ helps skin boost its natural production of line-plumping hyaluronic acid by 182% in just 3 days (in vitro testing of Tri-HA Cell Signaling Complex™). Actively helps skin boost its natural support structure to visibly-and dramatically-reduce the look of lines and wrinkles. With our revolutionary Tri-HA Cell Signaling Complex™, this lightweight gel helps skin look dramatically less lined, more radiant-fast.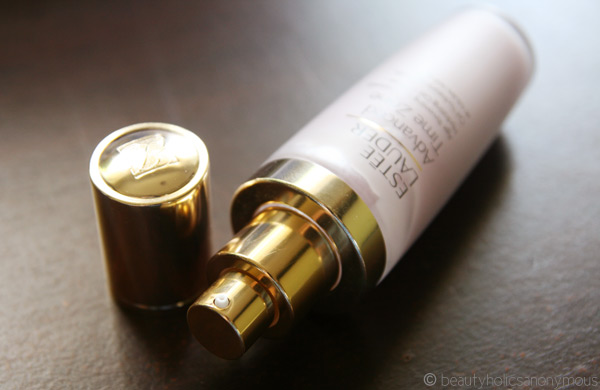 The Time Zone Gel landed on my desk for editorial consideration last year. Now as excited I was to try it out, you know me. Anything that says "Age Reversing" always makes my alarm bells ring of hokum. So, does this moisturiser work as it says on the bottle?
The moisturiser is a light, luxurious oil-free gel. The scent is quite strong. I can't put my finger on what it smells like. It does smell quite floral with a hint of clean soap. The fragrance is typical of most Estee Lauder moisturisers; most of their scents are similar to each other.
I couldn't get a hold of the list of ingredients. Sadly, Google wasn't much help either. The gel contains just the very slightest hint of shimmer (if you aren't looking at the gel under bright, direct light, you'd probably miss it, like I did for the first month of use). I only just noticed that it does contain a bit of mica in it. For day use, it doesn't bother me, especially since it's pretty minimal.
The gel goes on the skin and is absorbed very quickly, leaving a matte finish on the skin. The texture and finish is very similar to Caudalie's Vinosource Moisturizing Matifying Fluid and Bioderma's Sebium Mat Anti-Shine Fluid. It helps control sebum on oily skin, especially the T-zone. It makes a great base for makeup and prevents my oily T-zone from acting out.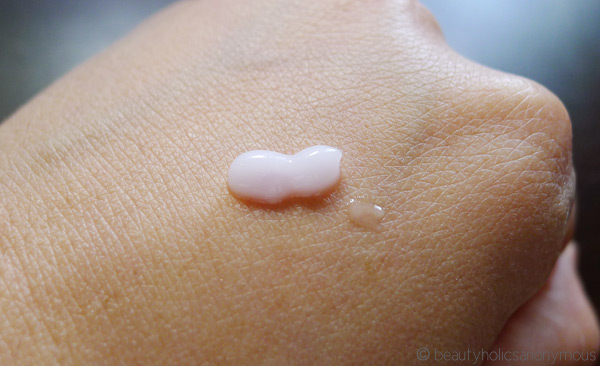 So does it reduce fine lines and wrinkles on the face? No, it does not. It doesn't "reverse age". But it's very clearly stated in its description that it reduces the LOOK of lines and wrinkles on the skin, and for that I say it does. It works like putty on dry wall and fills up the nooks and crannies on my skin, leaving a silky smooth canvas for makeup. In a way, it's like makeup primer but better. As I prefer to keep my skin matte during the day, I don't use this in lieu of a night cream.
If you're a fan of Estee Lauder skincare and have oily to combination skin, you might want to check this out. It's a decent moisturiser for the skin and works well in keeping it matte during the day. However, it doesn't do anymore than that. So if you're looking for something that will brighten the skin, this isn't for you because it doesn't do that. It's simply a good moisturiser that keeps oily/combination skin sufficiently hydrated without that rich, heavy feeling.
Estee Lauder Advanced Time Zone Age Reversing Line/Wrinkle Hydrating Gel retails at $98 for 50ml and is available at all Estee Lauder counters at departmental stores and selected pharmacies nationwide. It's not the cheapest moisturiser in the market, that's for sure, but it's a nice bit of luxury for the skin if you feel like treating yourself. 🙂
What I like about it: Easy pump packaging, keeps the skin (especially the T-zone) matte
What I do not like about it: Pricey