A Wonderful Reunion of Family and Friends
Chinese New Year is a time for reunion of family and friends. It was so good to see my parents and brother once again for I've missed them so dearly. Lots of time was spent with mum during facials, massages and mani-pedis :P. I also caught up with my dad's side of the family just before the eve of the Chinese New Year at Genting Highlands. It was good to see Beetrice and the rest of the cousins again. We also celebrated my grandma's 93rd birthday. Ahh bless.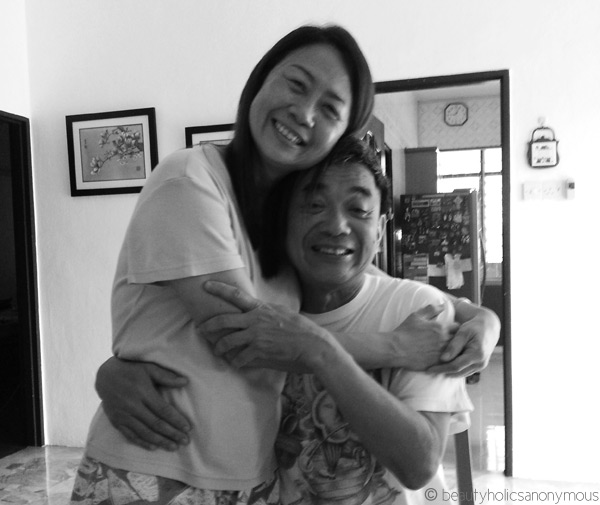 As always, I met up with my dearest girlfriends in Malaysia, Hester and MC. I haven't seen them in over a year and now there's an addition to MC and Hester's (who is expecting) family. Oh how time has flown.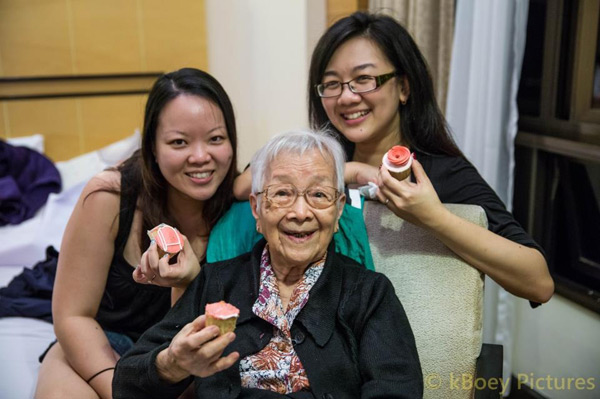 Oooh and I also caught up with Paris B! It's my annual must-do whenever I'm back.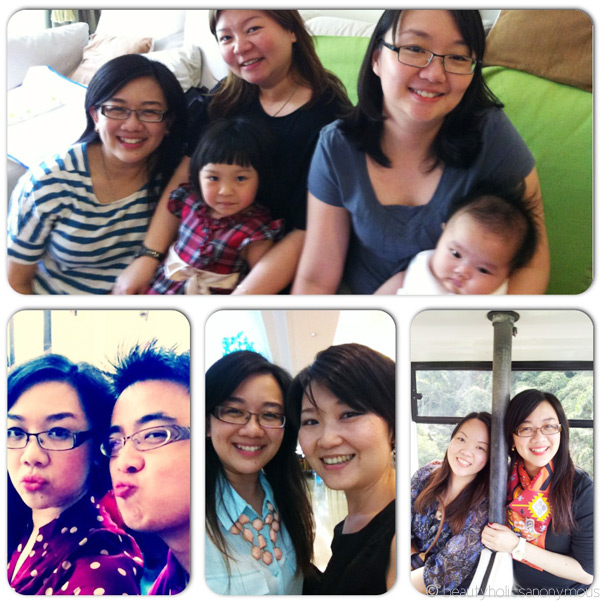 A Myriad of Feasts
What is Chinese New Year without all the food, eh? It's as though time was divided into categories of meals – breakfast, morning snack, lunch, afternoon tea, dinner and supper. The next day, it starts all over. I know, it's crazy! Chinese New Year is especially tempting with the amount of snacks available, e.g. pineapple tarts, almond biscuits, kuih kapit, kuih bangkit, etc. This year, I'm so proud to say that I stayed away from most of the snacks and just stuck to my usual 3 meals (Lord, it was hard to say no to mid-meal snacks and supper in Malaysia!). I didn't lose any weight (boo!) but I didn't put on any as well. And that, my friends, is considered a WIN.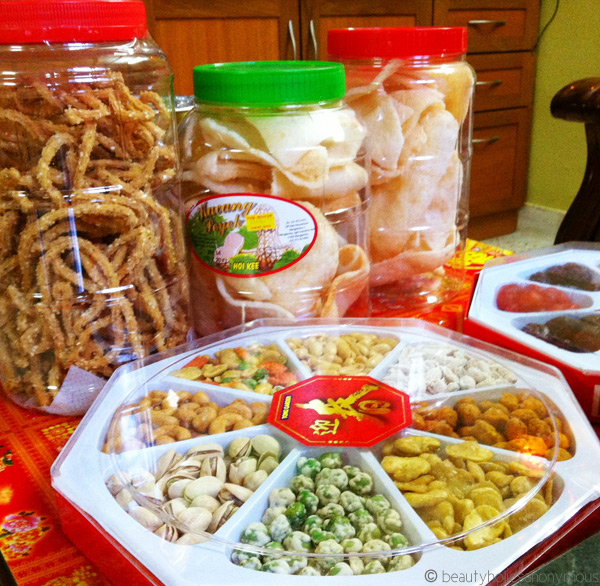 Speaking of winning, I also won some money during a session of CNY blackjack with Tim's cousins. Angpows that went out came back in. Hah!
A Photoshoot
I finally had proper headshots done! The one in my About Me page was done 2 years ago at the Barney Martin Hair Studio in Sydney (wasn't even supposed to be a proper headshot but I loved it so much I made it mine). I had mine done by Beetrice's fiance, Kevin. It was hilarious setting up photography equipment (including the flashy umbrellas!) and posing at the Awana Hotel (during our family reunion). A couple who walked past us thought it was a fashion shoot!

And no, there are no peace signs in the actual headshot (God forbid!). I'll update the About Me page with the new picture soon.
A Tad Too Much Shopping
Okay, to be honest, I really didn't think I shopped all that much until I packed the night before I left for Melbourne. I brought home kilos of beauty products and managed to bring back more kilos of them! Ahh the fun of being a beauty blogger, eh?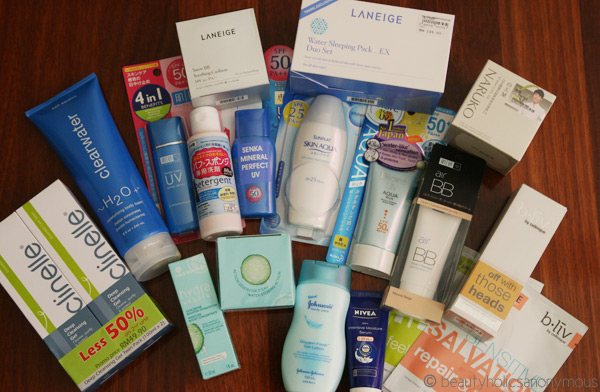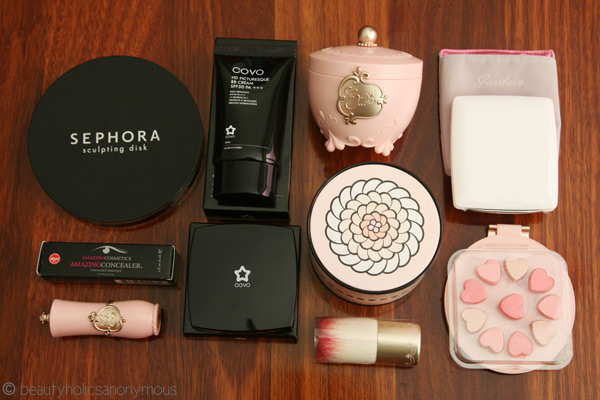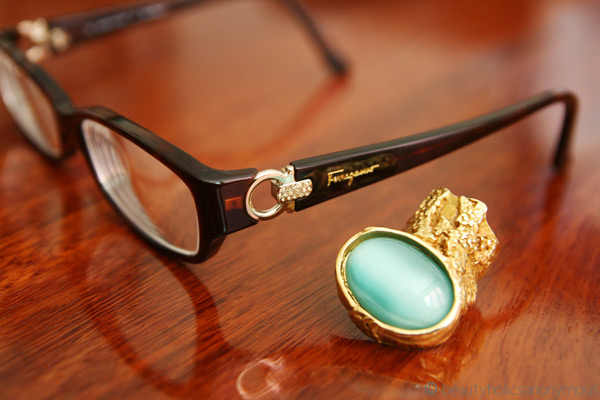 A Lost Dog
This has got to be the best part of my holiday (next to catching up with my family and friends, of course!), and it only happened a few hours before I left for the airport on the last day. In the morning, Tim and I noticed a dog hanging outside my in-laws' house. He had a chain collar on, which made me think he belonged to someone and was just out for a walk on his own (usually happens when dogs run out of the house when the gate is left wide open). When Tim drove the car to the porch, we realised that the dog had followed us in!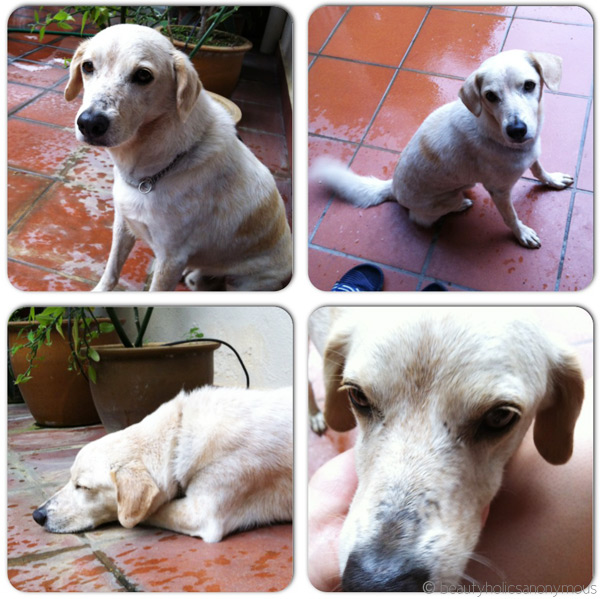 As the dog didn't belong to us, we couldn't close the gate and keep the dog in the compound, so I had to usher him out. When we left and returned home from lunch, this happened again. The dog followed us in. After ushering him out the second time, he started to cry outside the gate and just sat right there without budging. Oh that tugged on my heartstrings. Worst of all, it started to rain heavily. I couldn't take it anymore, I just had to let the dog in.
He stayed with me for the next couple of hours as the rain got heavier. This time, I was worried that the dog hasn't just run away from home, he was lost. He couldn't go home. Even though he had a collar, it didn't have a tag. There wasn't a name, address or telephone number I could call. According to my father-in-law, he was seen roaming around the neighbourhood the last couple of days. The neighbours assumed he belonged to someone in the neighbourhood and that the dog's simply been taking a stroll on his own. Still, I was worried. I didn't know if the dog was microchipped (sadly, in Malaysia, a majority of people usually only pay to microchip pure-bred (read: expensive) dogs and wouldn't normally bother with mixed breeds). I took a picture of the little fellow and posted it on Twitter and Facebook, wondering if anyone had lost a dog.
I couldn't keep the dog for long as I was just about to leave for the airport. He was such a sweetheart. He followed me everywhere I went. He was incredibly well-behaved and loved it when I patted him and gave him a cuddle (when I wasn't stroking his head, he would lean in and press his cheek against my hand). When I got into the car to leave for the airport, it was like he knew I wasn't coming back. He cried and cried. I cried and cried. Funny, isn't it, when I had only known him for a few hours?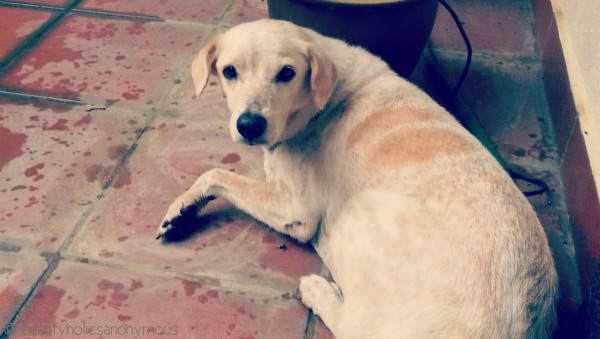 Thank heavens for social media and a friend's sharp eyes. Rinnah saw a post about a lost dog on Facebook that looked very similar to mine and checked with the owners using the photograph I took. It was him! Hours after I left, the owners came looking for the dog and found him. It was a wonderful reunion. I was incredibly relieved and so pleased to find out he's finally found his humans again. Apparently, he's been missing for 3 days from his home about 20 minutes from the neighbourhood!
Oh, and I finally found out his name. It was Monty.

And that was my holiday, folks. It started off well and ended so much better. These were the highlights of my trip and I have to say, it's one of my favourite Chinese New Years yet.
I hope you've enjoyed reading my CNY recap as much as I've had fun recalling it.

It's back to our regularly scheduled beauty program tomorrow!