Five Minutes with My Favourite Blogger is a series of posts where I'll be showcasing some of my favourite bloggers. These are the bloggers whom I admire and inspire me.
Enjoy!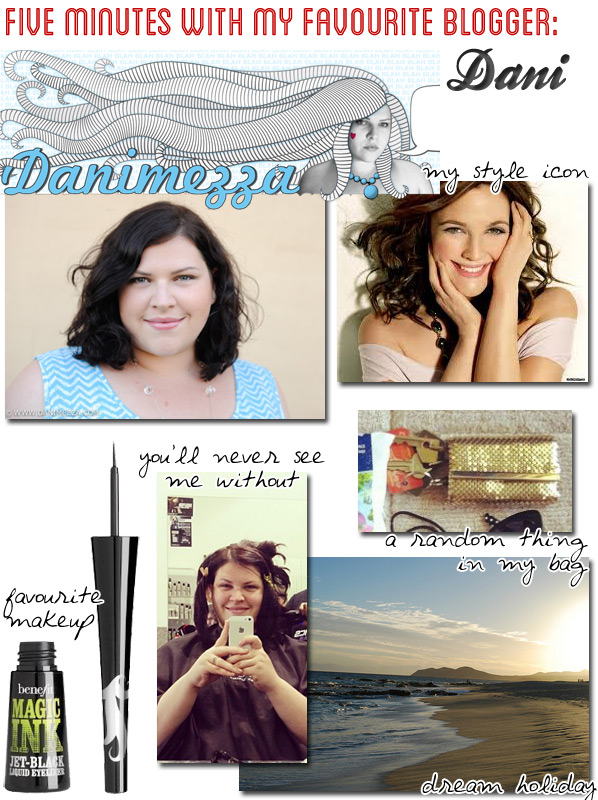 Image Credits: Mexico Beach | Glomesh key purse | Dani and phone
My style icon: I draw my inspiration from a lot of different people but Drew Barrymore is constantly high up on my list. She has a lovely trim yet shapely figure and she has a big bust like me. She's relaxed and experimental about fashion and can dress up to the nines like nobodies business.
Dream holiday destination: I'd like to go to Mexico where the beaches are warm and the Long Island Iced Tea's are cold.
One random thing you can find in my bag: My vintage Glomesh key purse. I love Glomesh and over the last few years I've become a dedicated collector. I always feel a bit fancy when I use a piece, my key purse is my "everyday fancy" and I like that not many people use them. It makes going to the post office that little more fun.
My favourite item of makeup: Ohhh that's tough! I'm a Benebabe (AKA: Benefit Cosmetics Addict) so it's hard to pick just one. I love their illuminators (High Beam) and the Lip & Cheek Stains (Posy Tint) they instantly make me look fresh and awake. Oh and Magic Ink eyeliner to really open and define my eyes and sensuous Dior Addict lipsticks… I have too many shades to admit.
You will never see me without: My phone! I'm a fulltime blogger and I work long days from home whilst looking after my three year old son Aidan (AKA: #sonofablogger) and I wouldn't have it any other way. I'm also a professional photographer so if you see me at an event I'll usually be behind my Nikon D700 with a 24-70mm 2.8 lens.
I'm absolutely addicted to: Selfies… it's shameful really but I can't help myself. Want tips to take better ones? Keep an eye on my blog…
One thing on my bucket list: I've already ticked NYC off my list earlier last year but I plan to go again in June 2013 for Full Figured Fashion Week. If I'm not the photographer of an international plus size swimwear shoot on a tropical island in the next five years I'm doing something wrong.
Dani blogs at Danimezza.