Note: This is a very picture-heavy post
Day 4 in Melbourne started off with a big woosh. No really, it was extremely windy; I was heading out for lunch and was literally blown away a few steps to the road! Thank goodness there weren't any cars around. Branches fell, it became pretty gloomy and started to rain. In the late afternoon, the sun was shining brightly once again. LMFF loves to welcome people to Melbourne, doesn't it? 😛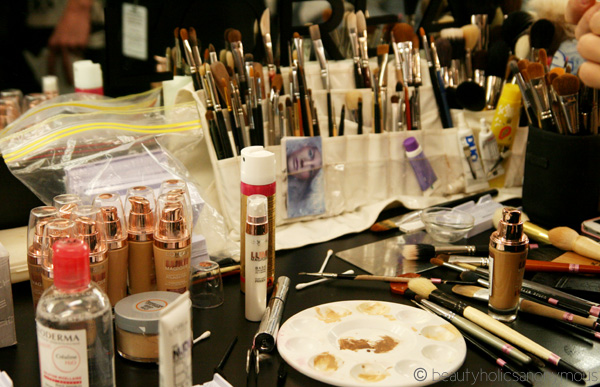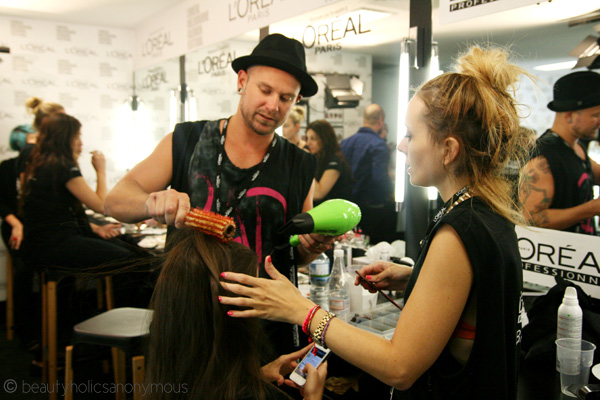 I headed backstage once again just before Runway 03 started to see Rae Morris create the runway look. This time, it was peacock green and purple on the eyes. Model after model walked in and out of the rooms with bright greens on their eyes. What a sight.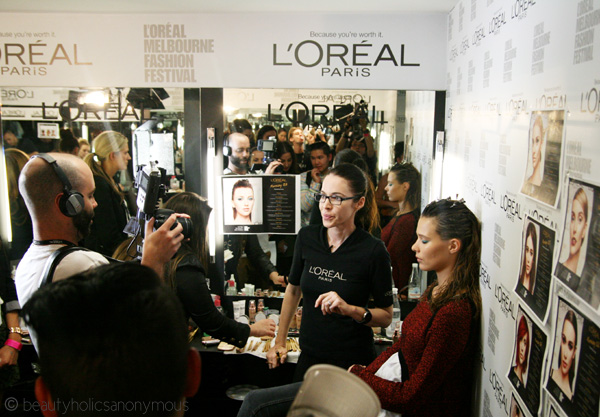 As usual, the film crew was there filming her look recreation and I was there to pick up as many tips as I could. I should have recorded the session too because I really wanted to get the tips that weren't featured on the vidoes out to you. Unfortunately, I'm a one-woman show; I couldn't hold the recorder, snap pictures with my phone and the camera at the same time. If I ever get the chance to do this again (fingers crossed), I'll have to bring someone to help me out. It's times like this that I wish I have octopus hands!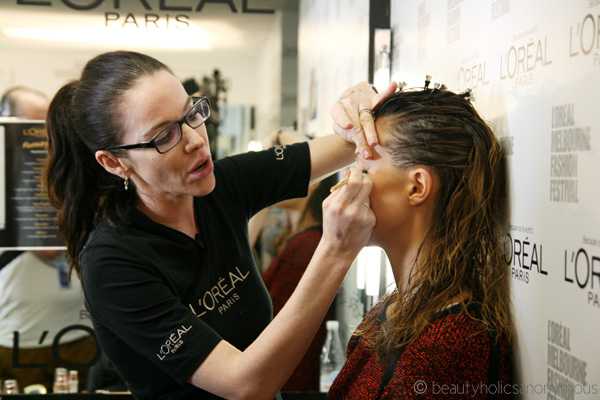 In case you missed Rae's tips I posted on Instagram, here they are again:
Use sticky tape to create a precise flick of eyeliner. Remember to remove most of the stickiness first!
When using concealer under the eyes, use the same shade or one shade lighter. Never use a lighter shade to conceal bumps. It emphasises the bumps.
Use a comb mascara. It's her favourite; she said it coats the lashes better.
When applying blush, don't smile. Just relax your face. As you get older, your cheeks will start to droop. So when you smile, you apply the blush on the apples of your cheeks but when you stop smiling, the blush appears lower. Relax your face. Same goes with contouring. No fish face!
With such strong eye makeup e.g. green + purple, keep the lips nicely nude.
When powdering your face, relax your face. Don't lift your eyebrows while powdering your forehead. You'll get powder in the lines and emphasise them.
When applying eyeshadows, don't close your eyes. Look down instead. Closing eyes scrunches the eyelids. Your eye makeup will not be applied accurately.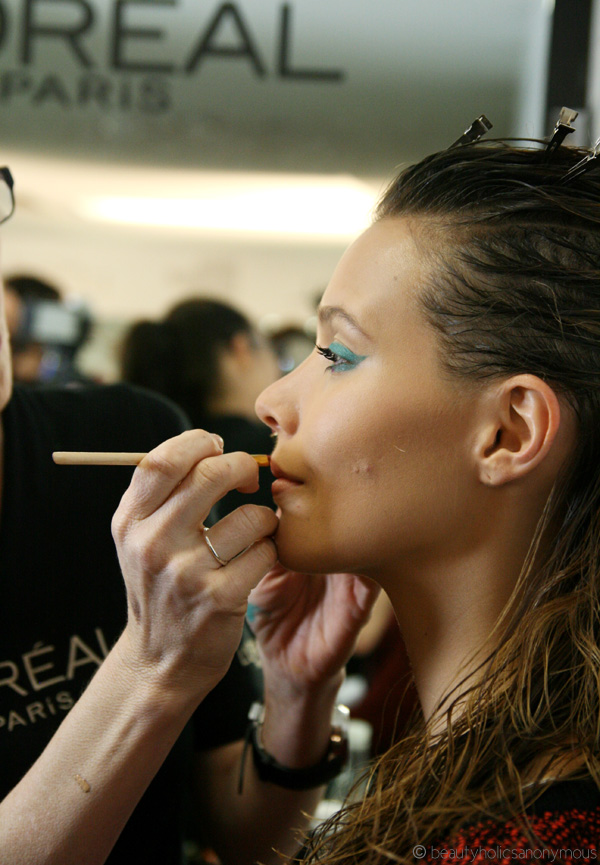 The room became too crowded and right after the filming, we had to leave. Sadly, I wasn't able to ask Rae any questions then. Hopefully there'll be an opportunity for me to do so before LMFF is over.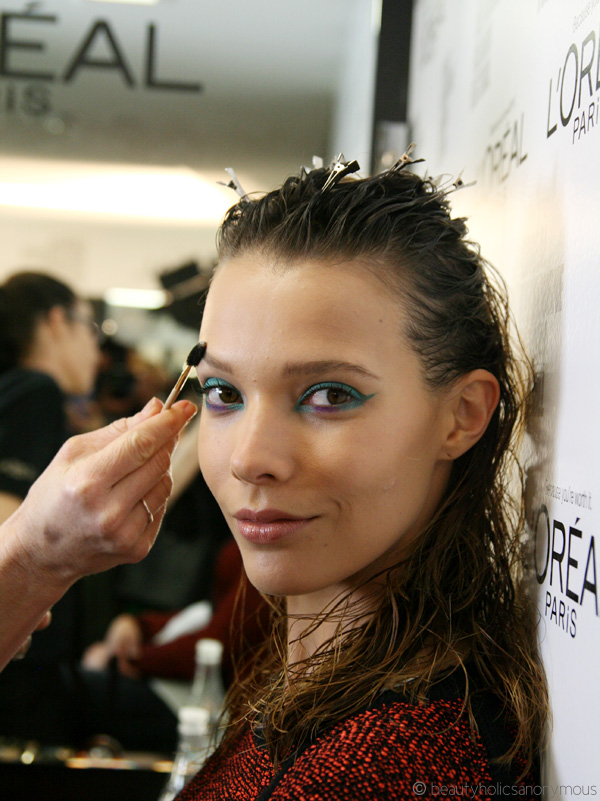 After a quick drink and canapes at the VIP bar, it was time to head to the runway hall for Runway 03. The designers featured on Runway 03 are Alice McCall, Ginger & Smart, ksubi, Lifewithbird, Michael Lo Sordo, tigerlily and YB J'aime by Yeojin Bae. I particularly enjoyed Alice McCall (the models walked out in turbans), Ginger & Smart (love the use of prints and black with orange) and YB J'aime by Yeojin Bae (clean lines). Funny story: the model wearing ksubi accidentally walked the runway during the Michael Lo Sordo show. I thought it looked a bit odd to have one very casual denim outfit (shorts and t-shirt) out of the other more feminine pieces. 😛
Ginger & Smart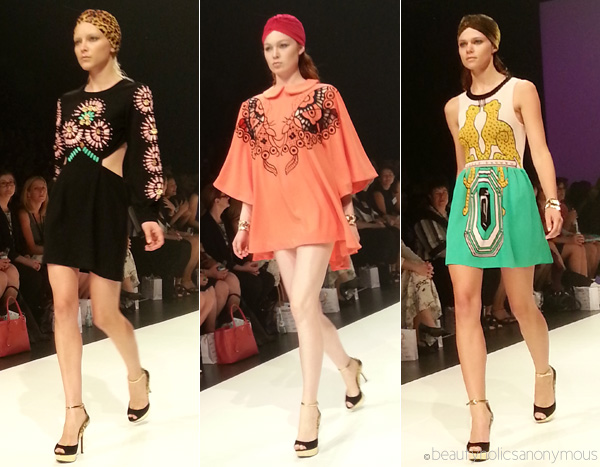 Alice McCall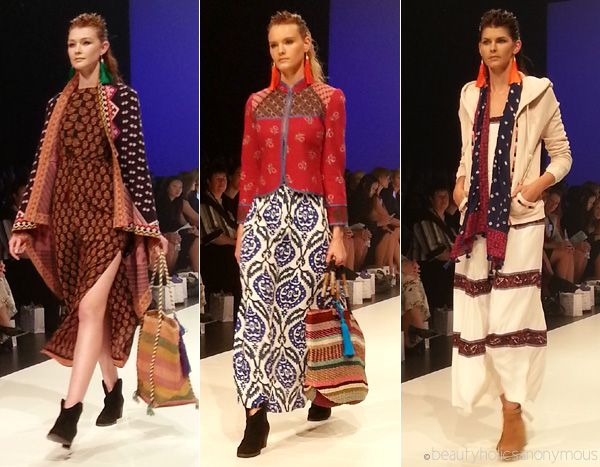 tigerlily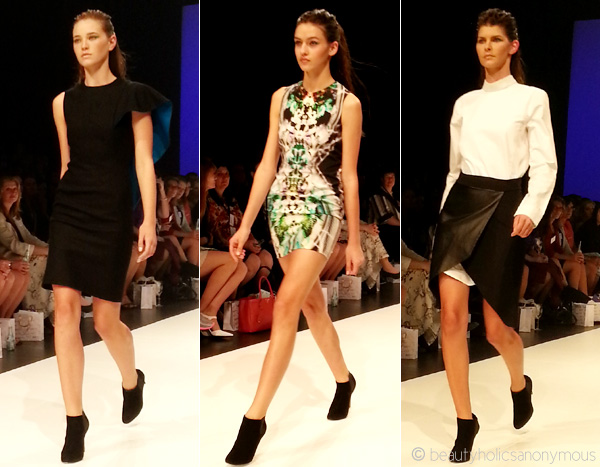 Michael Lo Sordo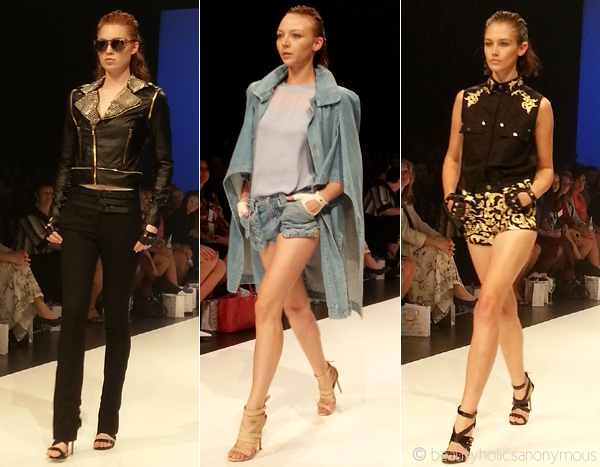 ksubi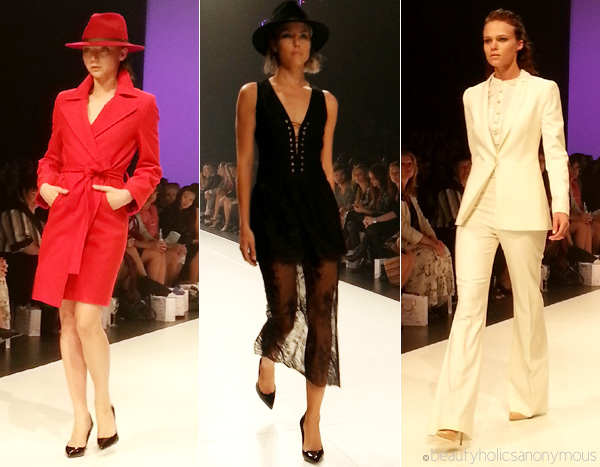 YB J'aime by Yeojin Bae
Runway 04 didn't have the fancy-schmancy light show that Runway 03 did. It was a good show nevertheless. Designers on Runway 04 were Alannah Hill, Aurelio Costarella, Flannel, Hardwick, Jayson Brunsdon, Kirrily Johnston and Megan Park. There were a lot more autumn colours in Runway 04 than 03 so we saw a lot of earthy shades. I liked the pretty lace dresses by Alannah Hill. They were a lot more understated than expected of Alannah Hill, but it was just the way I like it.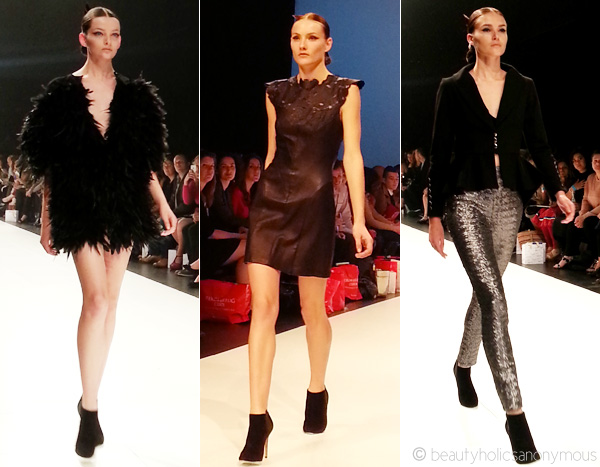 Hardwick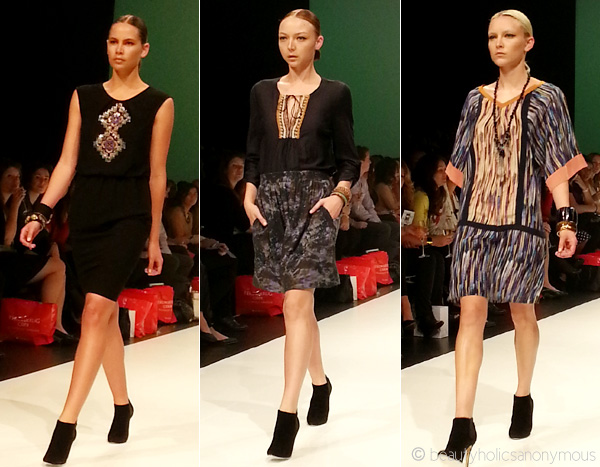 Megan Park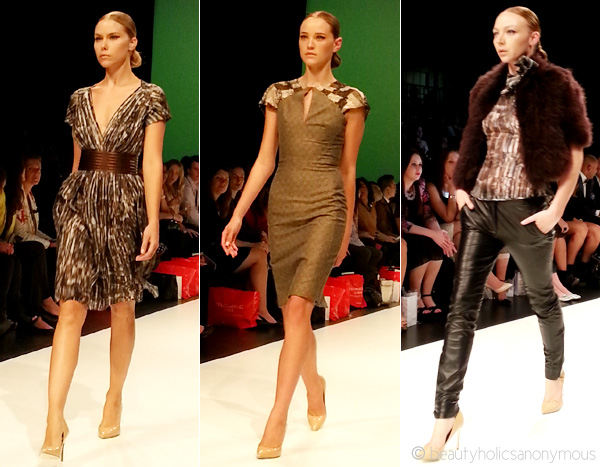 Aurelio Costerella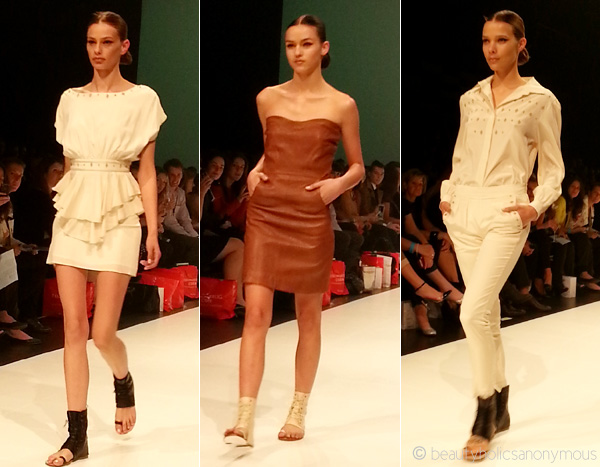 Flannel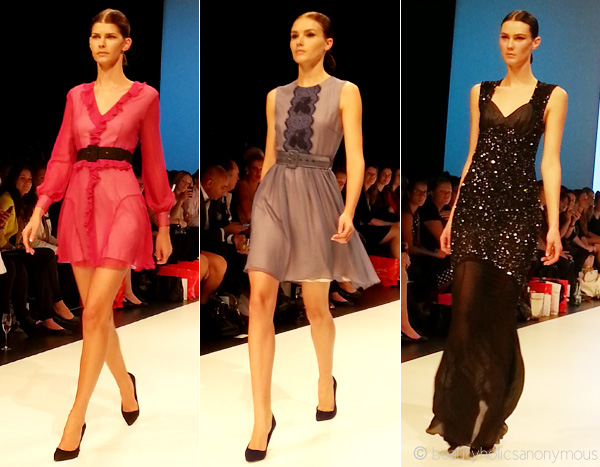 Jayson Brunsdon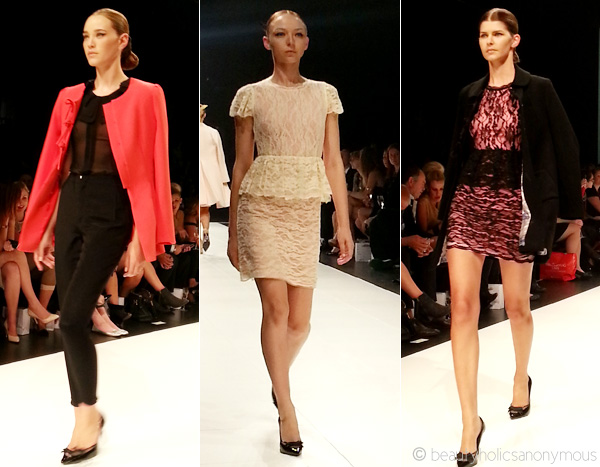 Alannah Hill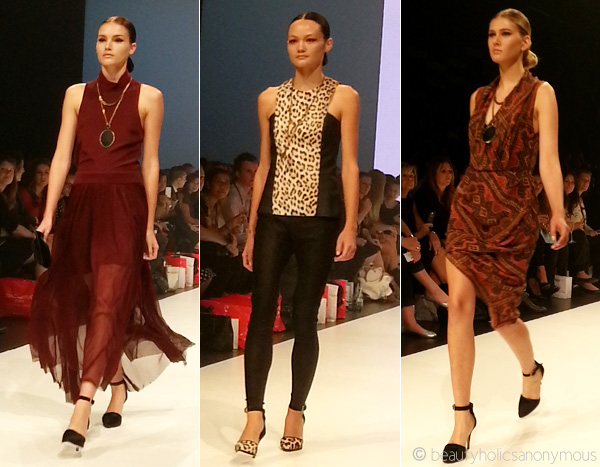 Kirrily Johnston
And that's it from Day 4! I hope you've enjoyed the recap. If you have any questions you'd like me to ask Rae Morris, please let me know in the comments and I'll try my best to get them to her. 🙂
Bring on Day 5!
—————————————-
My Experience of Day 4: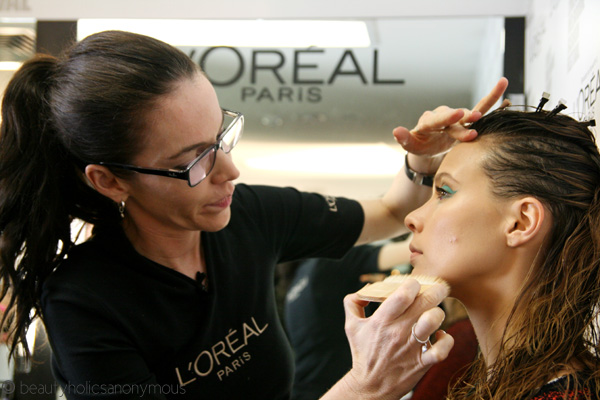 It was even noisier backstage on Day 4 and filming of the video was difficult because Rae had to do many takes of the video as the noise was overwhelming and she couldn't hear herself think. At one point, she got pretty cross and kinda shouted at everyone to quiet down because she's tired of having to redo the shoot. All of a sudden, for a few seconds it was so quiet that Rae said "okay, not THAT quiet!" and the tension in the room subsided. Phew. Rae felt quite bad about it because she kept saying "oh dear, I shouldn't have said that, why did I say that, I'm not usually like that!". Goes to show, we're all just human. 🙂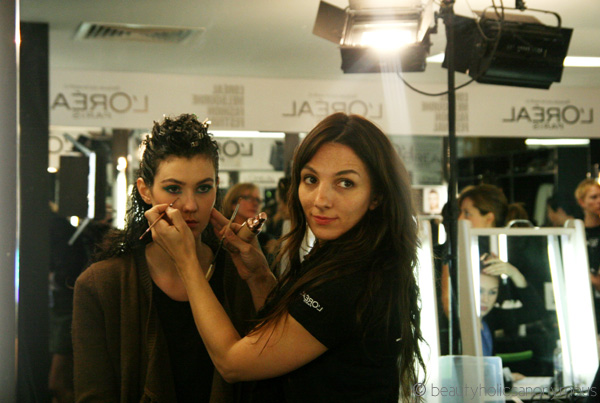 A strange observation was that although I saw a lot of people doing hair and makeup, but I didn't see anyone doing nails. Most of the models had nude nails (at least, that was what I observed for the past few days). It could just be that I've only been in one room and that nails weren't done there. Hmm. I'll see if I can sneak around looking for people doing nails.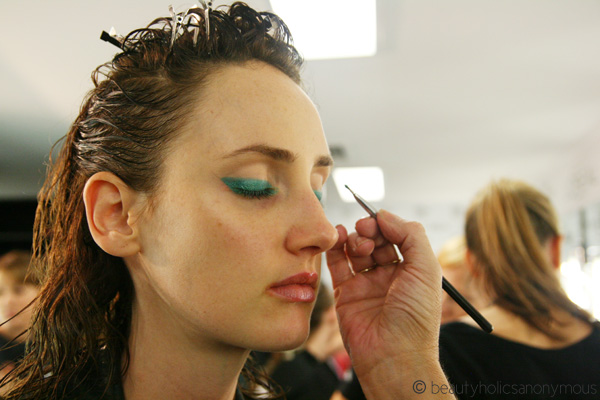 My phone became really hot during the first runway show. It's typical of most Samsung phones to overheat (oh yeah, I moved over from the iPhone to the Samsung Galaxy Note 2. It's the dark side!). So after the first show, I rushed back to the hotel and okay, I don't know if one should do this but I was quite desperate to cool it down before the 2nd show started, so I placed it in the fridge :P. It was only for a few minutes, and I checked it every 10 seconds to see if the temperature has gone down. So err, I guess it worked!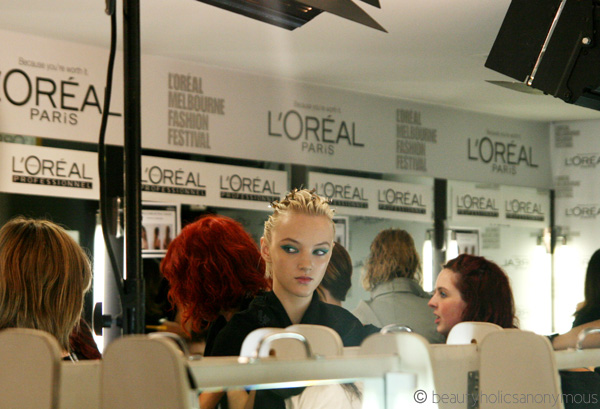 Final thought of the day, if I stretched my legs from my seat at the runway hall, would I trip the models? Ahem. 😛