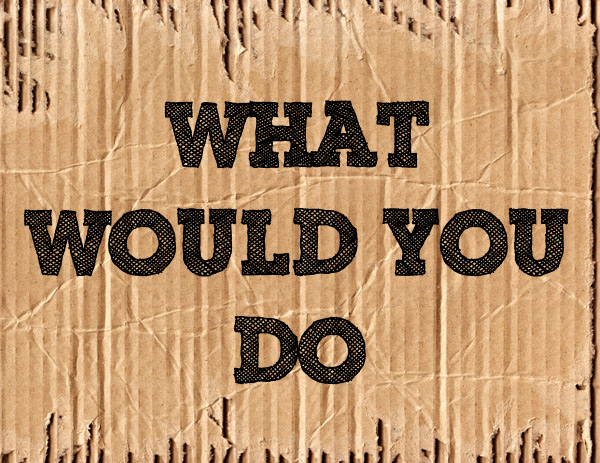 Welcome to the third episode of What Would You Do! I know it's only the 3rd post in the mini series so far but I'm having heaps of fun coming up with interesting scenarios for you and enjoying your response to each scenario. I'm going to have to come up with tougher ones though. You folks are getting off easy!

Let's see how you answer today's scenario. Today, it's putting the 5 second rule to the test.
***************************************************************
Today's Scenario:
© Parrus | Dreamstime Stock Photos & Stock Free Images
You're in town for an important business appointment. You're in your hotel room getting ready to head out for that all important meeting and you're putting your makeup on. You're in the middle of applying a gel liner on your lashline when a clumsy moment happens, and all of a sudden, you dropped your makeup brush on the floor. Since you're traveling, you only have a limited amount of makeup brushes with you. It's the only eyeliner brush you have with you at the moment. The rest of the brushes that you have are face brushes and a fluffy eyeshadow brush.
Worst of all, you don't even know if the hotel room floor is clean!
What would you do?
A. Five second rule! Pick it up, brush it off, and continue using it to complete the lashline.
B. Quickly wash it, dab it dry, dry it off with a hairdryer (if there's one), and in the end turn up late for your appointment.
C. Leave it. Surely people won't notice you only have eyeliner on one eye?
D. None of the above. Your choice. What would YOU do?
My answer:
Oooh this is a toughie. I say that because it happened to me once. I'll be honest; I did A. I utilised the 5-second rule. I was rushing for time and didn't even enough time to wash it and start again. Nor can I go out with just eyeliner on one eye because I had the cat-eye-flick thing going on; it's really obvious when it's just on one eye! It's not the best thing to do so I justified by saying "it was on the floor for less than 5 seconds".

After that incident, I smartened up and now I always carry a small, decanted bottle of makeup brush cleaner with me whenever I'm traveling. The alcohol would zap the pesky germs and it dries quick enough for me to reuse the brush.
What about you? What would you do?