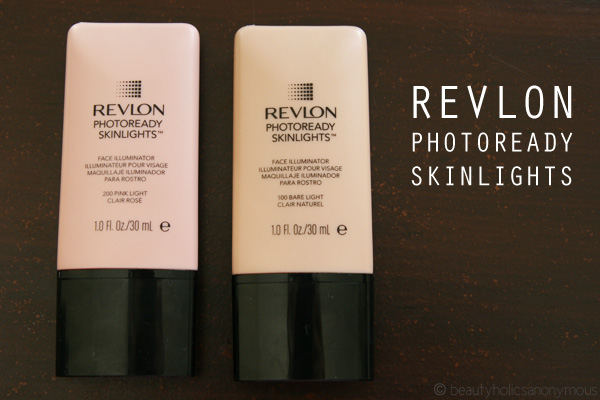 When news of the Revlon PhotoReady Skinlights launch was announced on Twitter and blogs, the positive response was almost overwhelming. When Revlon discontinued this in 2006, a lot of people were quite devastated. I wouldn't know because quite honestly, I had no idea this product once existed before this year.
It's only about a year ago that I began to enjoy using illuminating makeup. I didn't understand the popularity nor was I a fan because I used to think that illuminators and oily/combination skin do not mix. Heck, my skin's already shiny enough, do I need more? Last year, I decided to see what the fuss was all about. Whilst I still wasn't terribly keen on illuminators, I finally saw the point and how good it can make the skin look. Still, I used them very sparingly and always on their own with just a dab or two on the tops of the cheeks.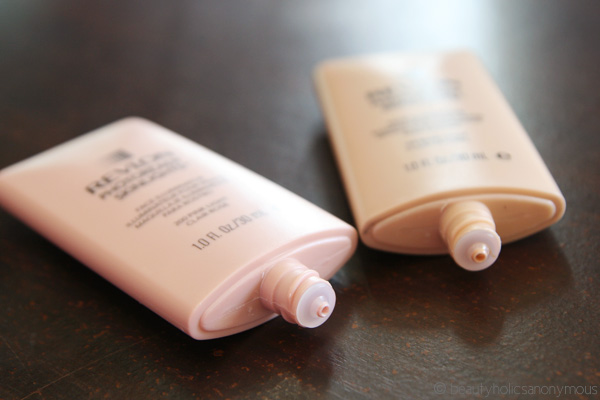 When I was sent the 3 Skinlights (Bare Light, Pink Light and Bronze Light), I originally thought they were foundation and that I was also sent one for darker skin tones. As I didn't know what Skinlights were, I thought perhaps the PR just wanted to send the range for me to check out. 'Twas a good thing I Googled what it was; it definitely saved me from the embarrassment of having to tell the PR that he sent me the wrong shade when in fact I got it all wrong! 😛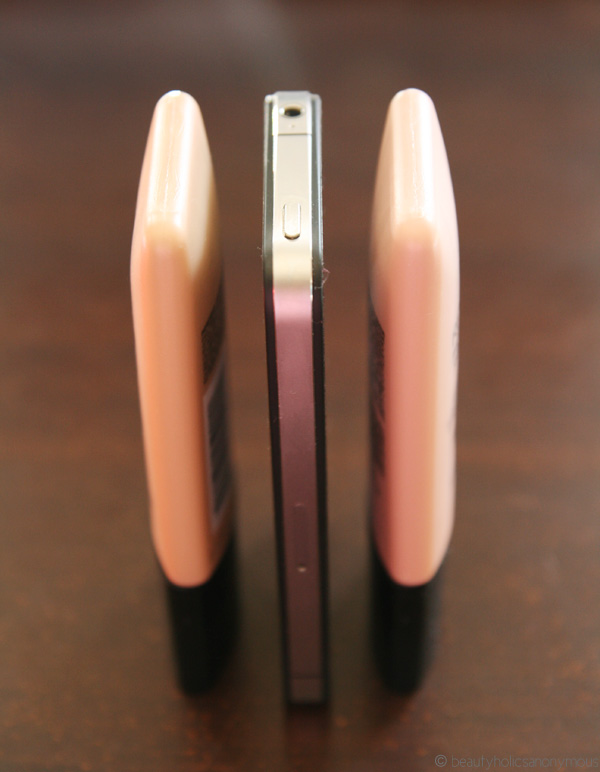 They're almost the same size as the iPhone 4S!
Background story aside, I'll just get to the point. I absolutely LOVE them. When I first swatched the #100 Bare Light, I thought it was a tad too sheer yet very shimmery for me to use it on its own, so I decided to mix it with my current favourite foundation, the Rimmel Match Perfection. The result was instantly luminous and glowy skin.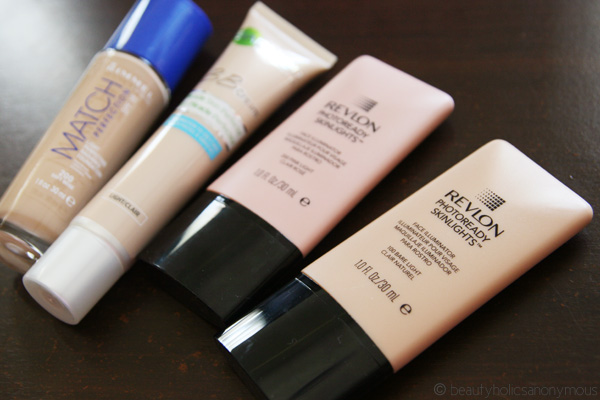 Now I haven't tried Becca's Shimmering Perfector before so I cannot compare it to the Skinlights. It's not so shimmery as to overpower the skin with shimmer but just enough to give the skin an extra oomph. It doesn't make my combination skin look any shinier. It just makes my skin look pretty damn good.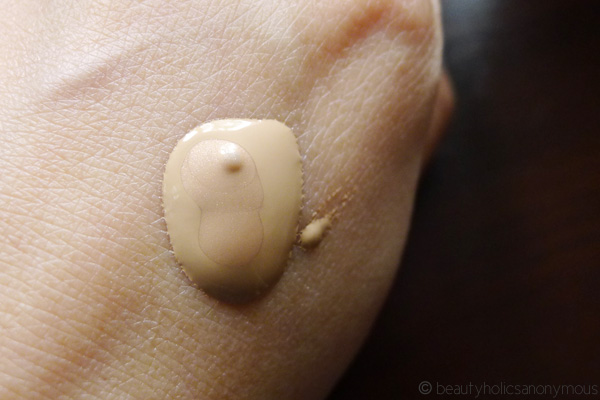 The ratio of Skinlights to foundation that I like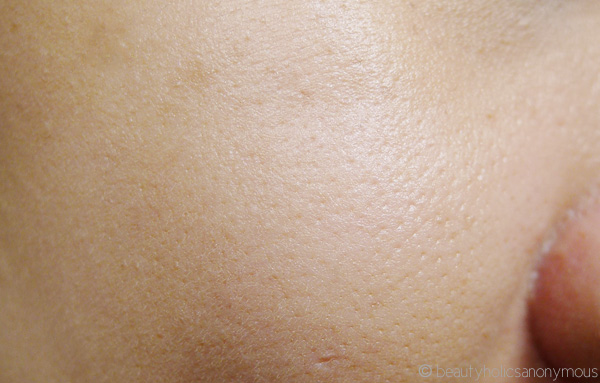 The Skinlights on my cheek. Can't really see the glow, but I promise you it's there! Oh, and, err, apologies for the large hole-y pores 😛
As for the #200 Pink Light, the Pink Light adds brightness to the skin on top of luminosity. I like using this on days when my skin's just looking mighty blah (especially during that time of the month when hormones make my skin look sallow. Damn you hormones!). But you have to be careful on how much of this to use because it can be too shimmery and artificial-looking on the skin if you use too much. I tend use less of this with foundation/BB cream than the #100 Bare Light. There's also a 3rd shade to the Skinlights range and that's the #400 Bronze Light. It's a tad dark for me so I just use it to mix with foundations that are too light. See, win win for all. 🙂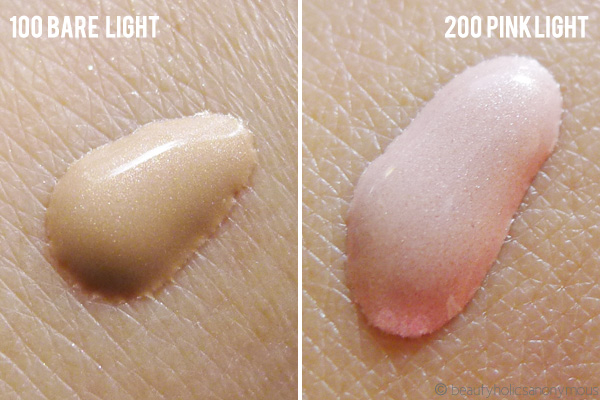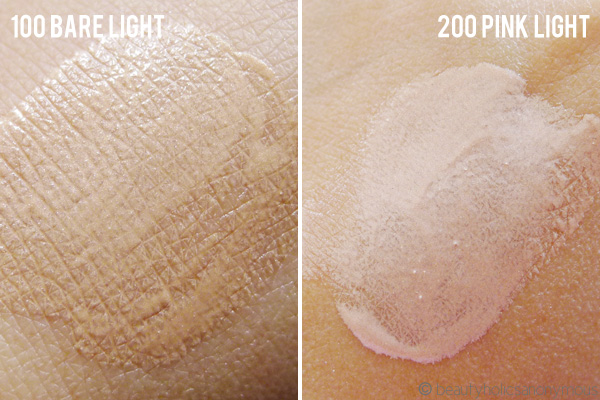 I rarely wear foundations or BB creams on their own now. I like to mix a bit of the Bare Light to my base makeup for that healthy glow. Can't believe I actually like glowy skin now when I've been craving for matte skin for years. This goes to show you just can't stick to one method of makeup forever.
If you're looking for something to give your foundation and skin that extra lift, that bit of oomph, might I suggest you give the Skinlights a go. Play around with the ratio of the illuminator to base makeup for your desired results. The bottle is also thin and light enough for traveling so you'll be sure to have gorgeous glowy skin whilst you're on holiday too!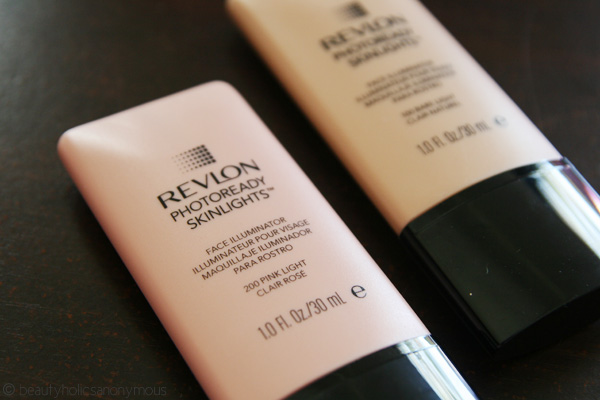 The Revlon PhotoReady Skinlights Face Illuminator retails at $29.95 each and is available at Revlon counters in departmental stores, supermarkets and selected pharmacies nationwide.
What I like about it: Slim packaging, gives the skin a gorgeous glow and luminosity, doesn't emphasise shine on oily/combination skin
What I do not like about it: Surprisingly, nothing!
Have you used the Skinlights before it was relaunched? If you've tried the new one, is there a difference between the old and new?
Note: This product was provided for editorial consideration.