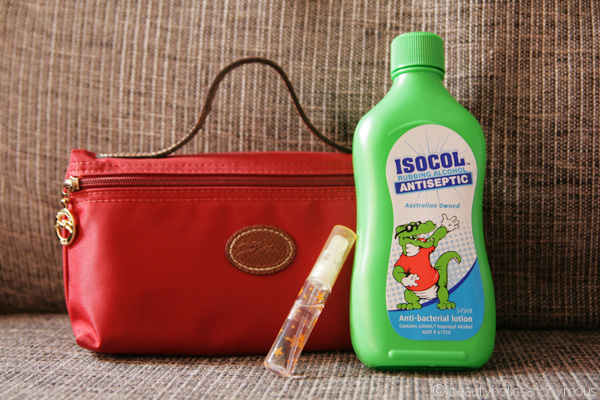 The most essential item on my dresser isn't skincare or makeup. In fact, it's one of my most important household items in my home and that's rubbing alcohol. Last year, I wrote about the importance of having rubbing alcohol at home. Today, I'm going to ask you to put some in your purse and take it out of the house!
I decanted some rubbing alcohol into an atomizer I got from Daiso. It's thin and tiny enough to fit in my bag. I find rubbing alcohol especially useful when using public toilets. Now I'm not particularly germ-phobic and don't feel like I have to wash my hands with soap after touching every surface. But the one thing I don't like using in public toilets is squat loos. My royal bum needs the sitting loo, y'see. 😛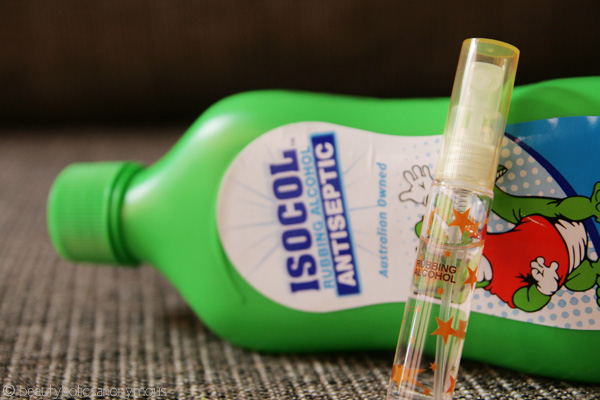 You won't find much squat loos in Australia but they are incredibly common in Asia. I hate them (I think they stink a lot worse than sitting loos because your nose is much closer to the floor) and always go to a sitting loo if possible. Unfortunately, sitting loos aren't any cleaner than squat loos either. For example, in Malaysia, it's not uncommon to find footprints on the seat because people would actually squat on the sitting loo instead of sit down!
What I like to do before I carry on with my business is to spray some rubbing alcohol onto some toilet paper, wipe the seat clean first and then use it. You'll be surprised at how much gunk the toilet paper picks up with the rubbing alcohol. Ugh … I still shudder thinking about it while writing this! Fancy hotels and establishments may have toilet seat sanitisers but since we don't live in fancy hotels 24/7, that small tube of decanted rubbing alcohol is a godsend.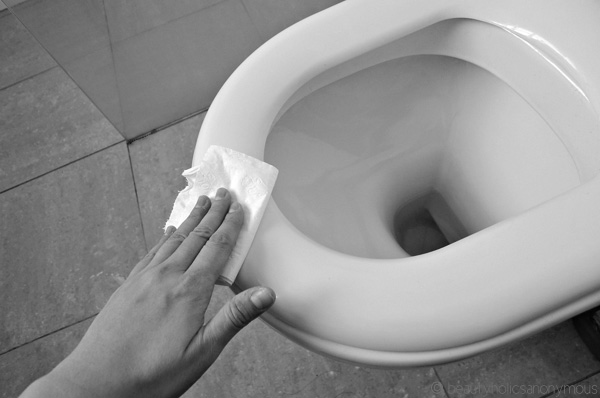 It's not just useful for the toilet. It's great for cleaning surfaces, for sanitizing skin and much more. Next to my pack of tissues and hand sanitizing gel, this is my most important item to have in my purse.
Do keep one in your purse too. You'll be surprised at how useful it is to have rubbing alcohol with you when you're out! 🙂